Short Bibilo
My name is Anh, and I'm a 21 years old Canadian blogger. My hobby and passion lies here. I love anything that has to do with beauty and fashion. Other then that, i love to art in terms of painting and drawing when i had the time to do so. Now, my creative interest has shifted to making website, html coding, graphic designing, and of course makeup, as you can tell from my blog.
Here on my blog, I'll be sharing my reviews and swatches of beauty & skincare products, as well as my collection of tutorials. I hope you find what your looking for and that i was able to help you out. From time to time, i also share parts of my personal life, because, i enjoy reading this on other's blog, and i find it important to interact with my readers.
How I Got Into Makeup
Growing up, i was always brainwashed by my parents to stay away from makeup, and embrace my natural beauty. I was always told, and that if i wore make up, i will age fast, even till this today. With that in mind, I never wore make up, until grade 11, with basic eye liner, and the occasional concealer for under eye circles. Can you believe i went through puberty with insanely crazy acne without make up? I still amaze myself today.
My crazy make up addiction eventually started in my first year of University, and ever since then, it was like a tumor that could never stop growing. Make up was always something that i believed to live in me, waiting to be discovered and unleashed. I was always anxious to go through my mom's make up when i was a child, and i loved it when she put lipstick on me for very special occasions. But, I think what really sparked this addiction was when my boyfriend got me a set of Mac's holiday mini brush collection for Christmas. That was the best Christmas present, and i was completely shocked and surprised! When boyfriend hands you tools, use it <3
I think YouTube has also really influenced and fueled this addiction. Gotta love those makeup gurus!
At the moment, i just love to create looks with makeup. I love to do my friend's makeup. They have given me the opportunity to work on different features and allowed me to learn a lot!
Some things you may like to know about the content of my blog:
1. All content stated on my blog are from my own research online, as well as from my personal experience. Please take this into consideration, as I am by no means a qualified professional in such field.
2. I use Adobe Photo shop CS2 and Image Ready for graphic designing & photo editing. Photos posted on my blogs are often edited, for brightness and such, because my camera is not the best as capturing the colours
3. The products i blog about may not be accessible worldwide, as i purchase some of the products from Canadian drugstore such as Shoppers Drug Mart and Rexall
4. I am open to reviewing products. Please contact me at xbbkay@gmail.com if you'd like to get into touch. However, I reserve the rights to state my honest opinion. All reviews on my blogs are made with honesty and is and will not be influenced by any means.
Thank you for visiting my blog, & i hope you enjoy your stay
x0x0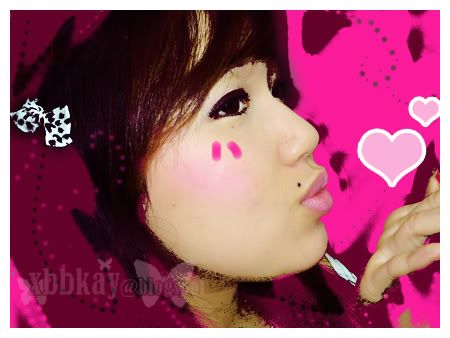 <3 Anh