I've been testing out a few foundations for a month now, and some of the brands that I've tried include Dior, Laura Mercia, and now Makeupforever. The first two brands that I've tried didn't work out too well, so I've returned them.
I've finally decided to settle with Makeupforever(MUFE) HD foundation, not because it's the best foundation ever made, but it's definitely one of the good ones that i've tried & would recommend
to some
Make Up Forever Foundation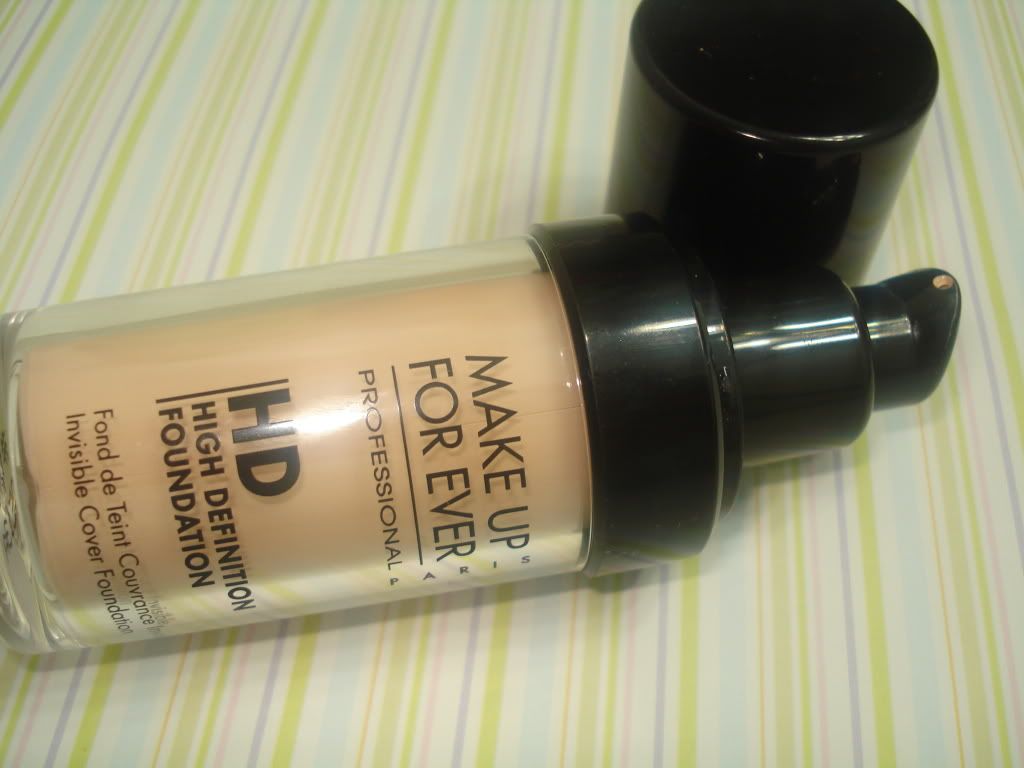 Claims
"The Hd range includes complexion products designed for the new needs of high definition image using very fine ingredients for an invisible, natural make-up finish.

HD foundation combines flawless coverage and an extremely natural finish. The Sericite contained in HD foundation heightens the diffusion of light and intensifies the flow of the skin. Enriched with Relipidum, HD foundation moisturizes* (+46%**) and prepares the skin for make-up. Its usually smooth and elastic texture makes it easy to apply and a pleasure to wear. Skin texture is refined to give a very natural complexion."
Properties
:
30 m/ / 1.01 fl.oz
liquid foundation
plastic bottle with pump
unscented
light - medium coverage
Price
: $42.00 CAD
Ingredients
: Cyclopentasiloxane, Aqua (water), PEG-10 Dimethicone, Neopentyl glycol Diethyhexanoate, Mica, Talc, Phenyl Trimethicone, Sodium Chloride, Laurayl Lysine, Dimethicone Crosspolymer, Glyceryl Caprylate, Methylpropanediol, Hydrolyzed Yeast Protein, Phenoxyethanol, Dodium Myristoyl Glutamate, Chlrophenesin, Disteardimonium Hectorite, Butylene Glycol, Sorbitan Sesquioleate, Propylene Carbonate, Biosaccharide Gum -1, Parfum(fragrance), Methylisothiazolinone, Methylparaben, Fragus Sylvatica Extract.
Repurchase?
unsure
The Pros

- very smooth, slightly creamy texture (really like it)
- blends very well and smoothly into the skin
- leaves a nice semi matte, "natural" finish
- very controllable pump
- decent selection of shades
- nicely evens out complexion
- covers pores well
- skin is not cakey

The Cons

- not a long lasting foundation (4-5 hours for combination skin)
- not enough coverage for acne prone skin (sheer coverage & will need to use a concealer)
- shine and oily t-zone after 2-3 hours.

Recommended For

- people that have minor discoloration, freckles, uneven skin tone and other minor skin issues
- people who are looking for light - medium coverage
- will not be suitable for people who want a more heavy coverage for acne prone skin
-don't have very oily skin ( i have combination skin, and i would need to powder a few hours after wearing this foundation
My Experience
While trying to find a suitable foundation, I found that finding the right shade is very important and surprisingly hard. For me, finding the right shade doesn't necessarily mean finding the shade that exactly matches my skin tone, but instead the right shade will enhance my skintone. I'm quite pale, and i like to find a shade that gives me a bit of a colour (with a nice pink undertone or at least a tad shade darker to make me look less pale). I've swatched quite a few foundation and some of them are very orang-ie based, which i personally really dislike, but it happens to work very well on people with tan skin.
Here I've swatch a few of the lighter foundation shades that they carry upon deciding which one to purchase. Here is a snap shot of the 3 that i compared
Shade:
119 117 115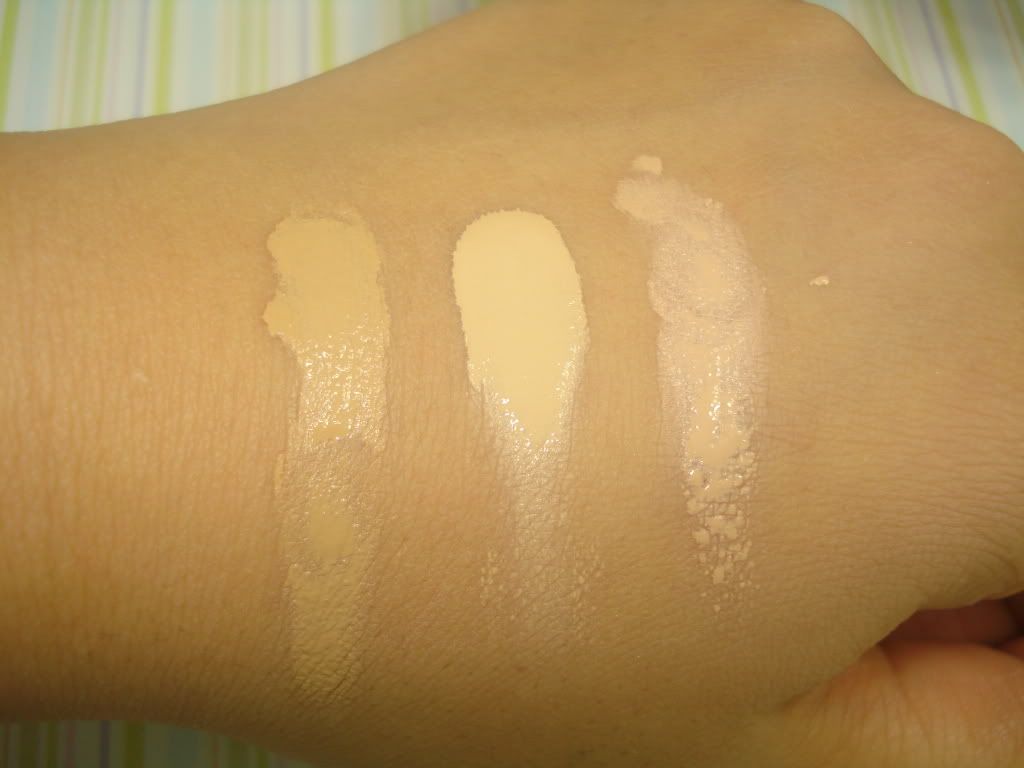 Here you can see that,
119
obviously match my hands fairly well, with the yellow/olive undertone. 117 has a bit more "white" (compared to 119) undertone - you would need to be pretty fair to use this shade (else it might look like there is a white cast on your face) and
115
has a pink undertone.
The shade that I'm using is
115
- the pink undertone. It's just personal preference. My last foundation from
Elizabeth Arden
had this pink almost slightly brownish purple undertone that i really liked (because it made my skin this beautiful healthy colour finish) so now I'm really fond of using pink-toned foundation. BECAUSE, the coverage of this foundation is quite sheer, the shade almost completely match my skin tone.
ALSO, I've tried out the
119
, and i think it's a good fit my skin tone as well. IT all depends on what kind of "shade" or "look" you want. It may be 2 shades darker but like i said, the formula is quite sheer, so the colour is not as dark as it may seem on your face once blended out.
This is definitely one of the sheer liquid foundations that I have used. The finish is very nice, but one of the things that surprised me about the formula is the texture of the foundation. It feels very nice (almost like silky when you rub this into your skin) which makes it blends very easily. You can definitely use your fingers to apply THIS foundation. There are a lot of foundations out there that are too thick, or too drying that makes it very hard to blend, but this one is neither of this. With a easy to blend foundation like this, you can use the stippling brush MAC 189, contrary to a thicker foundation - you'd need a fuller brush that slightly more stiff??(is resistant).
The downfall to this foundation is it's lasting power. In about 4-5 hours, it starts to slips off my face and my face starts to shine (it doesn't look pretty!). If there is something i could also improve about this foundation, it would be the coverage. You would definitely need a concealer if you have any scaring, or breakouts. Any minor discolouration can be covered with this though.
this is
115
blended out on my hands. Do you notice the slight glow? It's like light reflects off it.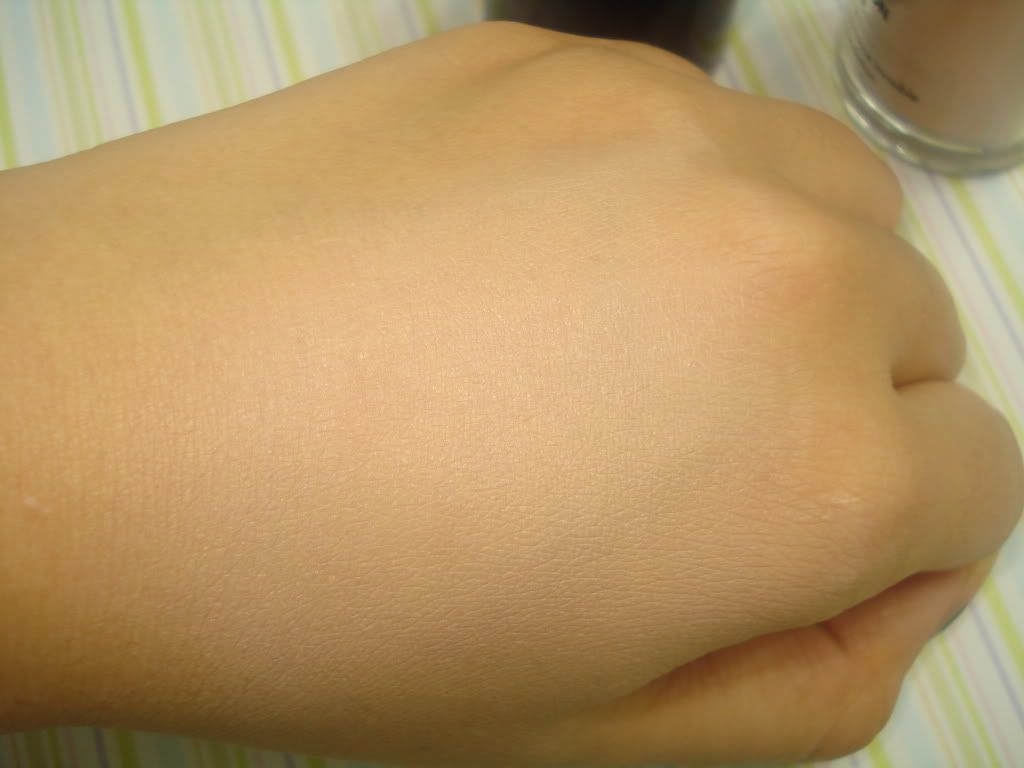 & now, it wouldn't mean much if i don't show a picture of the foundation on my face. TADA ~ sorry, no full shot. I'm recovering from a break out, so i don't want to blind anyone right now. Here is a crop of my look on new years using this foundation. I think i also used the MUFE HD powder on top. I think it works well in covering my pores.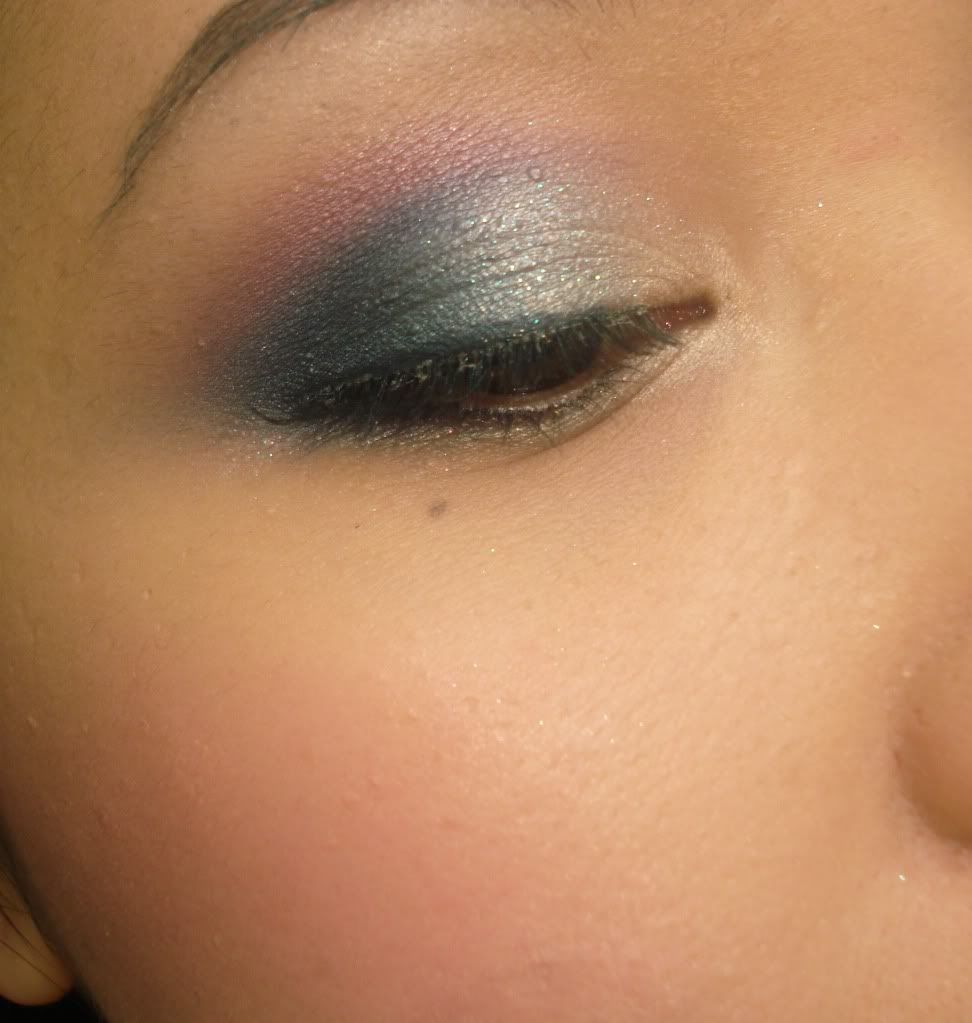 OVERALL

I like this foundation, but it's not a HG foundation for me, mainly because of it's lasting power. I don't mind the coverage, because there is concealer for that. I dislike full coverage foundation because 1) they are usually thick 2) being thick they will be cakey! Therefore, i don't go for the full coverage foundation. There are CONCEALERS to cover acne spots. I don't need full coverage all over my face, just on certain areas. To get back on topic - lasting power is a big thing for me. I don't like to reapply my foundation . I need something that would stay put for about 6 hours or more.
Hope this review somewhat helped you in finding that perfect foundation. Finding the right foundation is almost like looking for a soul mate...seriouslyy! haha Take care
<3 Anh