i have been meaning to update on the makeupforever HD primer for the longest time, but have never gotten around to it, so now that i've also got my hands on the HD powder, i think i should combine the review for both the products in one.
With all the rave about makeupforever products, i had to try it out, but sadly i'm not overwhelmingly impressed. I really wanted to love it too, but i guess our relationship isn't working out too well.
I have recently started to use foundation more often , and i thought i should invest in a good primer, so i thought i'd give makeupforever a try.
Makeupforever offers a range of primers, for various skin condition. I got the original, which is just the neutral formula. Which claims to "add natural luminosity to the complexion." The other ones that comes in colour, are for people with things such as roseca. The colour of the primer is suppose to "cancel" out discolouration of your own skin, or any pigmentation of your skin.
Price:
$32.00
Here is a product description from Sephora
"A lightweight, oil-free complexion corrector that enhances the skin's texture and primes the skin for makeup application.

What it does:
HD Microperfecting Primer deeply nourishes, moisturizes, and softens the skin, creating a glowing effect. Creates a protective layer on the skin allowing foundation to glide on easily and last longer."
this is how the primer looks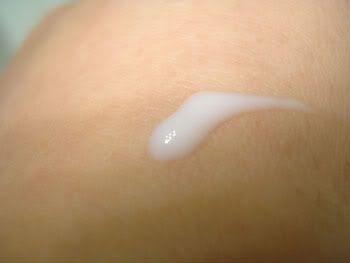 Pros:
-very thin consistency (lotion)
-easily spreads on face
-smells great (perfumed)
-makes skin feels soft
-enhance staying power of foundation
-makes face look glowy
Cons:
-doesn't do well with covering pores or lines
-leaves a little bit of a shine
-could cause your face to look oily over some time (personal experience)
This is after applying it: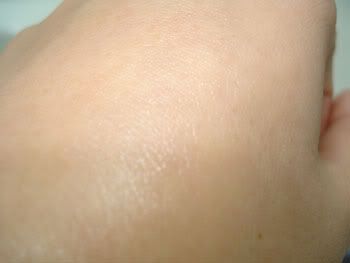 After it has completely dried: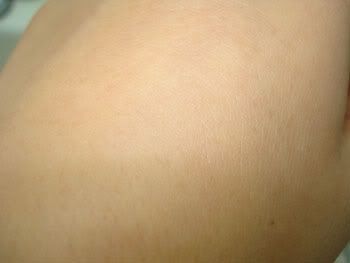 i usually don't wait for the primer to dry to apply other stuff.
Overall:
This primer is okay. i wouldn't recommend it. I think it's better for the spring or summer. For winter, i'd like a thicker primer like smashbox. THe reason being is that my skin is flaky and dry this time of the year, and it doesn't work well with my skin. When i apply foundation, it emphasize my dried, flaking skin. I was hoping the primer can help to cover some of the flaking skin. It didn't do much for me. I was hoping it would make it easier to hide my pores and what not. But i really don't like how it leaves a little shine. It makes me look oily. I do love the smell though. But since i've already purchased it, i will slowly finish it off, and find a new primer.
Next up, the HD powder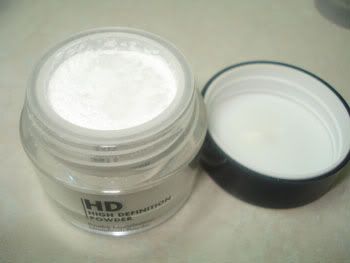 Price:
$30.00 For the full size OR $20.00 for the small size
I've been really liking this product. If your skin tends to be shiny, or look greasy i think this is the product for you.
The moisturizers that i have been using, often leaves shines and i really hate it, and i think this product is the cure to it.
Here is a product description from sephora
"Sets the foundation and slightly mattifies skin without changing its natural contours. This 100% mineral silica powder softens the appearance of imperfections. Completely evens out the complexion for a glowing, radiant look. One universal shade for all skin tones."
It really DOES MATTIFIES your face like no other product, and i LOVE LOVE LOVE how soft and velvetly-silky-smooth my skin feels after i apply this. It's awesome stuff!
This is how it looks. It looks very chalki-ish, but very SOFT!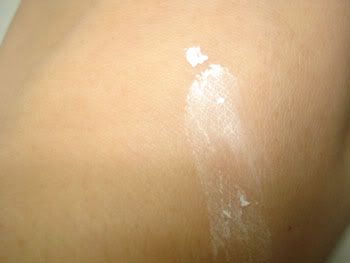 This is how it looks once you rub it. ( it does not make your skin look white, i just didn't completely buff it out, just to show you what it could look like if you over applied, or under- buffed the powder)
You should be careful with over applying it, bcos it looks like that ^^ (sets in lines) SO make sure you blend it in good
i use the Mac 109 to buff it out
Pros:
-Mattifies skin
-covers pores
-feels awesomely smooth like silk
Cons:
-emphasize dried skin (flakiness)
-should not be over applied
Overall:
I love this product, but i think with my skin right now, it's not working to its full potential. I think this product would be awesome for the summer, when my skin to shine a little more because of the heat. IT's great of your skin is not dried, and not peeling or flaking. I LOVE IT, and i think you would too. You could wear it alone, or over foundation. LOVES IT. Recommended
So just to show you how well it makes your skin matte:
THis is a picture of my skin with my mositurizer (Philosophy)
and this is the after photo with HD powder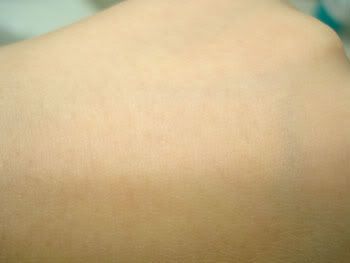 Notice how there is no shine, and the texture of my skin looks 92389284 X better