Hi everyone :)
I'm not suppose to be blogging right now, but i sooooooo don't wanna read my stats textbook. I have an essay due next week, a business presentation to give, as well as a business law exxam..AHHH......so i don't think i'll be doing any FOTD anytime soon, because i wo'nt be sleeping! haha
Anywas, for the past two weeks, fate has brought make up and i together, even though i intended to stay away.
So i'm here with just a short, dinky post, somewhat of a haul on some findings.
I was at shoppers drug mart the other day and met these babbies
Pink Shimmer & Sugar Plum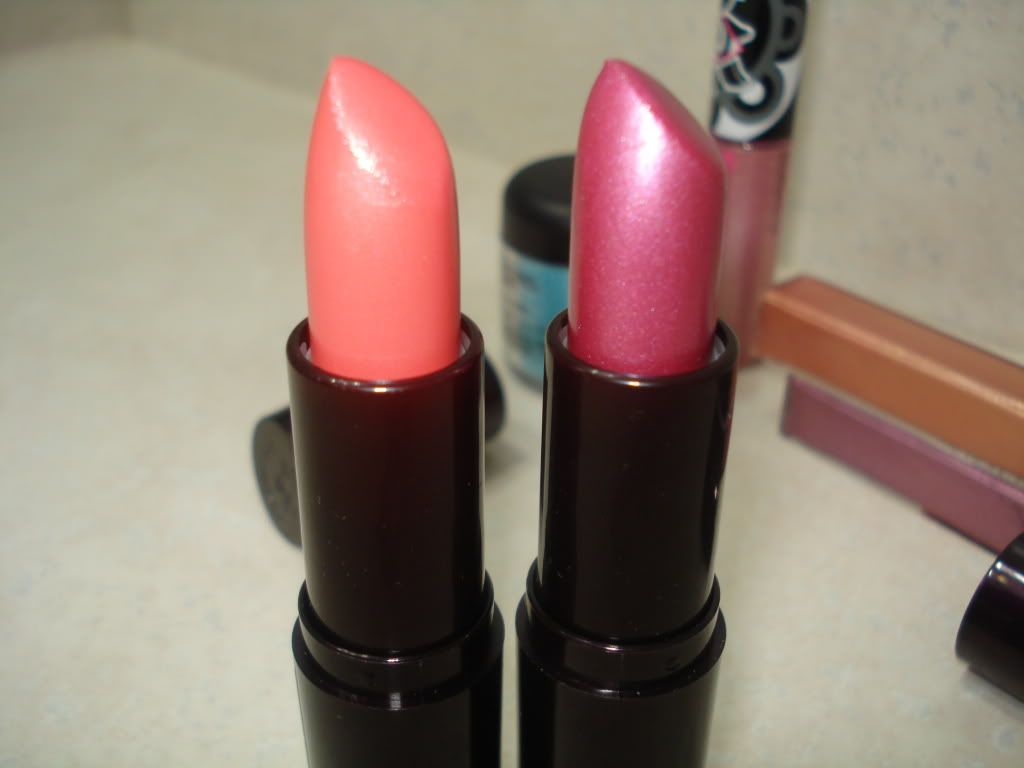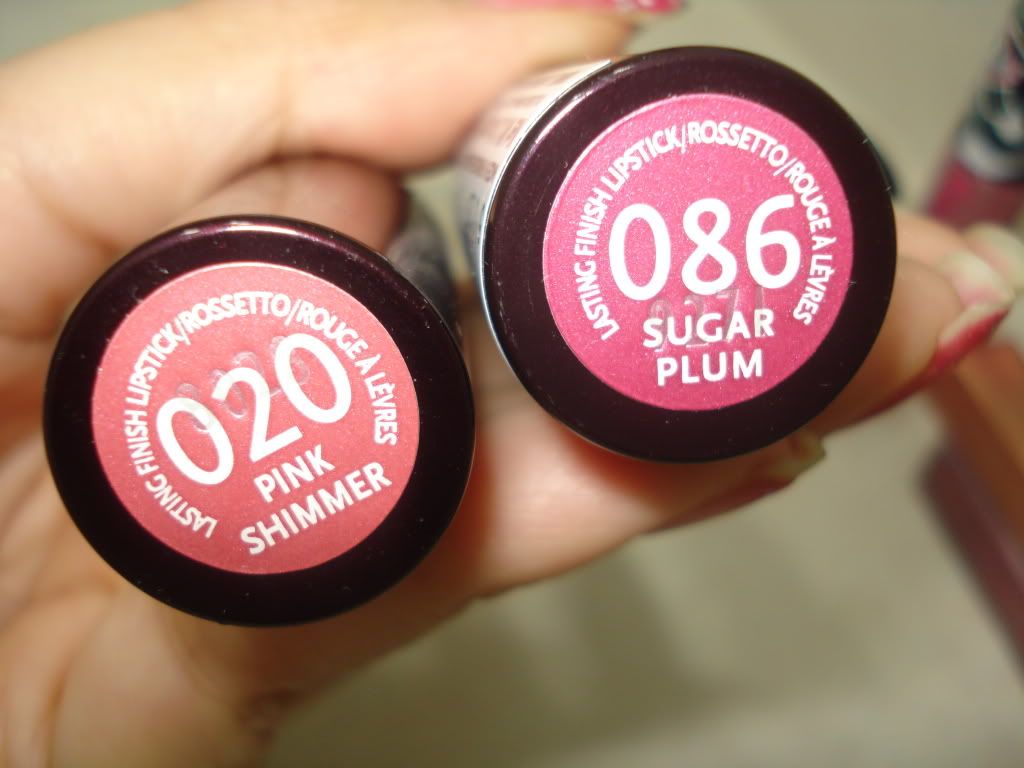 A swatch:
Sugar Plum & Pink Shimmer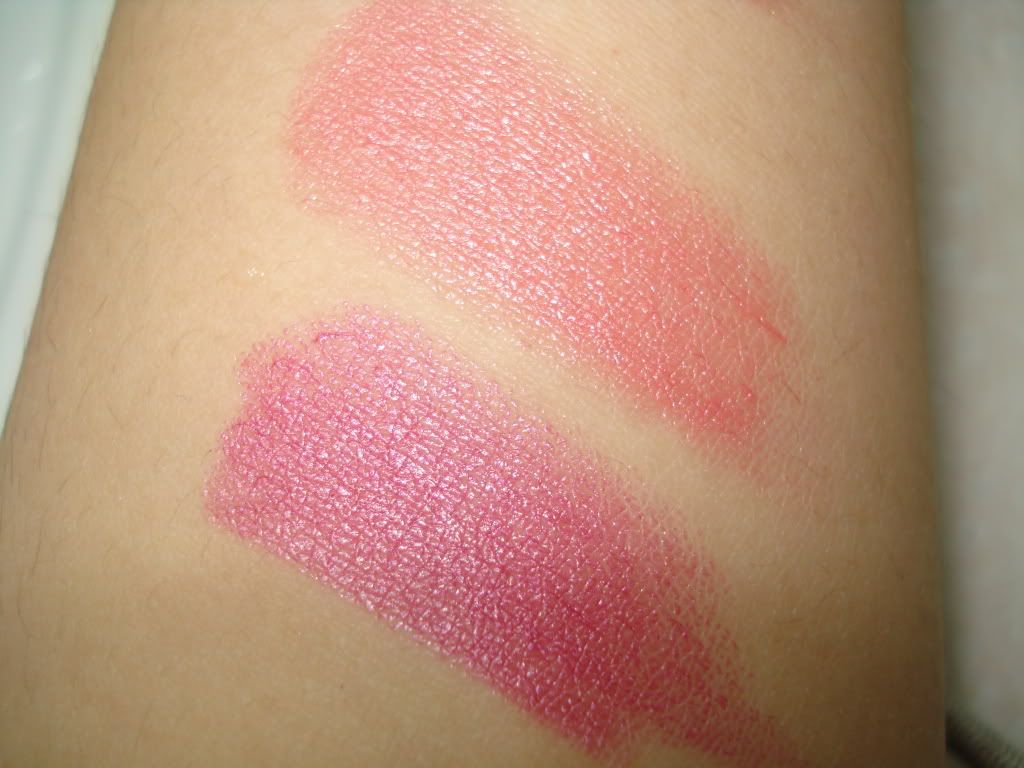 Quick Review:
The lipstick
colour look gorgeous
in the tube, and when swatched,
but
it was a whole new different story on the lips. I'm
not too impressed with the packaging
either. It's very plastic-y, and it feels cheap. I know it's drugstore lipsticks, but c'mon... i expect better. It
has a bit of a scent
also, but i find this c'mon among drugstore lipsticks now. It doesn't bother me too much. Other than that, these lipsticks are okay. It was on sale for
$5.88
Is there any drugstore lippies brands/colour that anyone really love?? I'm currently in a lipstick phase, and i can't justify splurging on Mac lippies.
The only drugstore lipstick that i really love, and always go back to using is Maybelline Pink Please
* * *
Next, i was at rexall the other day. Rexall in Canada, is another shoppers drugs mart kind of store, and they carry different brands of cosmetics compared to shoppers. I'm not sure where exactly
PURE
cosmetics is offered around the world, but they are liquidating from Rexall. All the products are now
75%
off.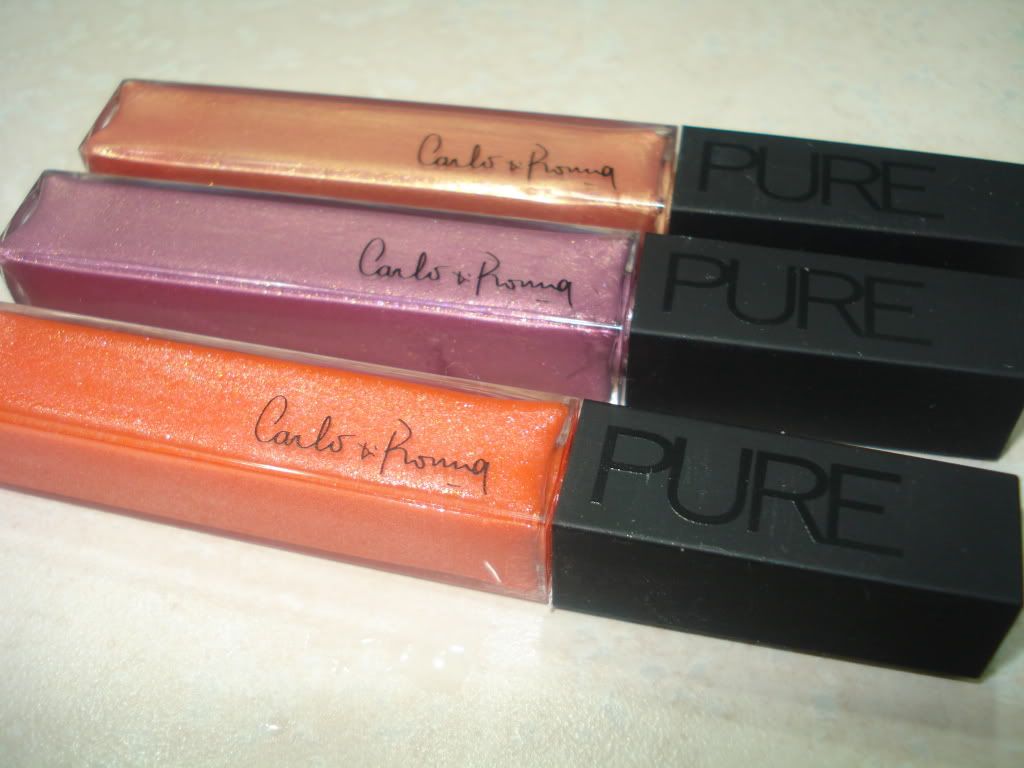 Here is a swatch
OKAY. i tried to look for a name, but apparently PURE does not name there products..HMM...
Quick Review:
Lipglosses retailed at 16.50 ish. Is now
$4.00
. So i seized the opprotunity to pick up a few. The pigmentation are
quite sheer.
They smell great (like berries and what not) but ofcousse they don't taste like it. LOL. ..AHEM..**...
THey do have some very
pretty shades
, but these were the only ones i could get that were STILL SEALED. It was quite a shame, because some of the pink shades were gorgeous, but people touched and swatched it, so i wwas a bit disgusted. :/
Overall. majorly discounted lipgloss, so i was happy. I'm excited to use the purple shade. :D
* * *
Lastly, i was in Chinatown last weekend, and randomly found some MAC. I got all excited as you can imagine. They sold the product at almost half the retail price. I picked up a
pigment for $15 CAD, and a lipglass for $10.
You can now imagine me walking out the shop with the goofy-est smile on my face :D Item are BRAND NEW, but they were limited in the range of MAC products. They had lipglass, a few blushes, and a good supply of pigments.
I came out with
Mutiny,
a limited edition released in some collection i can not recall. I really regretted not picking it up then, and i was super happy to have find this.
The 2nd item is a lipglass called
She loves Candy
released from the Hello Kitty collection. Also another collectiion i truly regret!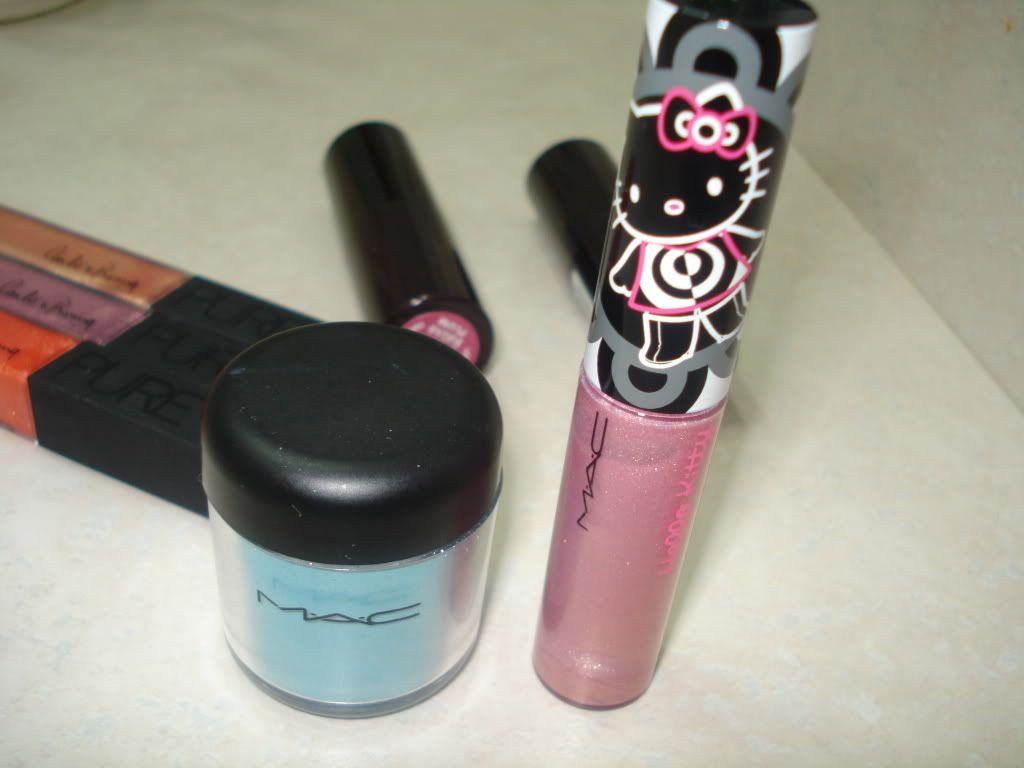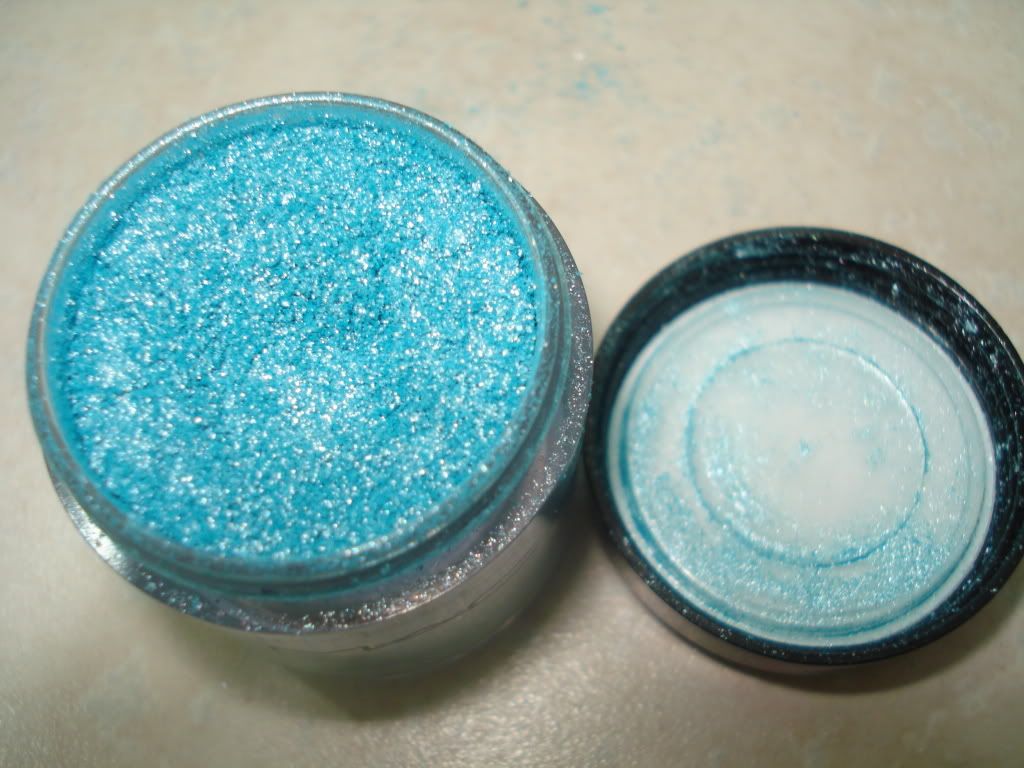 So now you guys must be thinking..........how do you know it's
authentic?
Well i wasn't too sure when i was there either, but it looked pretty damn real. So i took my chance, and came home with it. I compared the pigment (Mutiny) and the other pigments that i have, and the
packaging looks exactly the same.
Now i'm not too sure about the actual pigment inside. From what i recall, this is what the Mutiny shade loooks like. If anyone has this pigment, please confirm this.
Here is a swatch:
Mutiny and She Loves Candy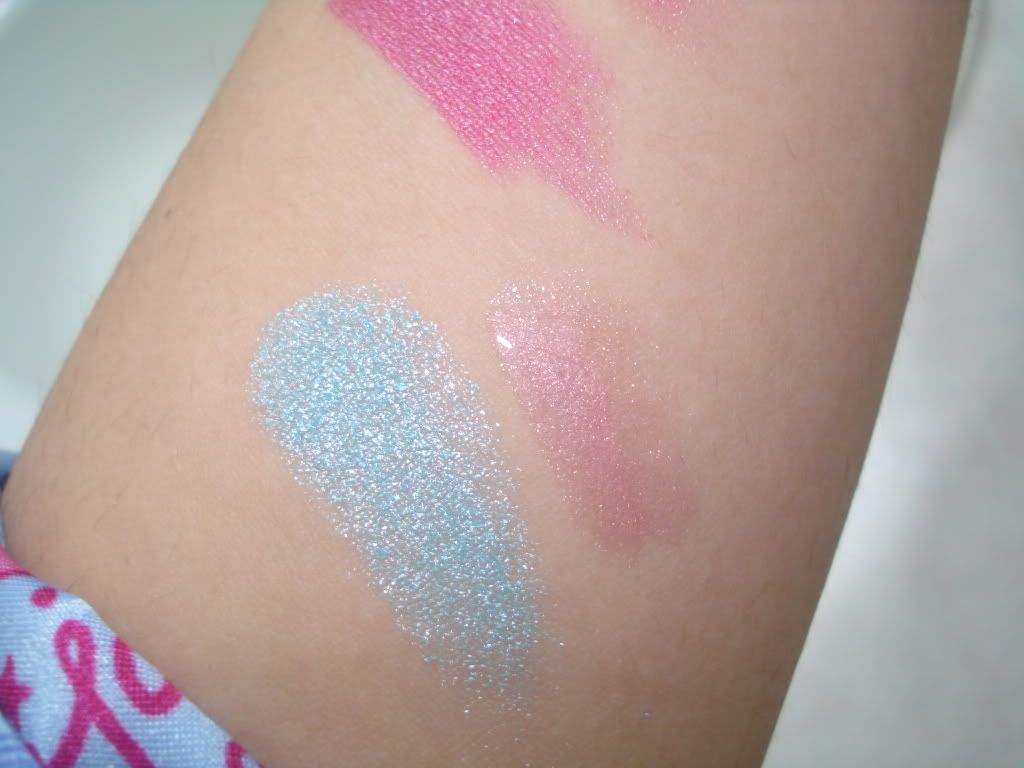 gorgeous colour isn't it? i love it. I can't wait to do a look with it.
And this is all for my cheap beauty findings. As you may have noticed, they are mainly all lip products. teehee. Now i'm off to reading my boring old textbook, and getting ready to battle the next few dreadful days of my life.
Thank you for visiting my blog, have yourself a wonderful Thursday evening.
P.S
Random Question:
What is your favourite accessory? Earrings, Necklaces, or Braclets?