I started this review, let's see..2 YEARS AGO, but i never ended up posting it, because i didn't end up finishing it. Today just happens to be the day that i go back into my blog history to find all the "draft" posts that have never been published. My goal today seem to be either delete them, or just finish them and post it! hhaa. So these are brushes that i've bought 2 years ago.
Quo is a brand carried by Shoppers Drug Mart (a Canadian Drug store). It might be difficult to find for you guys in the States. The price ranges from $15-50. They have recently "re-packaged" their products to have a black handle and black bristles. The quality is completely different & so is the price. It looks a lot more professional. I love the new brushes, but they are quite expensive.
Anywas, let's move on to the review:
Here is the
Quo: Face Coutour Brush
You guys might compare this to the Mac 168. I don't have this brush from Mac, so i can't do a comparison, but i will do a comparison to a similar brushes.
here is a close up picture
General Comments
-The brush is quite soft. As reference, its not as soft as the Mac 130, but softer then the Mac 109.
- the brush is full and fluffy, but in my opinion can be a little more dense
- it's a good size for most cheeks
- the brush and handle is sturdy
- affordable
- doesn't not smell, shed, or leak dye when washed.
- brush bristles dries nicely. It keeps it's shape.
The Cons:
- picks up colours, but does not deposit enough onto skin.
- ability to blend is okay. For light applications it works fine. However for more defined, contouring this brush may not be what you are looking for.
Overall:

- it's a nice, affordable, quality brush. It's perfect for those who are just getting started with make up. Although it doesn't deposit as much colour as it should, i still never felt the need to buy a MAC brush for this.
So now, i'm gonna compare it to the
Coastal Scent IB106 Angle Brush

This is the brushes side by side: you can see that the Coastal Scent one is shorter. Good for travelling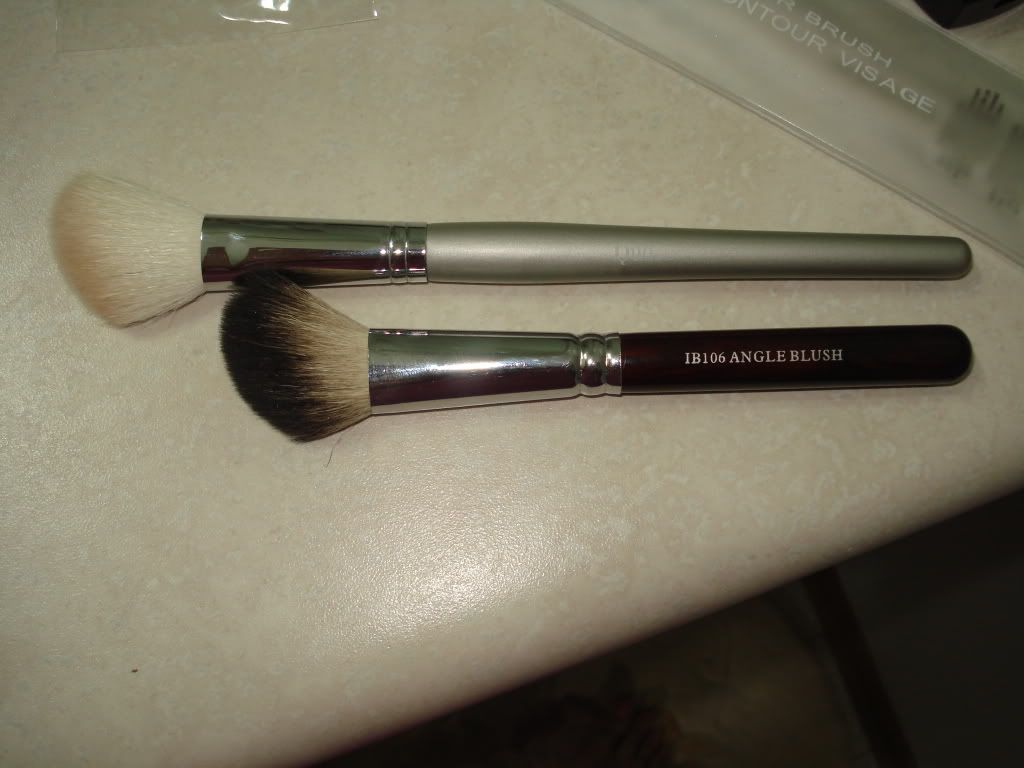 here is a side by side mug shot. You can see that the Quo brush is slightly longer. and the Coastal Scent brush is slightly more "flared" out at the top and the edges are rounded off. Other than that, the brushes look very similar from this shot.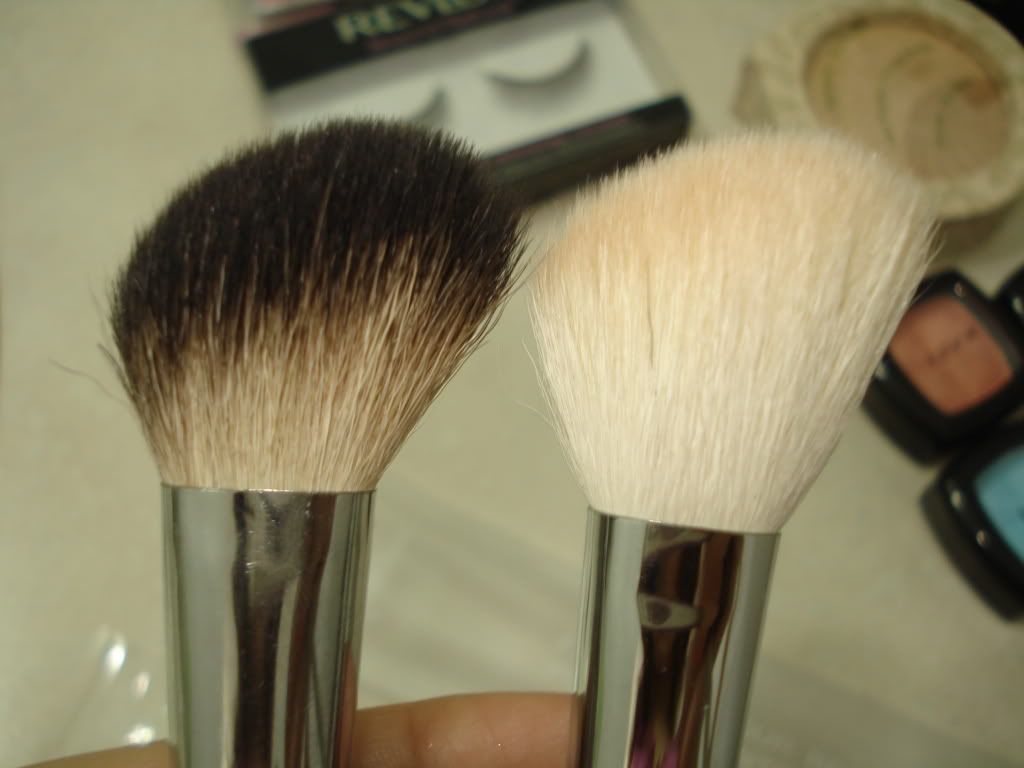 it might be difficult to see, but the Coastal Scent(C.S) brush is more flat, and wide across the top, while the Quo brush is more domed shaped towards the top. This is the biggest difference. The C.S brush also has a more defined angled cut
with this picture, you can see the difference a little more. The C.S brush is wider.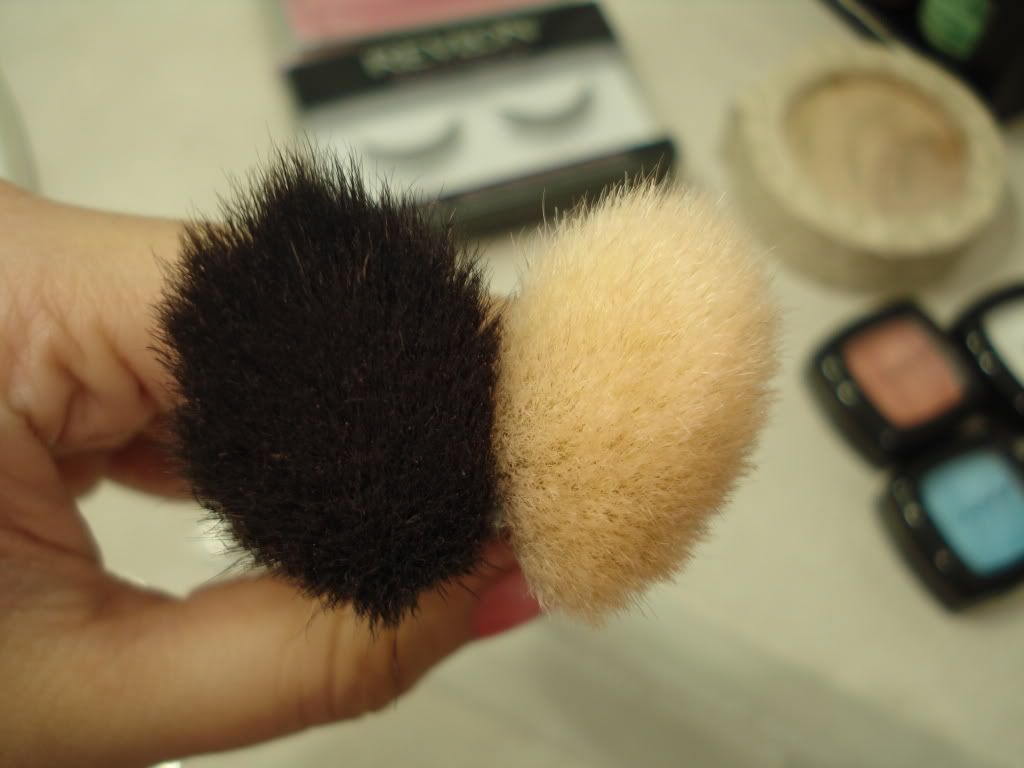 General Comments
- This Costal Scent blush was one of the few very first face brushes that i've gotten. I still use it occasionally from time to time when i need a heavier application.
- it does well as picking up and depositing the full amount of products.
- it will work well for contouring, however like the Quo, takes a little bit more time when it comes to blending.
- the bristles are not as soft as quo on my face. You can kind of feel the brittle ends. It is noticeable.
- what i like about this brush is the flat end for application.
- doesn't not smell, shed, or leak dye when washed.
- brush bristles dries nicely. It keeps it's shape.
Overall: this brush is also nice to start out with. I like the size of it, because you can carry it around in the purse. However, i have't been using it that much, mainly because i find it harder to blend with. It's definitely very affordable.
YAY! i finally finish my review for these brushes! i hope it was of some help, thanks for readingg~~