hi all!
i've been going a little crazy with Mac lipsticks over the past year. I want to share some of the newer ones that i've acquired. They are wayy tooo addicting! These are all limited edition with the exception of Creme Cup. I've swatch creme cup, because it's been my favourite this year, so i thought it does deserve to have one minute of fame.
so here we are:
left to right: Quick Sizzle, Watch Me Shimmer, Quite Cute, A Perfect Day, Playing Koi, Creme Cup(non limited edition)
Quick Sizzle i
from the MAC Shop Cook collection - the finish is Matte. It does stain the lips, so be cautious of this if you intend on wearing it
Watch Me Shimmer
is also from the MAC Shop Cook collection - the finish is amplified. It's a gorgeous bright coral with a little bit more orange then i like, however i imagine this would look amazing in the summer
Quite Cute
is from the Quite Cute collection - a cremesheen finish- which is a cook town light lavender. It's very pale, and cool. It can easily make you look sick applied alone. It looks intimating, but i imagine it would look amazing on those with very fair skin. I'm still experimenting on combining this lipstick with other lipgloss and lip liner, so when i find that perfect combination i'll be back to post about it.
A Perfect Day
is from the Naturally Collection - amplified finish - It's creamy and highly pigmented. It initially reminded me of Creme de Nude, but i swatched them side by side, and realized that Cream de Nude is much lighter. For a photo comparison, scroll down.
Playing Koi
is also from the Quite Cute Collection - it's a satin finish - it's very nude. I didn't realize how hard it was to pull off this lipstick so i haven't been using it. I think it'd look best with people who are very fair, and that doesn't have very pigmented lips. I imagine this would look amazing with Mac Florabundance.
The similarities;

So here is
Creme D Nude
compared to
A Perfect Day
. On the right is A Perfect Day. Creme D Nude is more sheer, and glossy.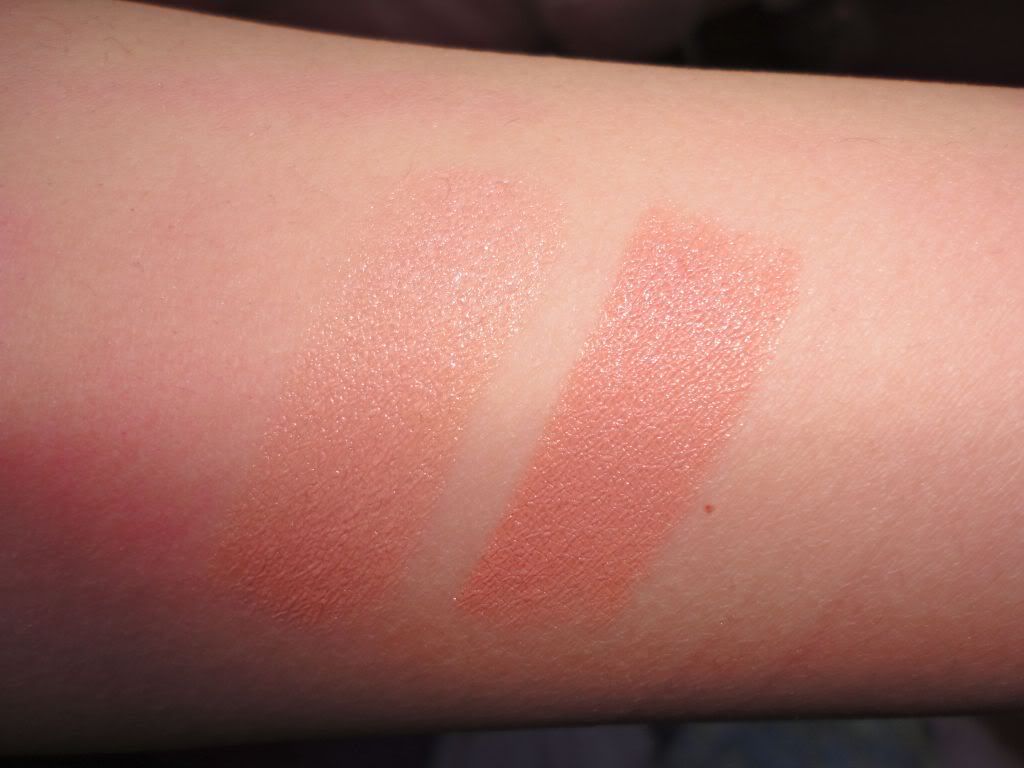 While i was taking the photos, I realized that
Quick Sizzle
reminded me of another lipstick that i've recently acquired and that is, "
A Snow Orchid.
" So i decided to swatch them side by side and realized that they are very similar! They are like dupes! The major difference between the two would be that, Snow Orchid has a little bit of a shimmer that reflect blue undertone, whereas "Quick Sizzle" is completely matte and true bright red/pink. I love both, maybe that's why i unconsciously bought both without realizing their similarity.
So here is the swatch side by side with natural light.
(left to right)
Quick sizzle, A Snow Orchid
& here are the rest of the swatches:
natural lighting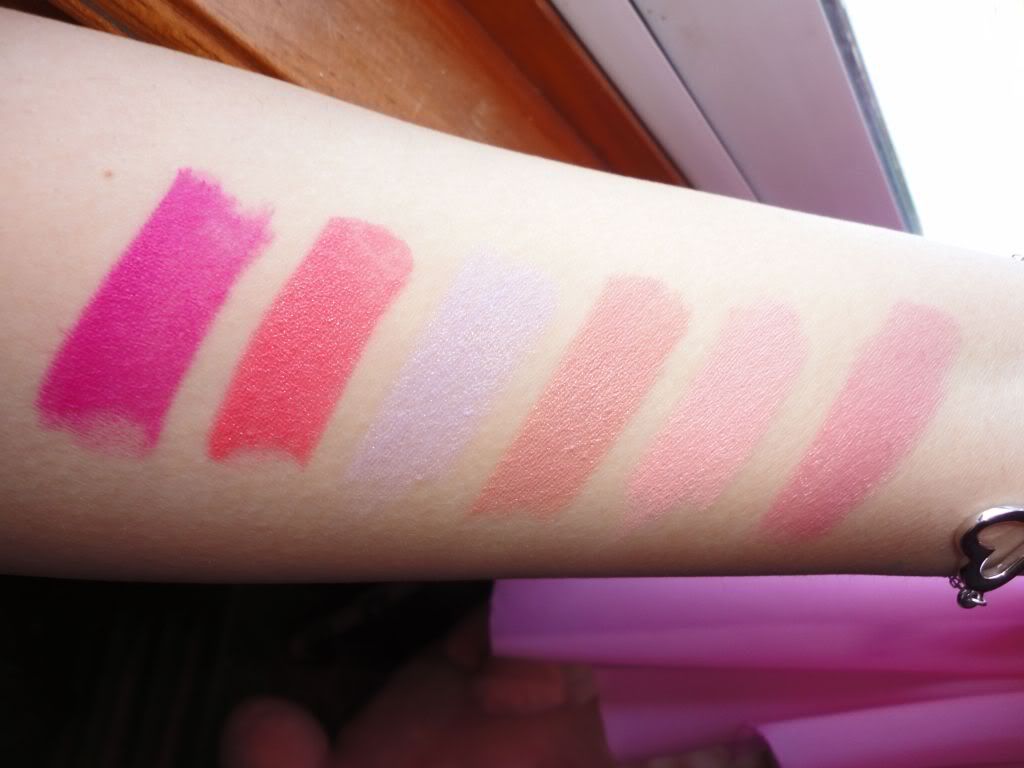 Lastly, i wanted to leave one picture of how
Quick Sizzle
looks on! It's been a while since i've taken pictures with my camera for blogging, it all felt so...strange. haha
Hope you enjoyed this post, and thank you for dropping by ;)