Last year (2010) I started to become obsessed with scented candles and lotions. I've never cared for it, and i thought that it's a complete waste of money, but after my first purchase at "
Bath and Body
" i'm hooked.
I can't really explain what it is about it, but I've got into the habit of lighting candles and using the lotions now. A lot of it might have to do with how WONDERFUL it makes me and my room smells! I guess i'm a real sucker for stuff that smells good!
Here is my purchase. I took advantage of the deals that they had!
Scented Candles: Twilight Woods & Midnight Pomegranate

Claims

- Highly fragranced candle exclusively developed and tested by our team of Home Fragrance experts, including the world's best master perfumers.

- Made using the highest concentration of the fragrance oils, an exclusive blend of vegetable wax and lead-free wicks for optimal performance

- Burn time of approximately 40-65 hours.

Cautions: Do not burn for more than 3-4 hours at a time


If you buy these at their retail price they are expensive! I believe its $22.50 CAD, but if you wait for the sales, it's 50% off. I don't have experience using many candles, but to me, these candles last a long time. I've burned them atleast 15 times each already, (each time for more than an hour), and it's still not done.
My favourite is
Twilight woods
. They were burning it in the store the day that i wanted to purchase candles, and i had to have it. It truly
smells romantic & calming
to me (that makes no sense(i know) at all- but i just really love this scent!). i love it so much i got the lotion as well.
Pomegranate
is much more "sweet" so i light it time to time when i feel
happy and hyper
.
I think the scent i burn reflects my mood
.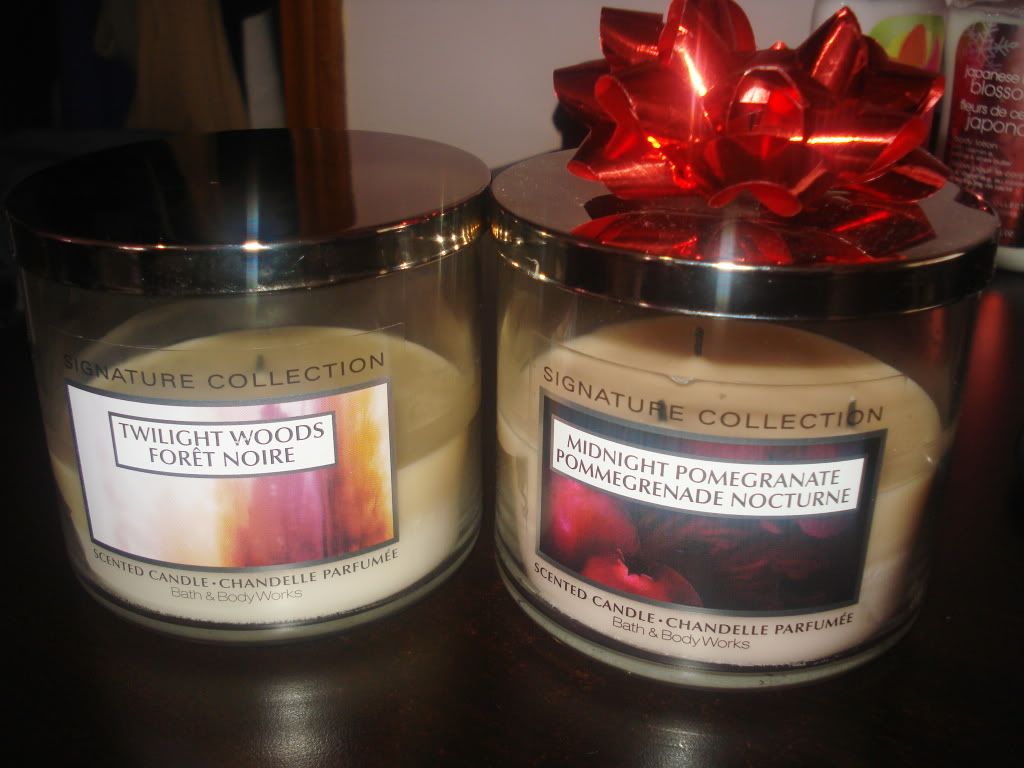 Here's a quick shot of how the candles look after lighting. The top layer of wax will melt, and i believe that is the fragrance oils. It's incredible, (to me, because i never seen that before). The smell fills my room very quickly. Once you are done, just blow it out, or cover it with the lid to put out the flame, and the liquid layer would solidify again. Ready to be lit up again.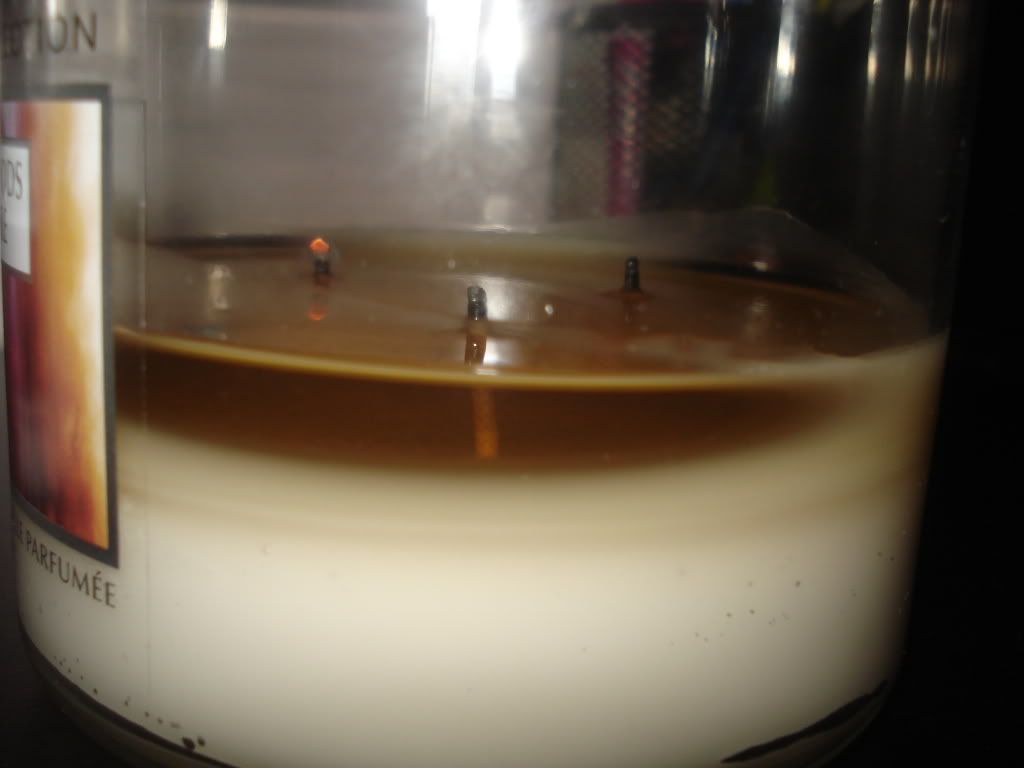 Scented Body Lotions:all with vitamin e and jojoba & shea butter

Twilight Woods: a hypnotic blend of enticing fruits and warm cypress inspired by a romantic walk in enchanted woods.

Sweet Pea: a fruity floral scent that evokes the intoxicating, floral-infused breezes of the Mediterranean

Japanese Cherry Blossom: "award winning" a seductive and mysterious floral sdcent inspired by the exotic garden of Japan.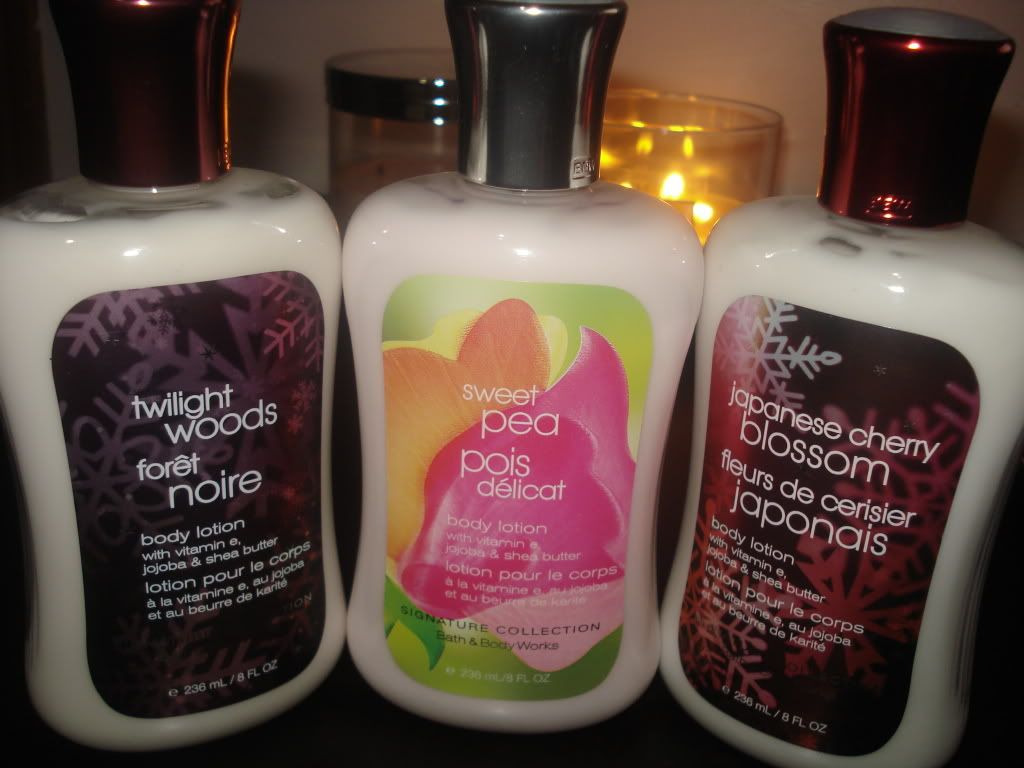 The smell lasts a few hours, if you are not running around and doing much, but otherwise they fad quick in my opinion. Otherwise, it's nice to apply on, because it dries very quickly and nicely. It also dries matte, so that is a plus for me. I would say moisturizing wise - they are good, but not great. My arms does feel smoother when I've applied it a couple of times, but i don't have a problem with dry skin (body wise anyways). It does soften the skin noticeably, but it won't work if your skin is very dry. Silly me, but i apply it because it smells so good, and i like to smell good. :)
I think my favourite would have to be the
Cherry Blossom
, but i honestly love the other two as well. They're all unique amongst one another. They all smell very nice, probably the best ones the store offers (in my opinion)
BTW. Bath and Body has a great return policy. They are all about customer satisfaction . They say
"If your experience is anything less than perfect, please remmeber our 100% satisfaction guarantee."
right on their candle and receipts. i really like stores that are dedicated to their customers. It makes me want to come back.
Note: I'm not trying to advertise the company by any means, i'm simply a very satisfied customer