I hope everyone had a lovely Valentines day! Mine was very sweet and somewhat typical, but nonetheless very nice. I think everyday should be Valentines day. I want to share with you guys how it went....
Valentines Day did not start off too well for me. It was on a Monday and i had an assignment due Wednesday. Prior to that i had midterms, hence why the assignment was not yet finished. I gave my boyfriend a heads up that i would be at school all day Monday (Valentines Day) to finish my assignment, and asked him if it was okay to postpone "OUR valentines" day to the following day - being Tuesday.
So, i spent the whole day in the library with my friend working on our assignment. I didn't get home that day until 7 pm. After almost 10 hours of being at school working one that assignment, i was very bummed out by the end of the day. BUT i headed out shortly afterwards to buy a Valentines Card & a box of chocolate for my boyfriend. I really wanted to make one, because it would be so much more meaningful, but there was absolutely no time left for me to do that. So I ended up buying one and writing in it.
During that time, i was not at home for about 20 minutes. Shortly after i've came home, and walked into my room, i found this lovely thing sitting on my desk waiting for me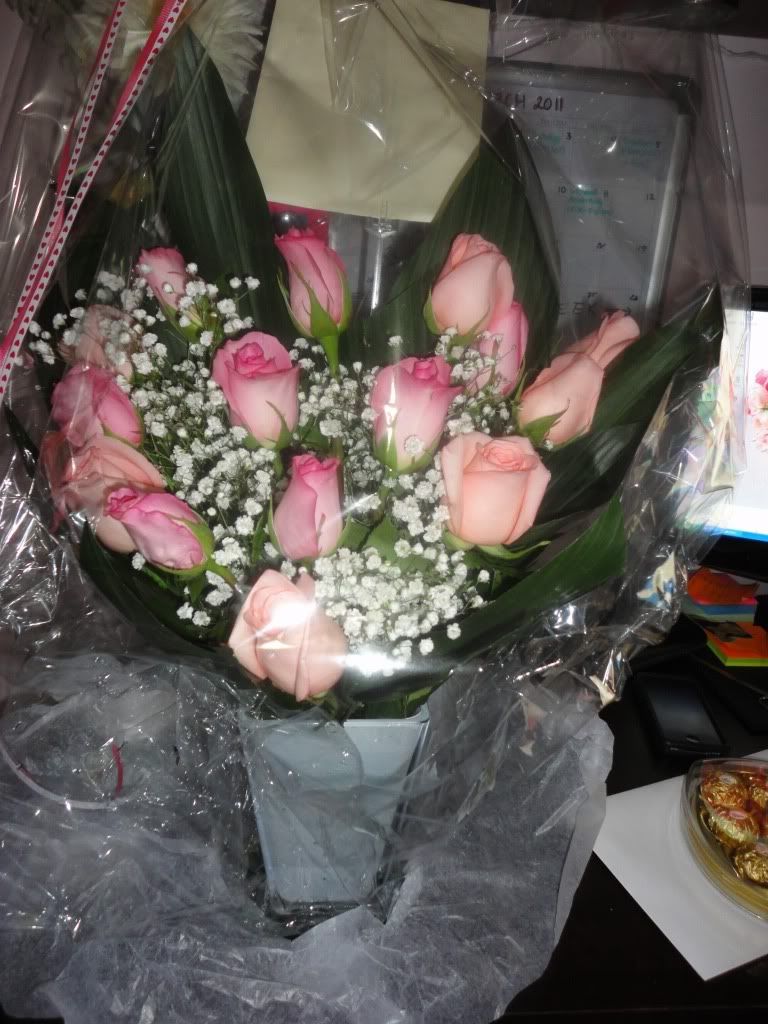 A fact : my bf has never gotten red roses....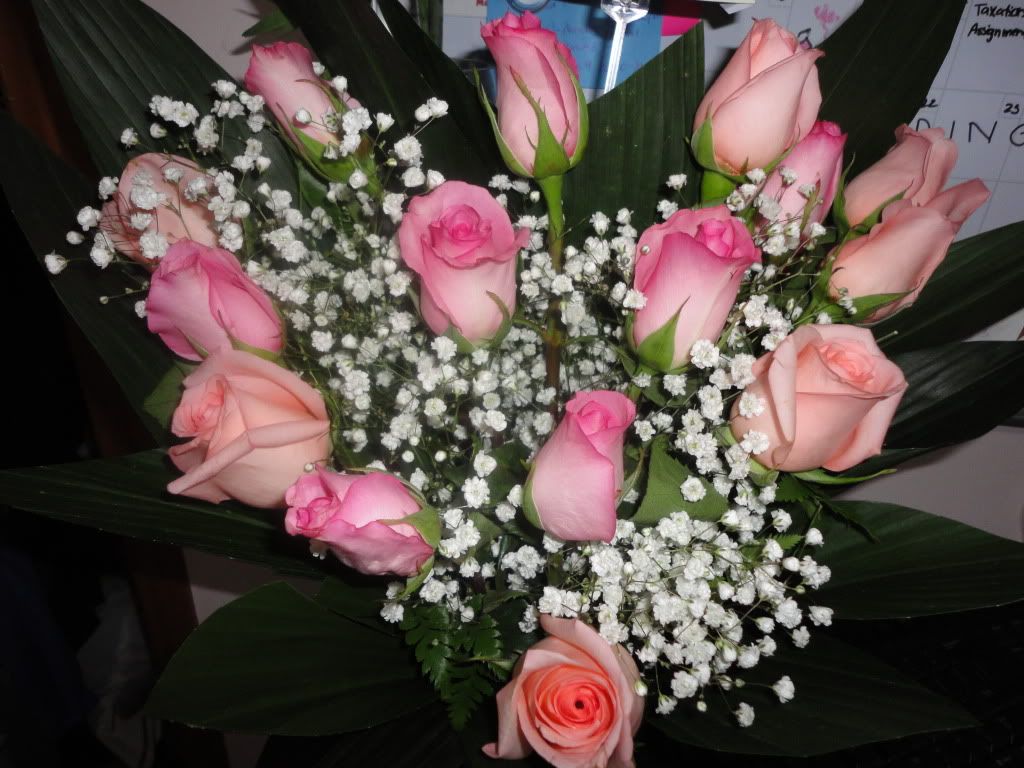 Can you guys see the shape of how the roses are arranged?
I finally realized that he ordered it a week in advanced, and he gave the florist specific instructions to make arrange the flowers in a heart shape. Cheesyyyy! but that's okay because it's Valentines DAY!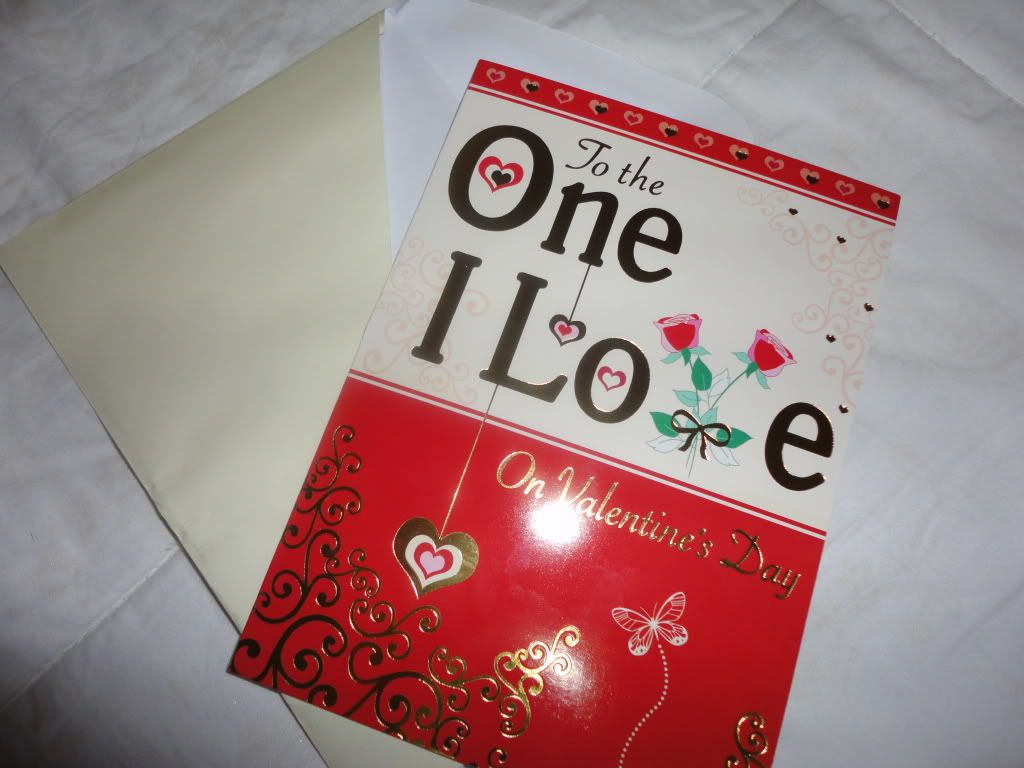 this is the card that came with the flowers....
I was really surprised! I thought that my boyfriend didn't care to get flowers, and i thought that he was going to get it done last minute - but he totally surprised me this time around.
I absolutely love receiving flowers. I know a lot of girls think....it's just flowers, you can't eat it, you can't do anything with it - all you can do it wait until it dies. I guess i'm the opposite. Every time i receive flowers, i get butterflies. When my boyfriend gives me flowers, i guess it reminds me of the time when we first dated. When everything you experience was so new and amazing - not that it's not amazing now, but yeah you know what i mean.
Anyways, back to the story. My flowers were delivered by the flower shop. It happened to work out at the perfect time, because it was sent to my house when I left for a bit to get the card and chocolate. The funny thing is, my dad opened the door and received the flowers for me. LOL. I wonder how he felt receiving roses! LOL
So all of this actually took place ON Valentines day. Our actually date happened
the following day..............
The following day, again- i had class. Tuesday happen to be the longest day for me. I have 5 hours of straight lecture! Intenseeee! I finish class at 2.30, and he has booked RSVP for dinner at 6:00. We decided to go to a fine dinning resturant called: Micheals by the Thames. It was our first time there, but my brother has told us that the food there is pretty goodd - so we thought we try it out.
- YES there is still snow!
I don't have many photos....because i felt very awkward taking pictures there...These pictures were taken without flash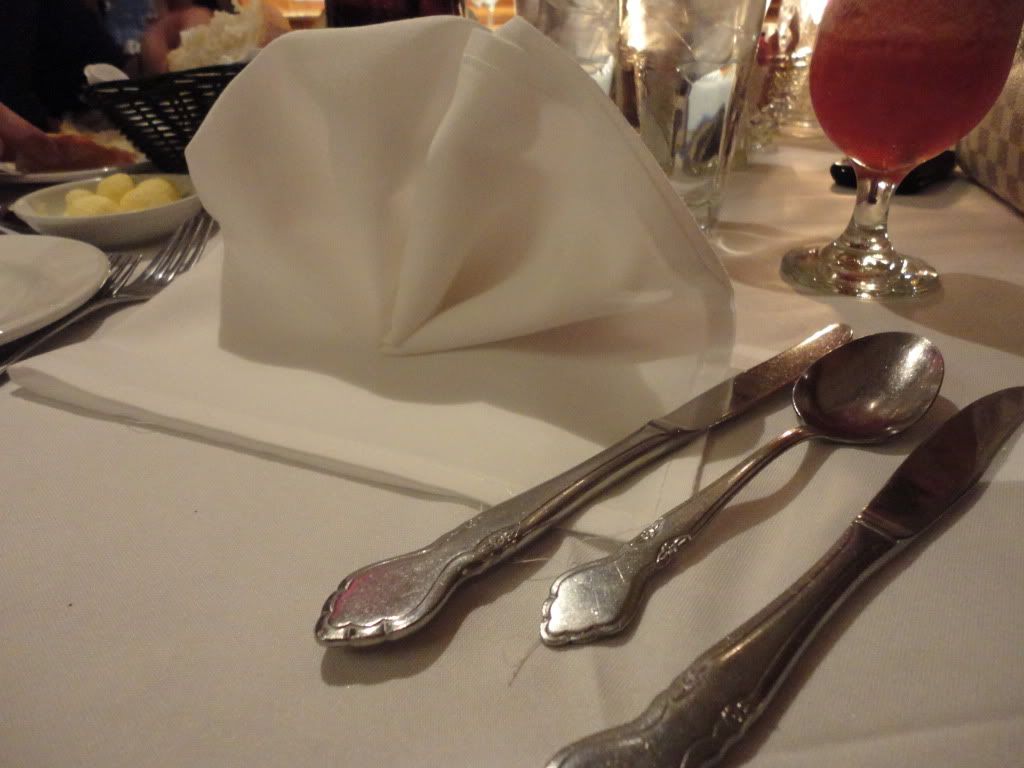 While we were waiting for our food: here's is yours truly! Despite the fact that i did TWO valentines day LOOK for my blog, i didn't have the time to do either for the actual day! School ruins everythingg...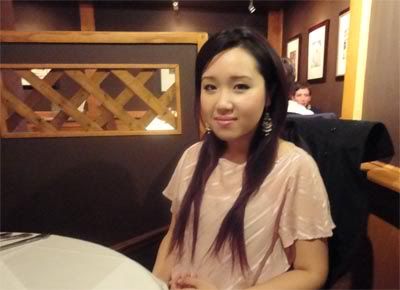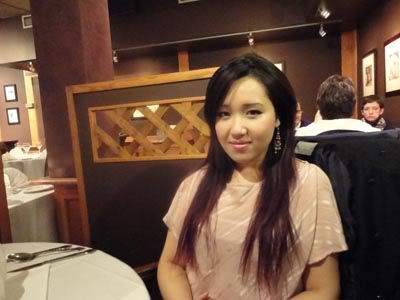 some bread and butter to munch on while we wait..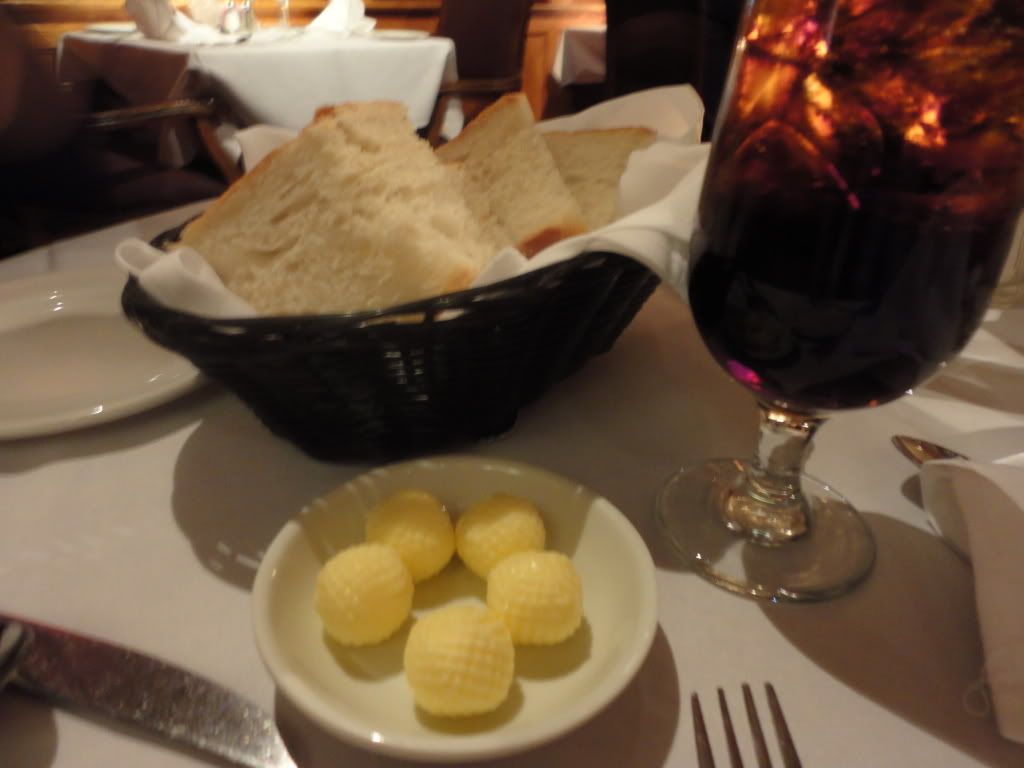 We both has steakk!! yummi.. I love steak...My boyfriend tried the Filet Migeon - He think this is the best steak, because we had at it at wedding 2 years ago, and it was seriously amazing. Sadly this one is not the same, but still good!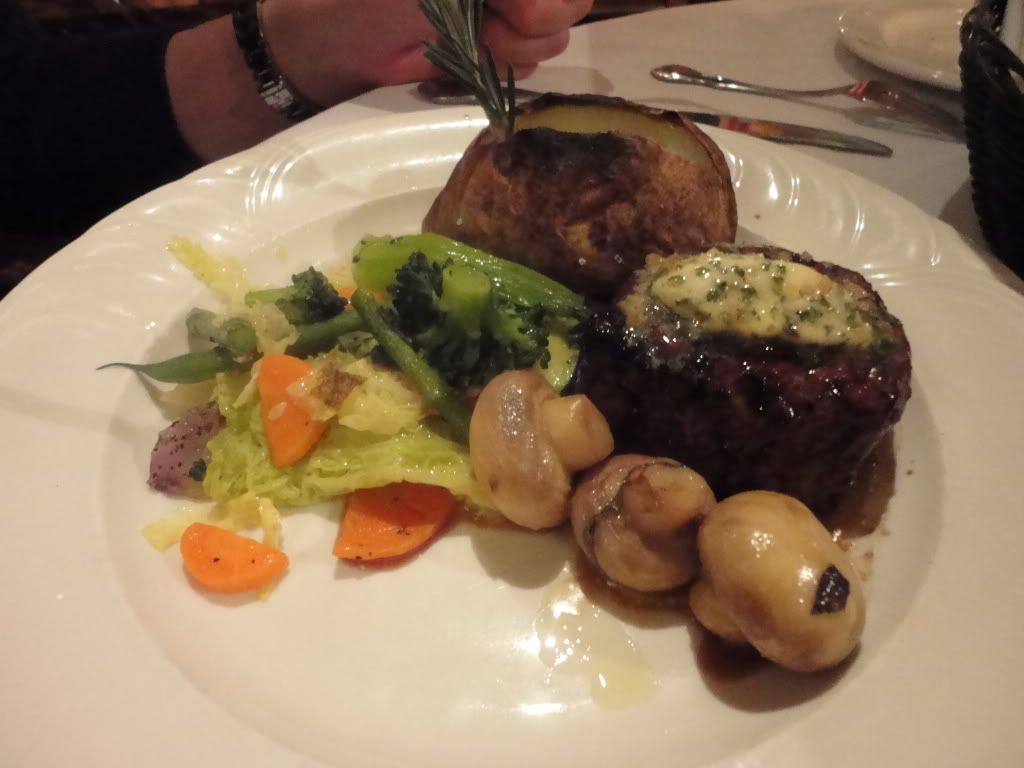 I tried the Butcher's Block? I think that's what it's called. Strange name, but it was deliciouss. Can you believe my piece of bigger, yet his was more expensive? What a trade off. LOL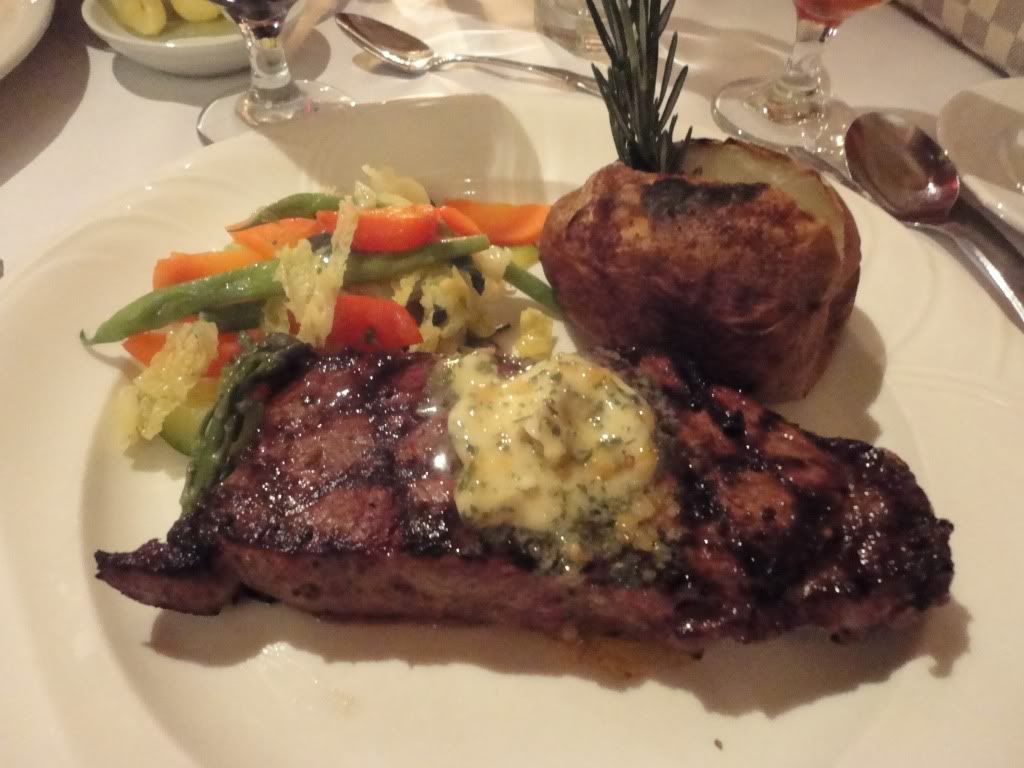 For dessert we had Strawberry ---something, i can't remember. There was a gentlemen that brought over this cart and started to make it infront of us. It was pretty amazing, when i got to see blue flames.
The final product was delicious. There's pieces of cake, strawberries with strawberry icecream, whip cream, some alcohol & their sweet sauce. I only wish there was a bit more icecream.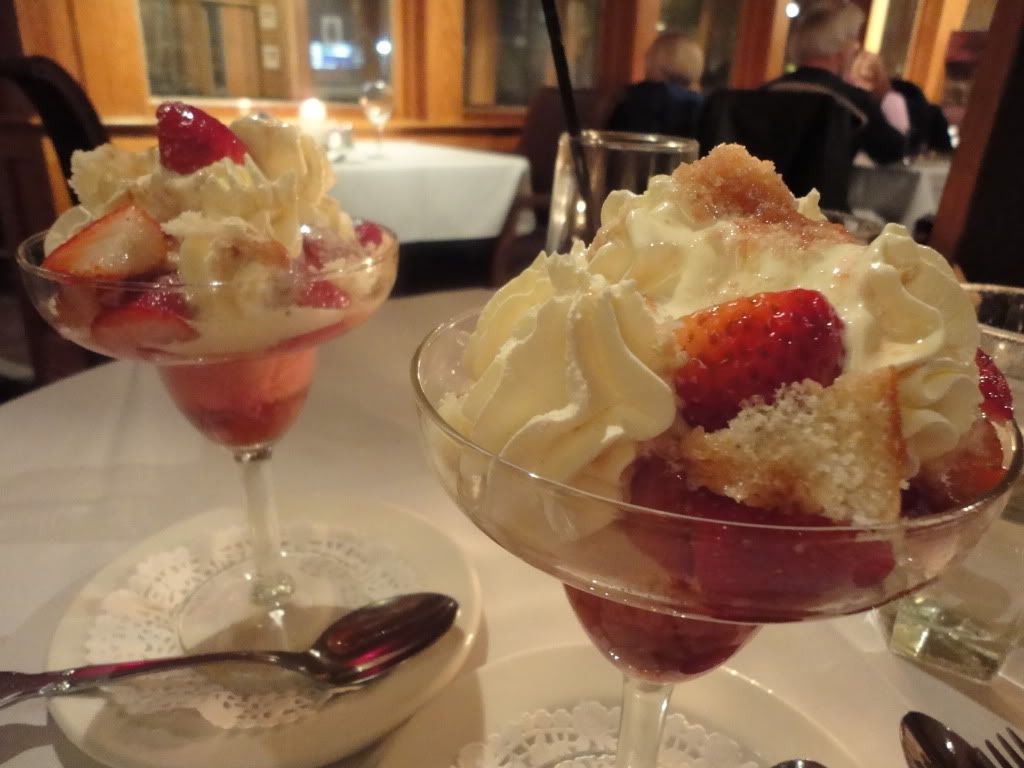 & that was my Valentines day! It's been 3 day already, and my roses are still gorgeous. I will hair spray it and keep it when it starts to die. i haven't done this before, but i'd like to try it! heard you need to hang them upside down first.
Thanks for reading <3