Hi Beautiful!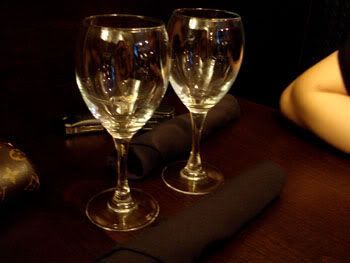 i haven't blog in sooo long! well it feels very very long. So now that i have time on this lovely boxing day, i'm gonna do some catching up and updating on what's been going on for the past few days.
Let's see. On Dec. 19th 2009. My bf and i went out to eat at Tony Roma's for his birthday. We have been to this place before, and i remember having steak here, but it was okay. They have great customer service. I still remember they had to ensure that my steak what made to what i wanted.
But anywas, we went to the new location that's accross from masionville mall area. We went prettty late as well, but it was still open. They opened until 1am that night. WOW! haha. Surprisingly it was still full.
Before heading out to Tony Roma's we were at home, cutting cake and doing the "traditional" stuff. lighting candles, and blowing out candles, and singing birthday songs. ahahaha. I was waiting to eat all day, that we ate dessert before going out to eat the main course. hahaha..
Here is a picture of the cake. Sorry for the bad lighting, it was night, and yeah. I'm such a bad gf. i forgot the candles, and this was all we found. Usually i would've used a sparkler. they look prettier, but yeah >.<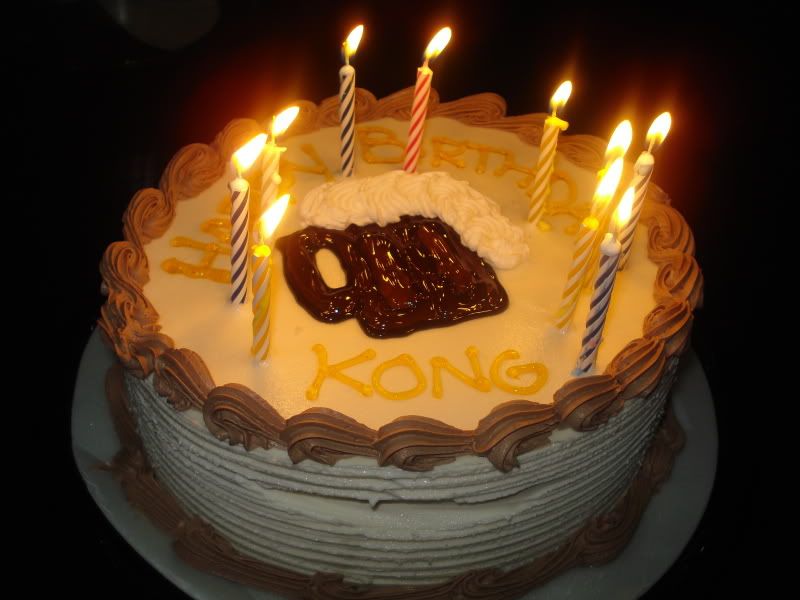 We usually get a fruitcake, from Angelos, but we've been having that too often, that i think i'm pretty sick of it now. So i decided to get him an icecream cake, with a picture of a beer on it. HAHAH. Not that he's an alcoholic. THat was the best thing there, unless he wanted Elmo >.<....
A slice of cake, on a very asian looking plate...
The cake was delciious :D
Here is a picture of us before heading out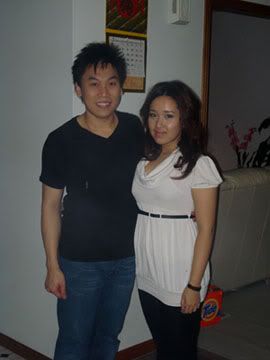 So when we got there, i decided to drink something. We were over on the bar side, and it just seems right to drink. I asked the waitress if there was anything she'd recommend. I told her, i like something girly, sweet and fruitty. She recommended the "Blue Martini" and it looks like this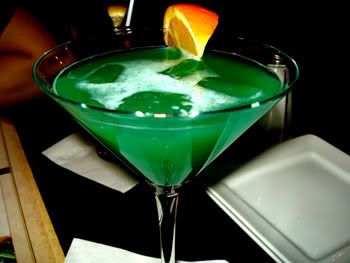 It's the best drink i've had going out . I really like it. It barely taste like alcohol at all. You can taste the pineapple, and it's very sweet. I like it. haha. It's a pretty colour too, matched my eyesadhwo (Pastel Green Post). Maybe that's why she recommended it. haha
So now, onto the food. :)...I wanted to eat something different. When we go out, i usually get pasta, steak, or chicken. So that day i felt brave and wanted to try fish. Let me tell you something first. The picture of the fish was complete BS. in the picture it looked so juicy and big and tender, when i got it, it was dry, skinny, and whimpy. IT was so sad and ...almost pathetic.
I got the Talpia Dish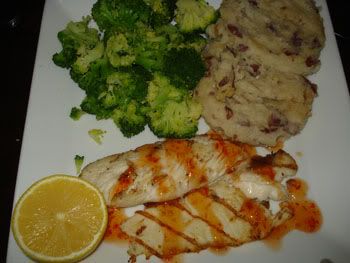 It doesn't look so bad in pictures, but it was pretty...thin...and dried up. I got it grilled though. I got thai sauce over it. I didn't like it cos i could taste TOO.."fishy??" I know it's fish, but i thought it wouldn't taste SOO fishy. Maybe it would've been different if i got it done some other day. You can get it "blacken" what ever that means, and something else i don't remember. I wanted it looked the same as in pictures, but sadly, it wasn't good at all. I did manage to finish the brocilli, because they steamed it and it was very juicy and enjoyable. You don't get sick of it. The mash potatoes, i barely touched. I forgot that they made their mash potatoes's differently. I much perfer creamy mash potatoes, without all the fanci-smanshi stuff they put in it. :/ Overall, i did finish my meal tho, minus the mash potatoes.
Boyfriend likes chicken, so he got this: Southwestern chicken
I don't remember what it was called. THey overdid the chicken though, but it was okay. The chicken was dried, so that killed it, but it would've been better. He didn't want mash potoates, so changed it for fries instead. haha. What a kid :D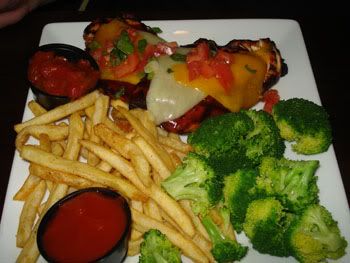 SO that was our dinner. THis place is okay. i like how it looks and all. Food is pricey, service is good, food is MEH. Both times going there, i never LOVED any of the dishes, so yeah. Nice to check out if you haven't been there, but not a place i'd want to go. Maybe once in a LONG while :D
Unless you guys have a dish you swear by and would love to recommend to me :D
Oh yeah, and present :D This is my late birthday present to him: I wish i had more time to look for a better gift, but his bday happens to be on an exam day. During exam week, so i didn't have time for anything besides studying. :/ When exams come up, i ignore everything. >.<
He likes cars, so this is what he gets to play with when i ignore him for school. hehehe. I must prepare him for the next 4 months :D