Here is the look:
A couple weeks ago, boyfriend and i went to Winners, and he found this
It's essie, French Manicure Set.
I think my bf is gifted in finding make up. I don't know, he just finds the best things. His eyes are just out for them. :) It's retail for 19.00, and sold for 10.00. The set comes with a base colour (a cloudy light pink) called, Mademoiselle, a top coat (clear) called, 3 way Glaze and a white polish for the french tips, called Blanc.
I used this when i first got it as a trial run, and what i noticed is that. It has really strong lasting power. I've had it for almost 3 weeks to a month, and the clear coat is still in strong tact, unless you purposely play with it and peel it off, which was what i did when i was bored. I love the Mademoiselle (cloudy pink) base, because it gives the appearance of fake nails. It neutralizes the colour of my real nails, and when i apply the top coat, my nails looked very shiny and glazed. I like shiny stuff. hahaha.
But anywas, i felt inspired to do my nails today, with them AGAIN!, but with the other colour i also picked up the same day called Exposure, and it's a BARBIE PINK! I've been really in lOVE and addicted to BARBIE pink cosmetics recently. So this is what i've came up with. I love it <3
This is a before picture of my fugly finger/nails. i just filed them so it looked weried and i didn't wash my hands or anything, so that's why it has dust and what not. I didn't wear moisturizer so yes, my hands may look dry. My brother said my fingers look OLD?? W.T.F??!
anywas, :). Yeah, i don't know why my nails are yellow. It makes me mad, so i have to use nail polish. I don't know why some people have clear Nails, and i heard that Lime, or Lemon juice on your nails helps with cleaning them. I didn't do a google on them yet, but you can check it out. My mom's friend told me before to dig ur hands into lime after you used it, it helps clean it out. But i haven't done it in a long time so i can't prove this statement. Test it out tho!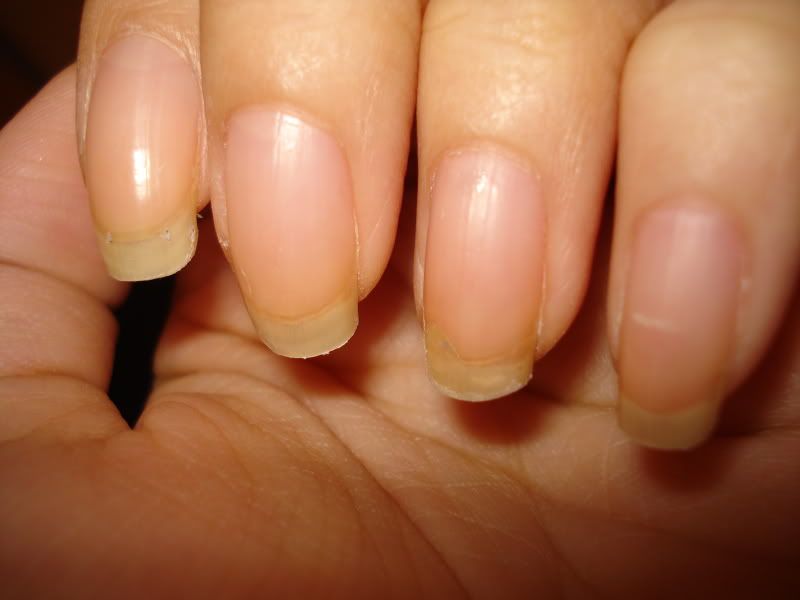 After (credits: to bf for his photography skills)