So i said that i would blog this week, but i haven't had time to do so yet. I've been really busy. Midterms and quiz are popping out of no where like crazyy, and my schedule is pretty packed, so i have it pretty bad. I am just GLAD that the midterms are not one day after the other. Don't you hate that? I remember last year, i had economics and math exams one day apart through out the whole year. Which one do you study?? It's like they dont want you to be successful or something -____-''
Anywas, so i am at school at the moment, and i'm super tired. I didn't sleep very late last night, but i guess the weather and the cold season coming around, i just feel lazy, tired, unmotivated and SICK. i have been sick for a little over a week now. Nothing major just a sore throat, and coughing. No stuffy nose, thank god. i really hate it when i can't sleep because of that. haha. So i haven't been taking meds, but drinking something similar to neocitran, where it taste like lemonaid, but with medication in it. It's a powder and all you do is add hot water. It taste yummy, but once it cools, it's pretty sour, but overall it does a great job curing sore throat, especially the less water you put in. Can't say the same about curing my coughing tho.
So what happened this week. Let's see, i visiteD MAC like i said. the Mac Style Black, the Creme DazzleGlass, and the Dsquare collection are all out. CRAZY! I picked a few things up, but i want to go back for more, so i will update about that later, because i don't wanna spoil it now :)
BF and i went out for dinner at Paul-N-Yuu (sp?) don't ask me about the name, it's the most random thing i've ever heard of. But they make GREAT FRied RICE, but i wanted SHANGHAI, so we went there. It's not the same as the ones at Chinatown, but it's eatable. A little too oily.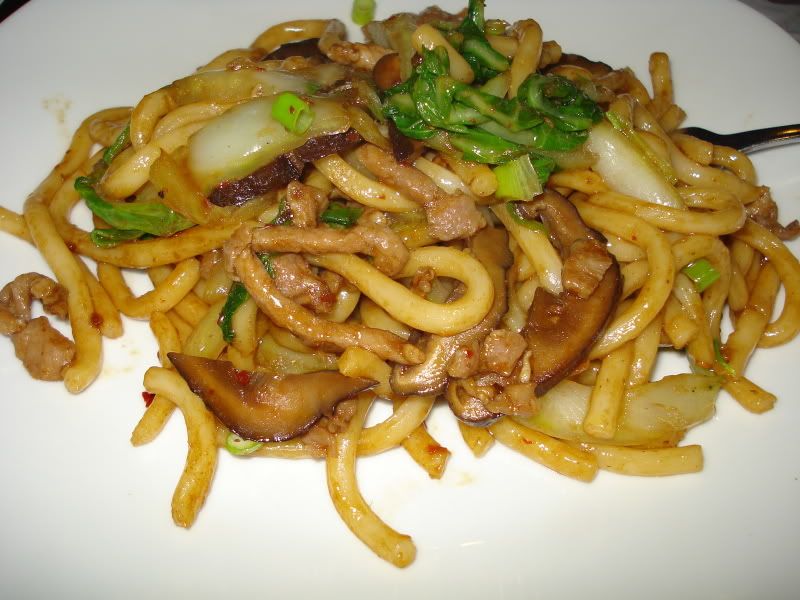 BF enjoyed the noodles. We left al the meat, and mushrooms because they are gross. It's pork and it had the "fatty" gross taste that ruins the whole dishes, so i didn't eat it. The noodles were really soft and nice, bf pigged out on it. He loves Shanghai. <3
I told him to also try the WonTon. It was okay. Looked nice, but the soup was made from powder. Most likely! and the filing was bland, but non the less he finished it. He was getting sick, because it was cold and all he wore was a long sleeve shirt, and claiming that he's strong, and now he's coughing and sneezing like no tomorrow. I refuse to say that i gave my sickness to him. He must've gotten it from the weather. :)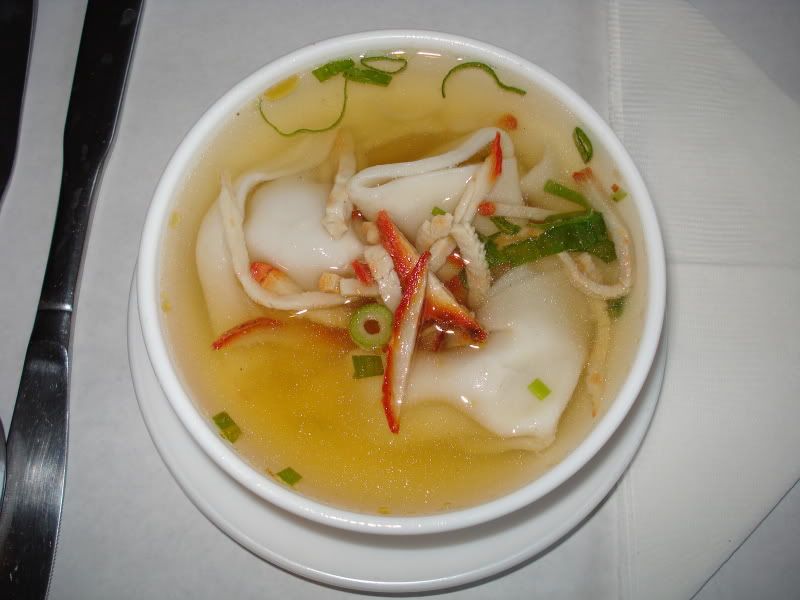 So lately, i've been really craving wings. I just love them. I don't know why, so we ordered it. It wasn't as good at the ones at Dragon Gate, the chickens were over cooked, and i saw like red marks on the chicken but it's not raw. So it was dry. The flavour wasn't as good. It's crisby and eatable tho. Though i think i'm addicted to DG's deep fried wings.