Hi guys,
so it's been a while since i've updated with a look and i have been wanting to do a purple and blue look for the longest time, but i'm limited in Blue eyeshadows so it was a little hard. Evertime i tried to use blue, it just looked so wrong. I don't know, maybe blue is just not my colour, because it just makes me look werid?? Maybe a different shade of blue may help me out but navy blue isn't workin out with me.
So since tonight is friday and i realy dont' want to do any work, since i've already had a long day so i decided to play with some make up.
Here is the look:
The pictures may not fully justify the look because i realized that when i take pictuers at night, the colour is off, and the flash is quite strong so it omits some colours and then make some colours really intense, that is why i try to take pictures during the day. During the day i don't need to use flash, so the flash does not disort the colours at all. But I WAS IN THE MOOD tonight, so this would have just to do.




Products i've used:


Eyes
Mac Shade stick - Red Velvet
Mac Hepcat e/s
Parfait Amour
Strike a Pose
Moon's reflection
Gleam
Maybelline Unstopable Linear
Adrell lashes in 101
Lips
Way to Love
My favourite pink dazzleglass
CheeksFaces 004

To complete the look i decided to do my hair also. This was inspired by the Taylor Swift music video - You belong to me. I've been addicted to that song, i have no clue why. I just love it. hahaha. I love her hair. :( i'm so sad mmine is not healthy like such :/ BooHoo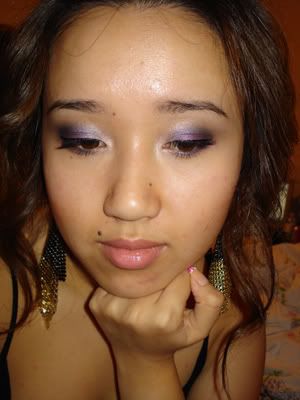 P.S. please excuse the stray hair and the breaking out. It's that time of the month and that time of the year when alot of students are stressing over midterms. :( School does a lot of damage, i mean i don't even have time to pluck my eyebrows on a regular basis. Or do my nails. They chip and become all demented. Anywas, I have a thing with eyebrows, i like CLEAN eyebrows, and when they're not clean it makes me mad....I'm a little werid.
Anywas, i like the look overall. It's a pretty nightouts look. Cute if you can pull off blues, but i should've done a more nude colour, without pink. but pink looks okay too. I realized that after i put on the lipstick, and i was too lazy to wipe it off and re-apply a different one. :/
Hope you Enjoy
I am currently at the library at school right now, just finishing off my blog which i've started last night. So i will be off to studying my mirco economics :)
P.S.S. The pictures make my skin look so oily, but it wasn't. It's the damn flash. :/