Yesterday, while i was at masonville to pick up something for my boyfriend, i decided to drop by Mac, since i haven't been there for ages! I was browsing around, and realized that they have launched a new line of products: the
Prolong wear Concealer & Foundations
At the moment, i don't really need a foundation, but i did need a good under eye concealer! I have tried quite a few brands out there, but was never really satified. They were either to thick, cakey, dry, provide insuffient converage, OR disappeared after a few hours. The last concealer i picked up was the Mac Studio Finish Concealer, after seeing a few youtubers rave about it - but i found it was wayy to thick and cakey (especially for your delicate eyes), even though it provided excellent coverage.
So i thought,
what the heck
, i might as well give this Prolong Wear concealer a try, since i was in need of a better concealer for under eyes specifically (especially since school started , i might as well prepare myself).
This is the Concealer. I'm in NC20. it's $20.00 CAD. I would say this is Medium Coverage
More coverage then the
MAC Select MoistureCoverage
, less then the
Mac Studio Finish
What really caught my eye was the fact that its in a bottle with a pump. I like that idea, because its very sanitary, but the downfall is you may be wasting more product.
What i like about it now that i've used it this morning is:
-how it blends very nicely into my skin
-it doesn't look cakey
-adequate coverage
-lasts about 6hrs +
-in a pump form
-the actually pump is pretty good, you should be able to control the amount coming out
What i don't like about this product is:
-the shade selection
In general, i find it difficult to find the right shade of concealer from Mac. I feel like there is a white cast after applying the concealer. I wish it had more of a salmon tone, but the next shade up from Nc20, is just way too dark.
Overall, i do like this concealer so far - i think if you have average undereye bags, this would be nice, but if you have really dark circles, you may want to try something else, as this would not be enough coverage. I like how my skin doesn't look cakey with this on.
The second item i got was the
Mac 252 Concealer
. For the longest time, i didn't want to buy a concealer brush, because i thought it's a waste, and i didn't think it would make much of a difference, but i was SOO proven WRONG!
All these years, i've been applying concealer with my ring finger, and i was never satisfied with the concealer, because it never completely covered my dark circles unless i packed it on - (hence, why i'm always on the search for a good conealer!) But when i was at MAC that day, I told the sales associate i wanted to buy a brush, and she recommend this brush to me.
The Mac 252 Large Shader brush, or Concealer brush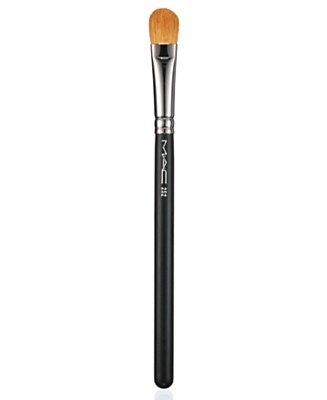 It will probbaly be the best and most useful brush i've ever invested my money into, because i ALWAYS use concealer - its like a necessity! PLUS, it's also an eyeshadow shader brush! Its multi functional!
The bristles are densed, and soft. They pick up and pack on all of the product. THe way i've been applying concealer before, was actually removing some of it with my ring finger! This brush is
perfect for liquid concealers
, because it's big enough that the hair will be partially wet and partially dry, making the application & blending very smooth. When the brush is completely drenched with concealer, you would actually be removing some of the concealer while blending! (which is why i didn't purchase the Mac 242)
I'm absolutely in love with this brush, it's worth every darn penny.

Moral of the story: a good concealer brush is just as, if not more important then a good concealer. It really makes all the difference!