For the past two weeks, i've been using a few of Laneige products that i purchased in Toronto Chinatown. If you are interested in Laneige product, i know that you can find it at pacific mall & chinatown: Dragon city, main floor. Both of these locations are in toronto. If you know any other places that have Laneige, please kindly share, by leaving me a comment below. thanks~
I bought the big bottle, the two others were free samples recieved with my purchase.
I first found out about Laneige skincare product from a Youtube guru,
Bubzbeauty
. I thought this brand can not be found anywhere in Canada, and i thought it was just all hyped up, but at the same time i was very interested in trying it, because their packaging looks sooo pretty! yes - i'm quite a sucker for packaging. plus, the lovely,
Song Hye Kyo
models for that brand, so what more do i have to say?
While wondering around Chinatown, i happen to bump into Laneige, and decided to give it a try since the price range was definitely more affordable then i expected.
Before i go on with the review. I would just like to rank the items from favourite to least

Laneige Professional Makeup Remover Multi Cleanser (Rating 5/5) - Highly Recommended
Laneige Water Bank Cream 2_EX (Rating 4/5)
Laneige Balancing Emulsion 2_EX (Rating 3/5)
Laneige Balancing Emulsion 2_EX
for Combination to Oily skin type.
Snow Crystal Clear & Hydraded skin with Snow water science
Properties
:
120 m / 4.1 fl.oz
lotion texture
glass bottle with pump
light citrus scent
Price
: $35 CAD cash
Ingredients
:water, dimethicone, butylene, glycol, alcohol, glyerin, cetyl ethylhexanoate, betaine, pentaerthrityl tetraethylhexanoate, water(himalaya snow water), musa sapientum(banana) fruit extract, vitis vinifera(grape) fruit extract, vitis vinifera (grape) fruit extract, citrus medica limonum(lemon) fruit extract, solanum lycopersicum (tomato) fruit/ leaf/stem extract, cetearyl alcohol, cyclopentasiloxane, glyeryl stearate, ....
The Pros
-leaves slight shine, but dries pretty matte
-easily spreads across the face
-absorbs into the skin well
-affordable
-convenient and sanitary
-softens the skin
The Cons
-does not provide any other benefits besides moisturizing
-thick, heavy bottle
-the lotion is a little too liquidity for my own personal liking
-does not have spf
-not moisturizing enough for me, perhapes because it's in a liquid form
Recommended For
-the summer
-those with normal, (maybe)combination, but definitely oily skintype
Repurchase? Probably not, i like it, but i don't love it. It doesn't have that wow factor, and I guess i much more perfer cream, or gel based moisturizer. But, the main reason i will not repurchase this is, because i've found a different Laneige cream i'm in LOVE with.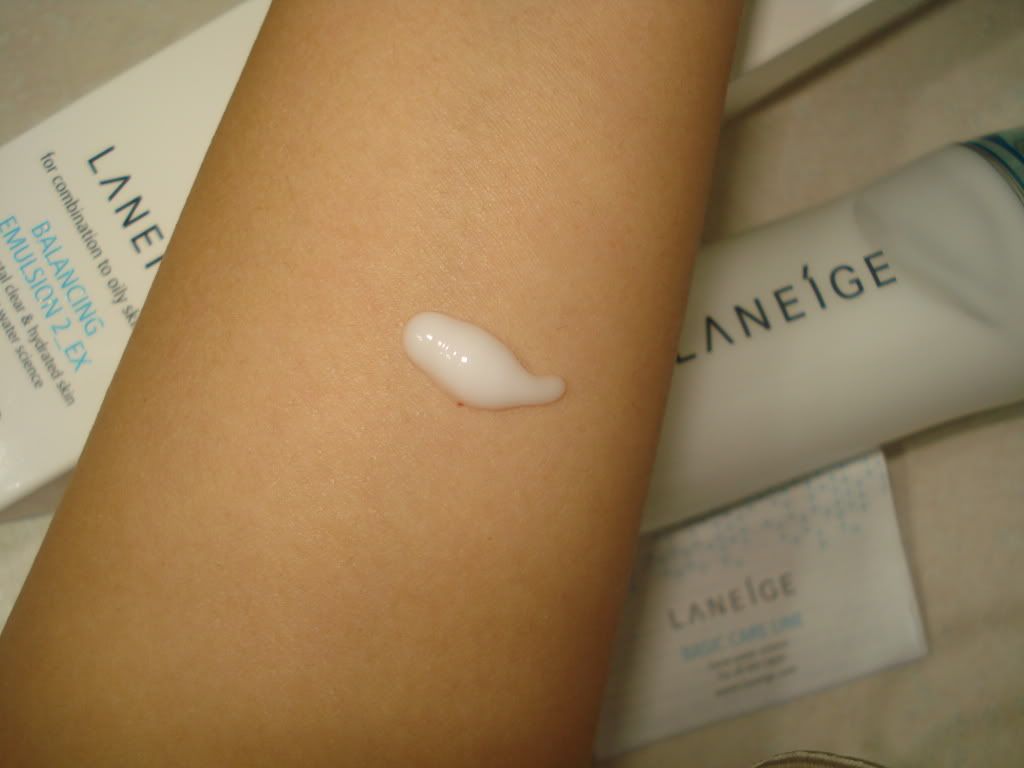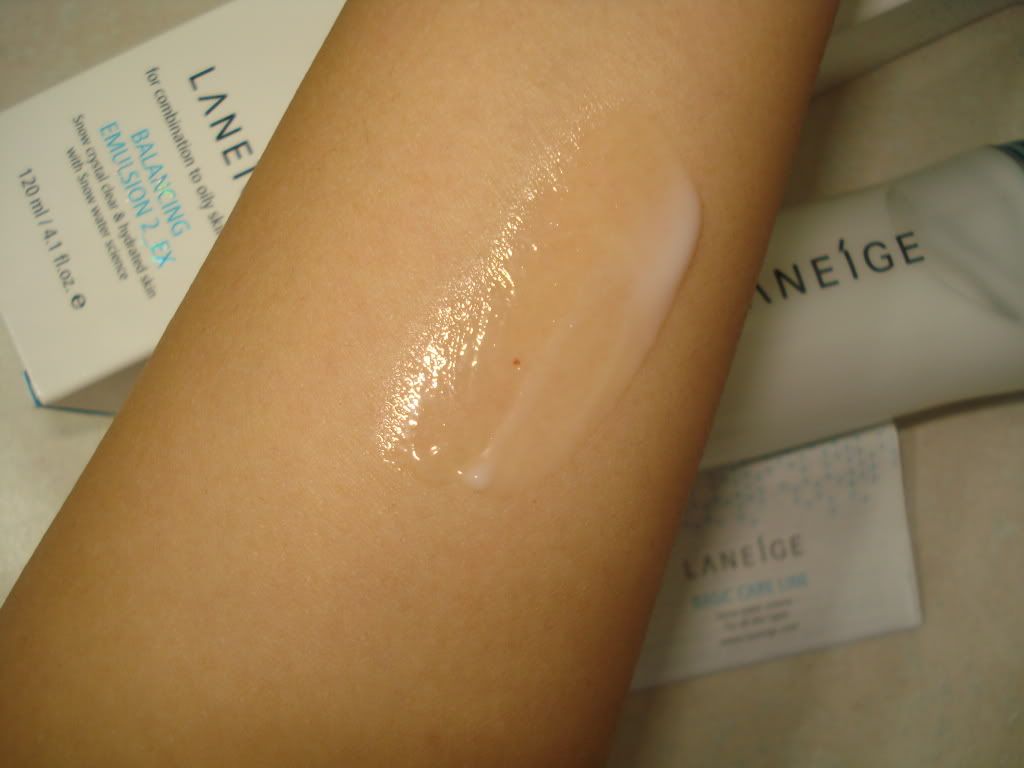 My Experience
This is an average moisturizer. I do like the formula, and i like how easily it spreads and blends into my skin. It reminds me of a My Beauty Diary Mask in a cream form. It smellls like it too! You really don't need a lot, one pump is more then enough for the entire face. After applying, my face is matte when it's completely dry. However, i feel it
can be a bit more moisturizing.
Nonetheless, it's perfect for the summer only. If you have very dry flaking skin, this would not work.
PDATE When i wrote this review, i thought this was a moisturizer, however i've been told that this product is used prior to a moisturizing to aid the moisturizer in absorbing into the skin. I will re-review this soon, with my new skin regime. Sorry for any misunderstanding!
Laneige Water Bank Cream 2_EX
for Combination skin type.
advanced Nano lipsome supplying cream for combination skin type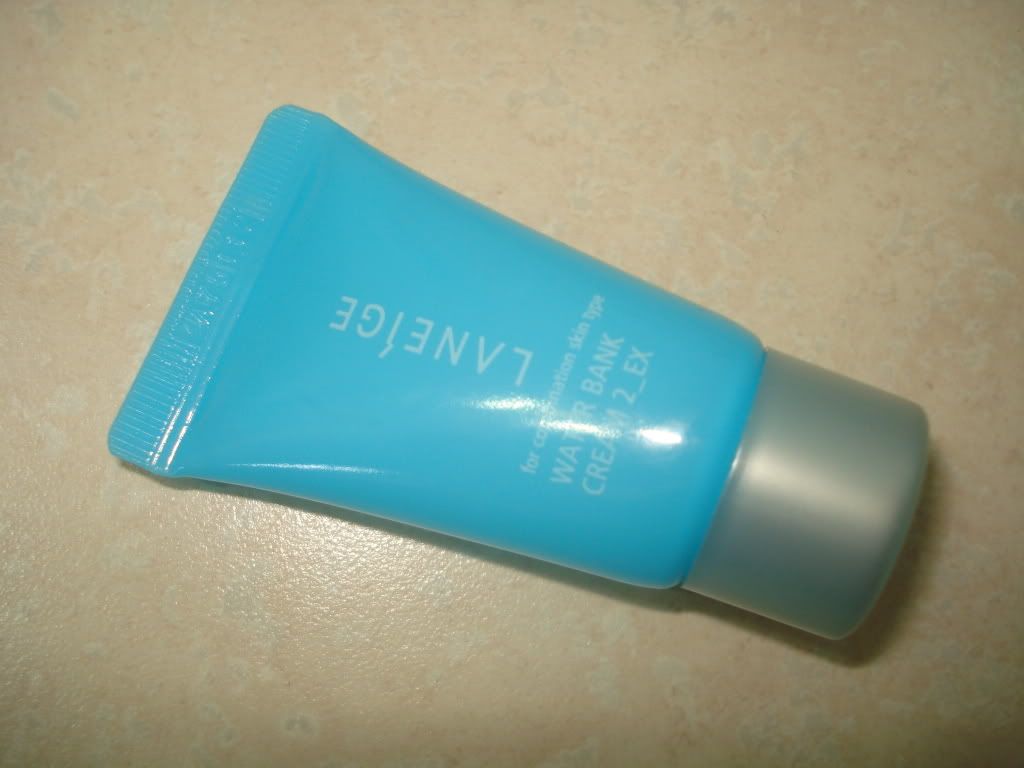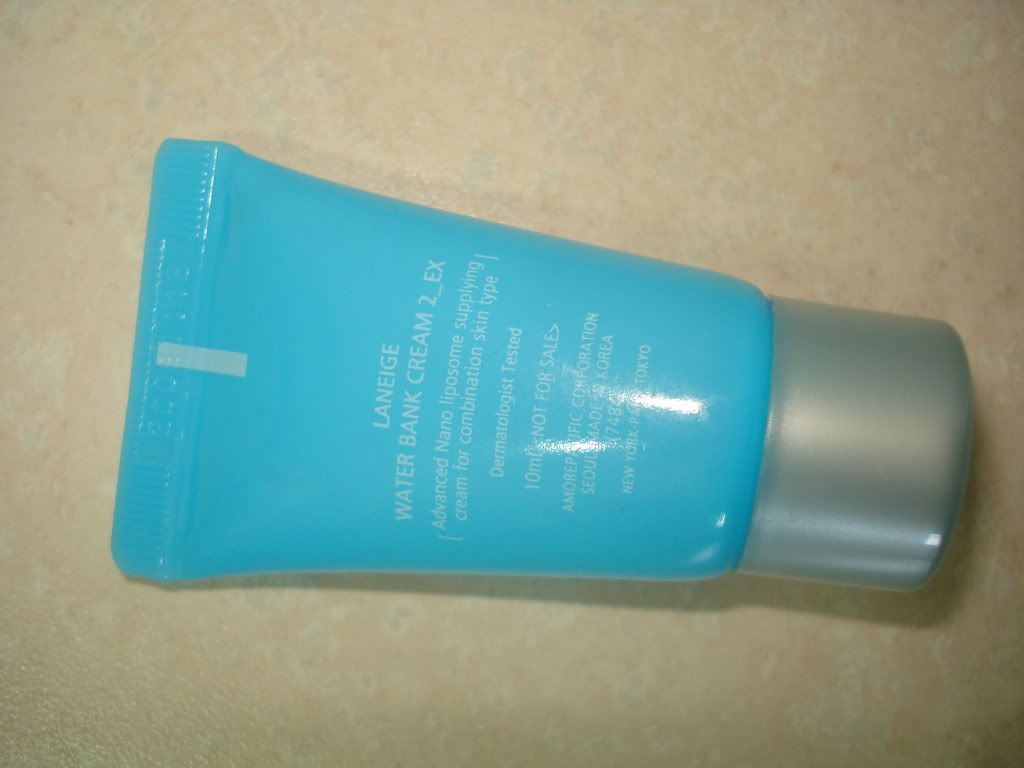 Properties
:
thick clear gel texture
tube form
light citrus scent
The Pros
-goes on matte
-easily spreads across the face
-absorbs into the skin well
-convenient and sanitary
-texture is amazing!
-very moisturizing and makes skin feels smooth
The Cons
-doesn't have spf
Recommended for
-combination to normal skintype
Repurchase?YES! after trying to sample size, i definitely would like to get the full tube!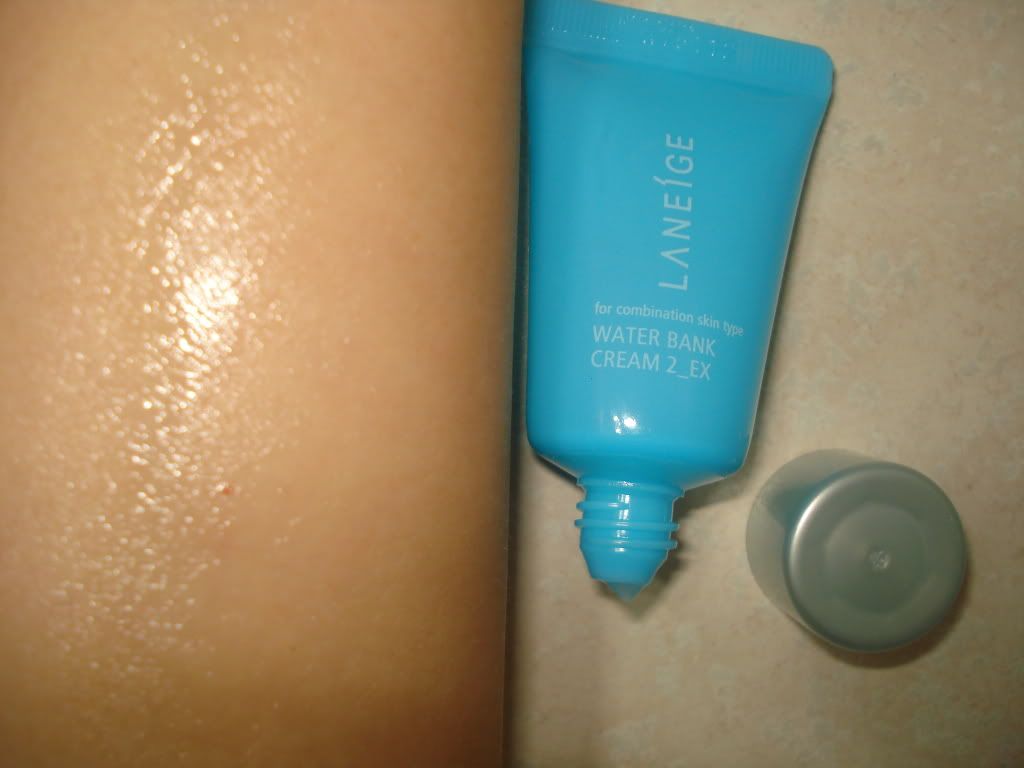 My Experience
What really amazed me about this moisturizer is the texture. It is a gel based moisturizer that has a thick consistency, similar to that of Smashbox Photofinish Primer, and it really does feel like one! It's gives my face a smooth canvas, and it's wonderful for applying foundation on. Not only that, i can feel the gel on my face, and i love how little i have to use. A pea size amount of this gel is enough for the entire face. It doesn't make my face feel greasy, or shiny, and it dries completely matte. If you get a chance to try this moisturizer, i really recommend it.
Laneige Professional Makeup Remover Multi Cleanser
for all skin type.
makeup removing, foam cleansing and micro scrubbing 3-in-1 effect provides soft and clean feeling after wash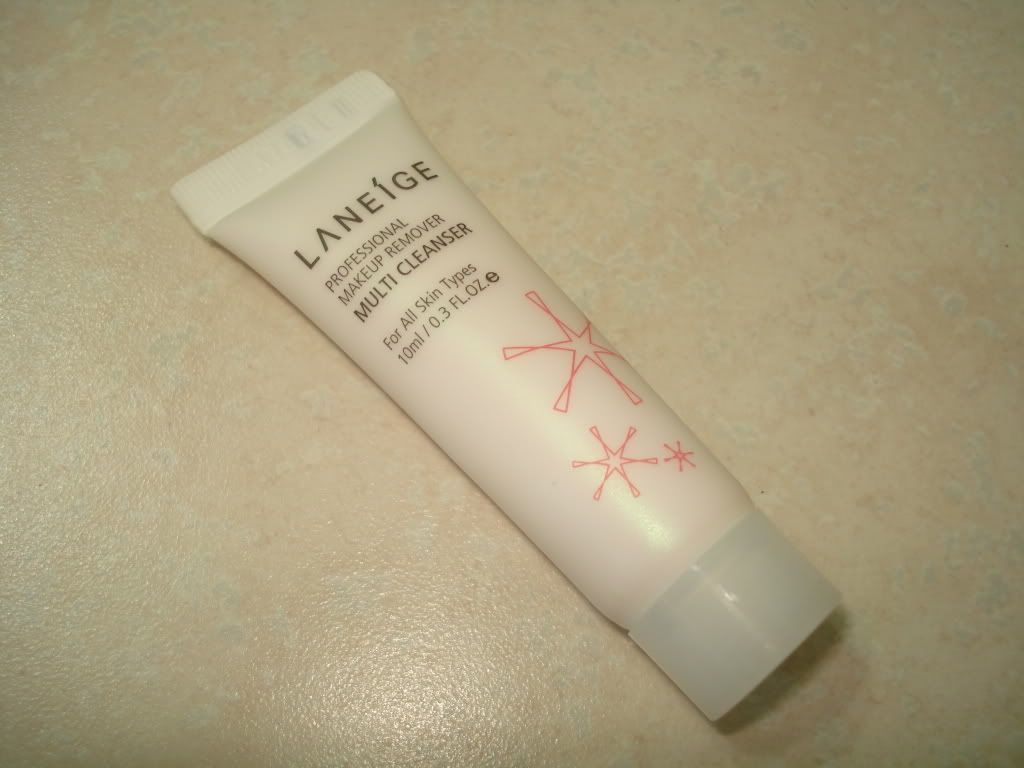 Properties
:
thick, pink cream, with micro scrubs
tube form
light florally scent
The Pros
-gentle and foams easily
-leaves skin feeling squeeky clean
-removes makeup pretty well
-DOES NOT DRY OUT FACE
-leaves skin feeling plump, moisturized and incredible smooth
-improved the texture of my skin
-leave my skin looking glowy and polished
-multi purpose, cleansing and removing makeup!
The Cons
-will sting eye if you use if you're not careful
minor florally scent, i personally like it.
Recommended For
-all skin type, this product is VERY gentle i'd say
Repurchase?:ABSOLUTELY! i'm HOOKED on this product. The past few days, my complexion has been amazing and i've been wondering what it was, and i've finally realized it was because this cleanser! I LOVE LOVE LOVE it. AND URGE you all to TRY IT!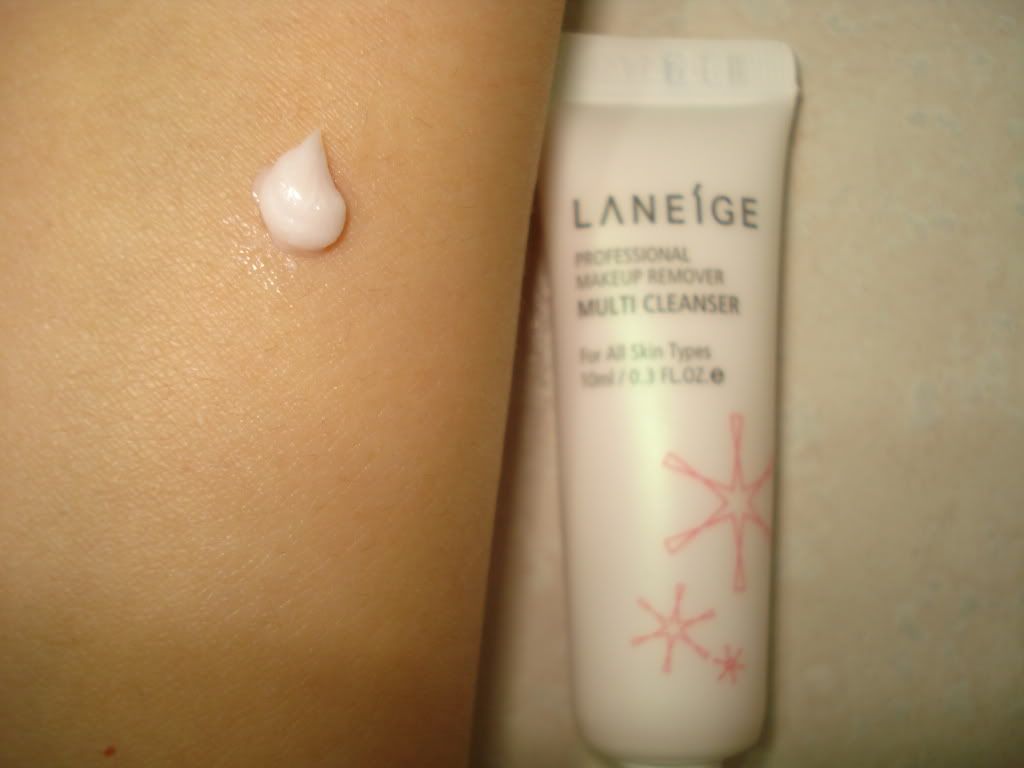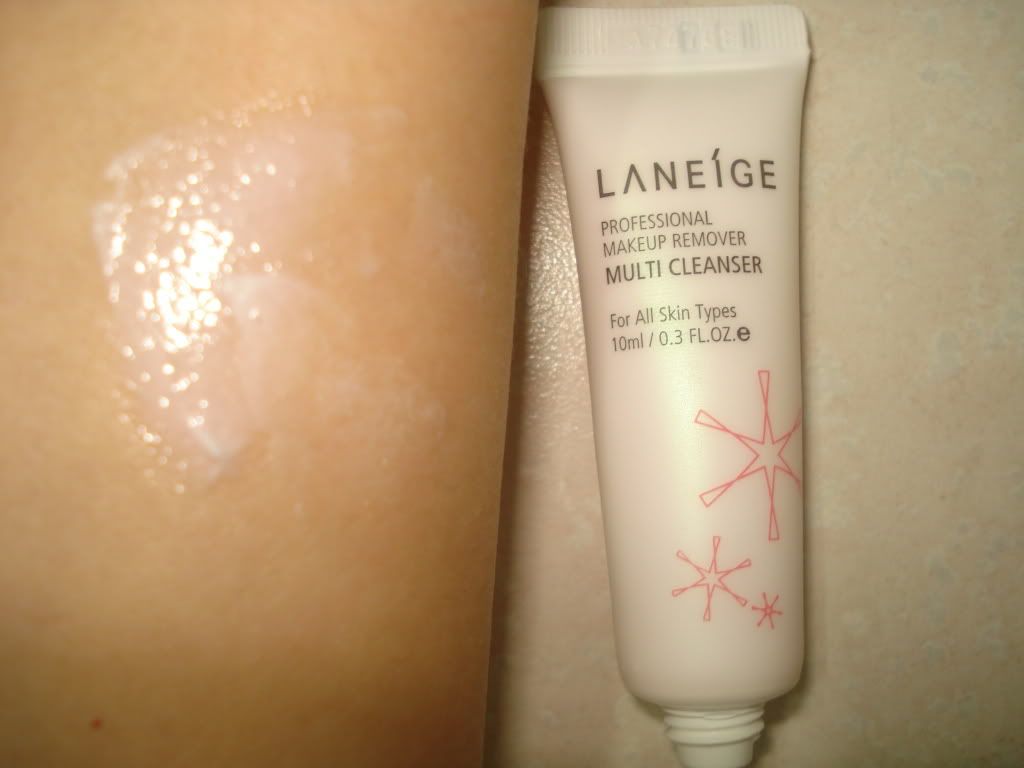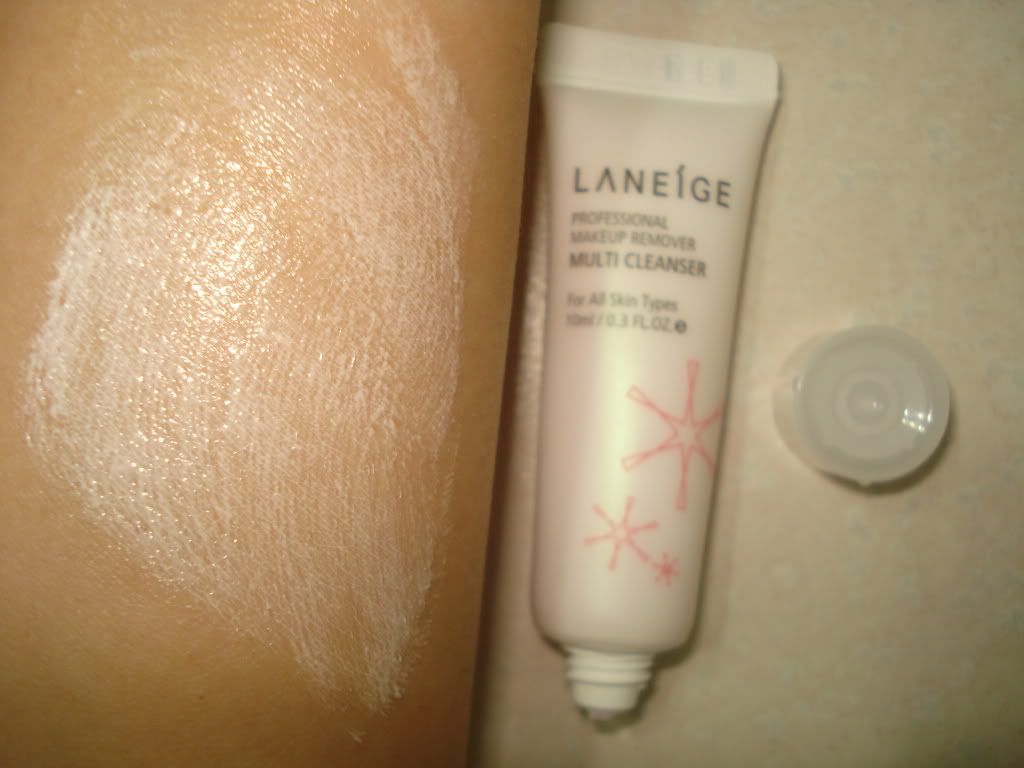 My Experience
You all know, i love foam cleansers. This product comes out as a pink cream, with tiny micro beads for minor exfoliation. You would need approximately a bit more then a pea size for the entire face. I would massage this all over my face, until the mirco beads dissolves and turn into foam. I would then continue to massage in circular motion for approximately one minute and then rinse it off. Instantely, you should feel how soft your skin has become, and how wonderfully polished & moisturized it is. The effect last for days & the best part is, it doesn't dry out my skin at all! I love using it at night and waking up with wonderful skin. With constant usage, my complexion is awesome everyday!
As for removing makeup, this product does pretty good removing face products like foundation. I had literally 6 pounds of foundation on my face for a photoshoot and this product removed it all, PLUS the dark heavy eyeshadow and MAC Fluid in black track! However, it does sting the eyes if you used this to remove eye makeup. I just close my eyes tight to ensure that, that won't happen. You may still need to use eye makeup remover for waterproof makeup. I do not use waterproof makeup, so i'm not sure.
This cleanser is completely different from all the cleansers that i've tried, and i'm completely in love with it. It cleanse, it removes makeup and it also lightly exfoliate! 3 in 1.
I LOVE how soft, moisturized, polished and plump it makes my skin feels.
The best part is it doesn't dry out my skin. I have tried so many cleansers, and many of them have dried out my skin, even after claiming how gentle it is. If you were looking to try something from laneige, this is a product i REALLY recommend.
Readers Discretion:
Althought i sound insanely happy about these products, i am by no means affilated with the company or recieving any benenfit. My reviews are my honest opinion and products are purchased by myself.
Overall, i hoped this review helped you guys out! Thanks for reading