hello everyonenee!!
today, i'm super happy and excited to swatch and review these awesome NYX Round Lipstick. I must be the last person to try these! I just recently got them in the mail, (i can't purchase these where i'm from) and i'm loving these! The hype and rave about these lipsticks are true!
After much research i've ordered 6 of the lipsticks i thought were popular and pretty.
(left to right)
Circe, Thalia, Tea Rose, Louisiana, Fig, Narcissus
they are colour coded at the bottom, which i find a neat idea, because it's easier to find the colour, especially if you have tons of lipsticks.
Circe, Thalia, Tea Rose, Louisiana, Fig, Narcissus
this is how heavenly it looks....O.O
and a close up of the lipsticks in two different lighting
Louisiana, Fig, Narcissus --Narcissus,Fig,Louisiana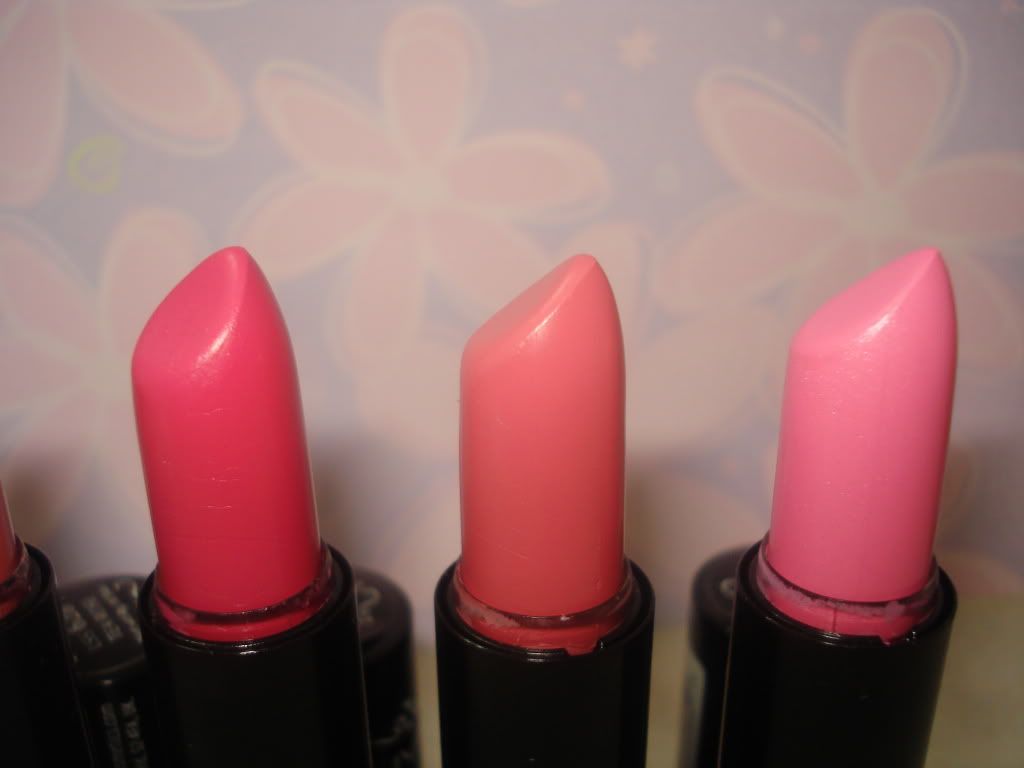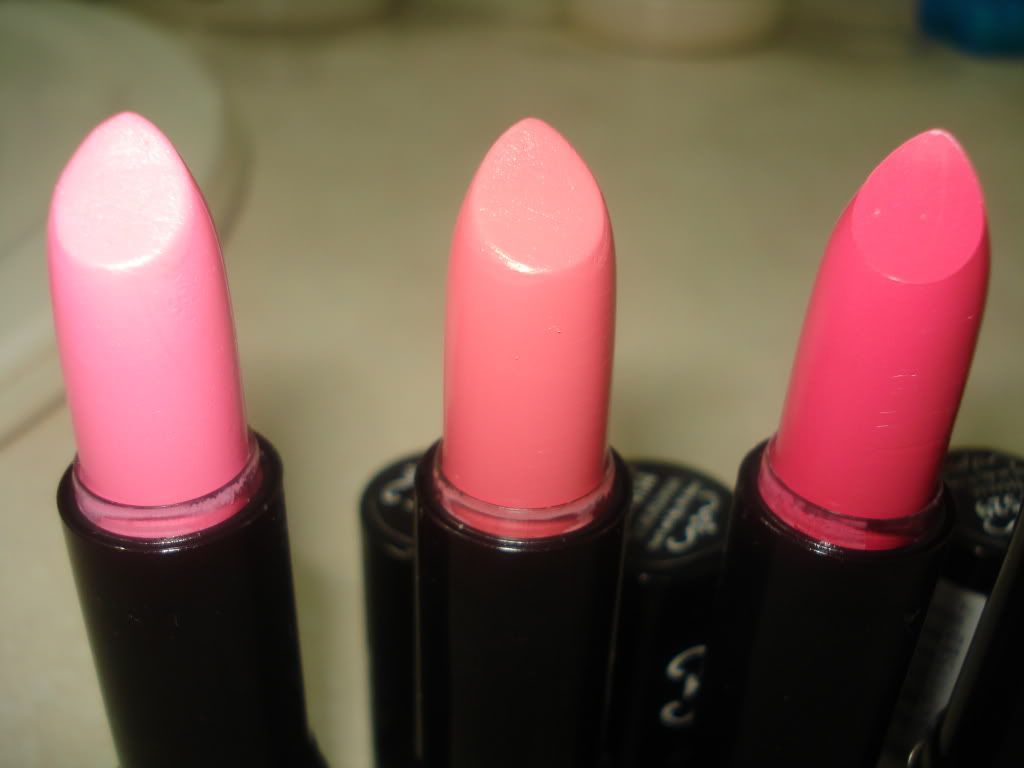 Circe, Thalia, Tea Rose, --Thalia,Tea Rose,Circe
Thalia, Tea Rose,Louisiana, Fig, Narcissus. I swatched these with a light hand, and they came out SUPER pigmented.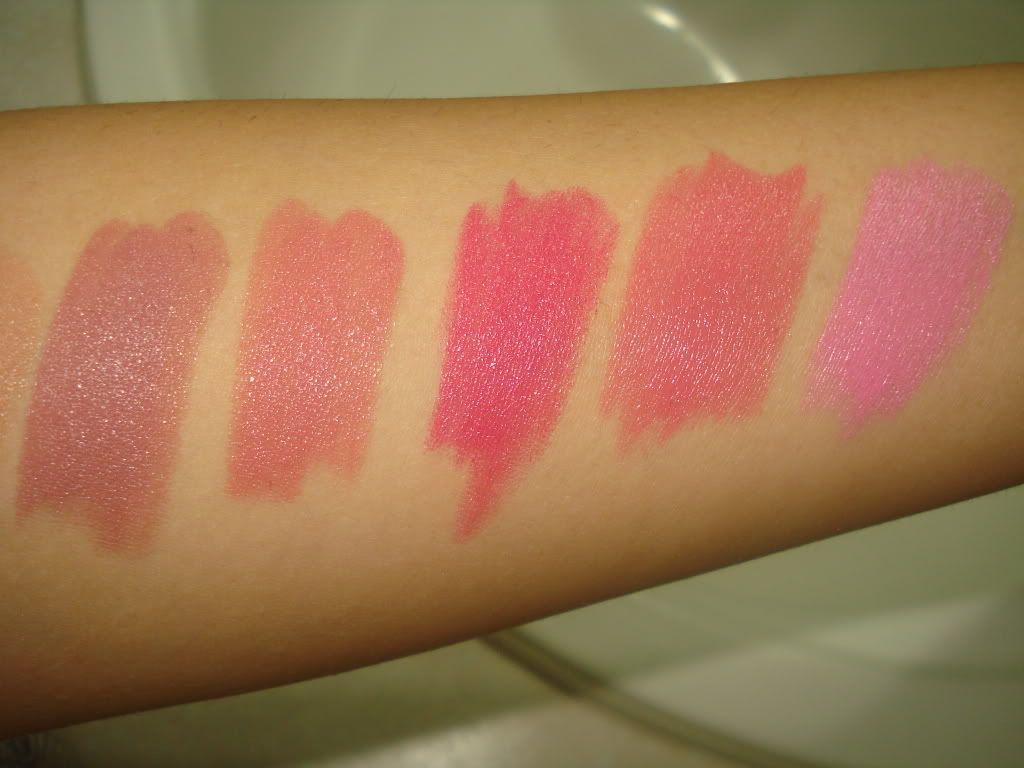 i accidently forgot Circe. LOL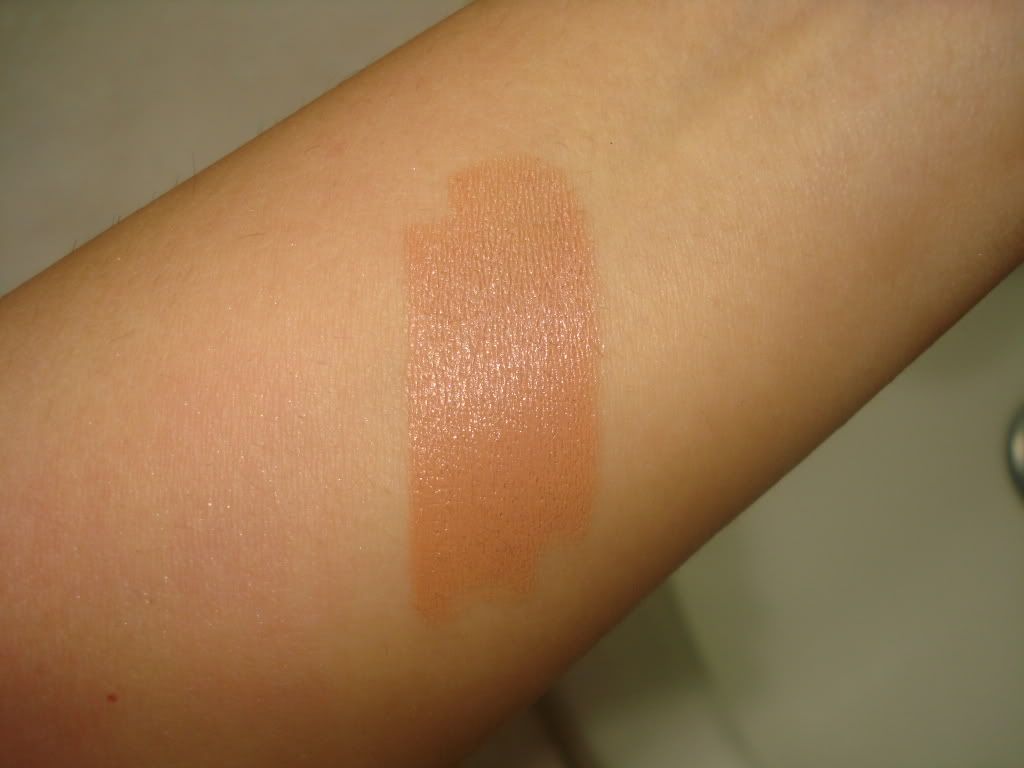 Review
Pros
- these are super pigmented. The finish is creamy, opague like Mac Amplified lipsticks finishes (applies on like amplified, but looks like lustre!LOVE THIS) & they do not dry out my lips
- will cover very pigmented lips
- very affordable
- comes in 144 shades, i'm sure there is something you'll love!
Cons
- may stain lips
- not easily accessible for me
- some colours may "bleed" so you might want to use a lipliner.
Others
-they are scented. It smells very sweet, and girly . I actually like the way they smell, so it doesn't bother me.
Overall, i look forward to purchasing some more. I actually really LOVe the formula of these lipsticks. I love Mac, and i love Mac lipsticks, but they tend to dry out my lips, and most of the time they don't cover my pigmented lips very well unless i use a lip pencil, or layer on a ton of layers. With these lipsticks, ONE layer is more then enough. I really love them, can you feel my excitement?
Absolutely the BEST DRUGSTORE lipsticks i've tried.
Recommendations
Top favs in order
1.
Narcissus
-a bright cool tone bubblegummie pink
2.
Tea Rose
-natural pink for everyday
3.
Fig
-peachy lip colour that gives a little pop. Less dramatic then Narcissus, but more noticable then Tea Rose
4.
Louisiana
- bright hot pink with red undertone
Skip:
Thalia
- didn't work out with me. I got this because people said they loved it, but i found the brownish-purple undertone made me look awkward
Undecided:
Circe
- i don't know how i feel about this shade, i kind of match my skin tone a little too well?