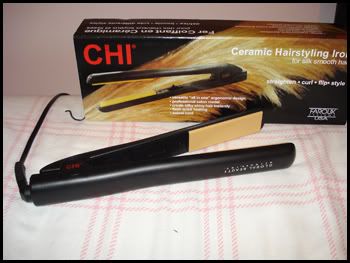 Hey guys!
so i haven't been able to update as much as i would like to because of school. I think i would be able to update only on the weekends now. I love blogging because it keeps me away from homework , school and all the stress, and lets me do what i LIKE to do. Probably like you guys who are reading this blog and slacking from class, hmwk, or work! hahaha
Anywas, so almost 2 weeks ago, boyfriend got me a straightener. This straightener was retailed at $74 at beauty choice.com in USD. It could go up to 100+ plus, and he was able to get two BRAND NEW for 50 bucks off kijiji. let me repeat 50 BUCKS. 5 and 0. 50 BUCKS! hahaahah. There is a seller, selling it for 60bucks, but he bargained for 50 each since he had to get two. One for myself and one for his cousin.
Okay, so we all know that it could be fake, because it's online, you don't know right? so we both drove to the guy's place and looked at it before buying it. Things you should know when identifying if it's real or fake could be found on this page.
http://reviews.ebay.ca/Determing-if-your-Chi-Flat-Iron-is-FAKE_W0QQugidZ10000000011204116
And from my observations i could honestly believe that this is authentic. Which is a pro and con for me. From all the raving that i have heard about the Chi, it was a total disappointment when i saw the Chi, because the plastic part (black part) looks dirt cheap. It's not what i expect from a flat iron that expensive. Its not BAD, it' s just i expect more. You can easly make marks on it, it's not terribly noticable, just only when light reflects on it. You have to realy stare at it to see it. It may not be a BIG thing, in fact you may not even notice anything, but i thought Chi would've been better than that. Also, i'm starting to understand why people say the Chi is not durable, from the looks of it, i think i have to take care of it. It's not a straightener you want to throw around the room. :) My conair has been quite abused, so this should be new routine for me. haahah
On the flip side, i do love the design of this straightener. It makes straightening very easy, cos you just split your hair clamp and pull it thru. There is some steam for some reason when i straighten it. It may be because my hair was still a little damp one time. Other than that, the results of the curl are okay. My hair didn't feel more soft or conditioned.
The reason i'm saying this is because, one time at vaughn mills there was a stand with a person selling straighteners, i forgot what the brand was called, but he was trying so hard to convince me to buy the striaghtener, but i didn't like how it looked. ( i know, i'm big on the look of a product) but it did give me incredibly soft hair. The straightener was said to be 100% ceramic, and restore the moisture back into the hair that's why when you straighten it, it feels soft. incredible soft! But it also made my hair look very flat in the end. (but this isn't the problem) it did fix my frizziness problem though. Now i kinda regret not getting it, after writting all of that. hahah. sry i do not remember the brand, but it looks like a Amika. I don't think that's the brand tho. It had colours - pink purple and black. MAKE sure you BARGAIN for this. Act like u don't like it so they try harder to convince u to buy it. They will lower the price, cos they are desperate for people to buy! hahaha. I'm not sure how much was it the original price, but he went down to 100 for me, because it old him there was another striaghtener i was intrested in getting that cost about 100ish. You might be able to go down to 90.
But anywas, back to the Chi. it definately is better than the conair. The conair dried my hair like crazy and it pulled on my hair all the time. So bf was on a mission to find me a flat iron, because i complain about my conair and the crazy damage that it has done to my hair alot. hahah. This straightener is cheaper than the conair that i got. I think the conair that i got was about 70-80 bucks! SHEESH, but there definately is a difference between the two. Lemme compare:
The Chi:
heats up very fast, within 3 seconds
Does not pull on your hair AT ALL
smooth edges for curling hair
delivers incredible heat
automatic heating
100% ceramic
light, and easy maunvers
long enough cord
STAYS in the way it was styled.
NOTE* sometimes there is vapours from straightening. i don't know if that's a good thing? if you know lv me a comment.
I use this straightener to quicky striaghten my hair in the morning because i have naturally messy wavy hair. It does a GREAT job at volumizing and i'll show you guys a pic of what i do in a bit.
Overall it's a great upgrade from the conair that i have been using, espcially for the price. This straightener might not be what your looking for if you have very thick and curly hair. You would probably need a bigger flattener so it covers more surface area. It's a great striaghtener though if you already have striaght hair and just wanna curl it sometimes. It's great for curling because it doesn't tug the hair so the curls come out very nicely and easily. it takes me less than 5 minutes to curl my hair in the front.
so here are some pics of me using the straightener to volumize my flat hair
1: section hair. Take 2/3 of the front hair and pull it forward. Secure with bobby pin. seperate horizontaly in the back. Vertically in the front.
2. Take a flat horizontal section. you will have Two on the side and one in the back.
3. clamp hair, and turn 360 degree pull out one inch and release
4. Do this for all 3 sections.
5. unclamp the hair in front and release another layer of hair. I do about 3 layers. Leave one layer for the later part.
6. repeat #3 & 4. keep working towards the hair closest to the forehead.
Note: ensure you have one last layer that will not be "curled" so that it could be flipped back to hide all the "styling" done. This layer will blend in with the volumized layers below, which would help make your volume appear natural and effortless.
7. Style bangs (if any) as desired.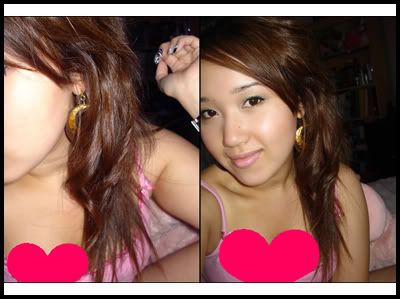 Believe it or not, i only curled 2 section on each side.