Yesterday i asked my boyfriend, what colours i should do for my eyeshadow, and he said, Orange and Purple! He said he was eating jelly beans and those two colours were left in his hands. He thought it would be a nice match and would like me to make sure i mention that on my blog today. hahahaha. I know, who thinks of these things. But it was super cute. I realized that it's not really purple, instead pink. It's because Hepcat, is a magenta colour and for some reason i couldn't get it to pop so i used a pink bass, Red Velvet and it came out like such. Pink and orange still looks hot though. Really fun and summery.
The orange i used in this blend is from the
Mac Artist Collection.- Off the Page
. It is a MUST get! It's gorgeous! I've never liked orange, but this orange is love. The best part is that it's super pigmented also!
Here is the Look:



Products I've used:


Eyeshadows: : All Mac

Naked Lunch e/s, Too faced- Nice- lighest Shade, Red Velvet s/s, Hepcat e/s, Off the page e/s (BEAUTIFUL!)

Other eye products:
Urban Decay P/P, Rimmel Exaggerate Waterproof eye Definer, Maybelline Line Stiletto, liquid eyelinear, NYX Doll eyes mascara, NYX Fabulous Lashes - EL112

Face Products:

Mocha blush, Improvise m/b, Mac NC20 concealer, Toofaced Chocolate l/g

Lips
Mac Sandy B l/s

THis is the finish look!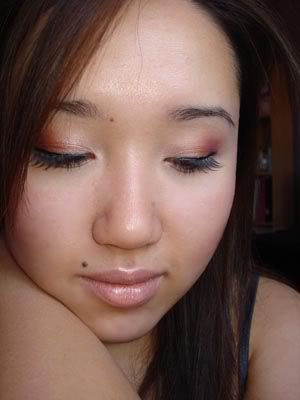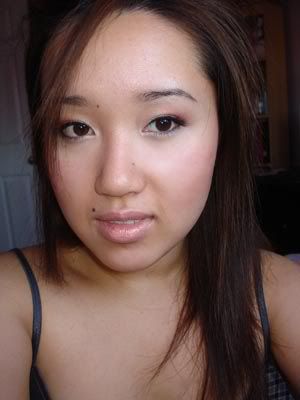 My internet usage has reached 100%, i won't be on for 2 weeks. BLAHHH