In my last haul, i have mentioned a 50% discount at Rexall on all mascara. I have not tried all of them, but i have been using NYX doll eye, and so far I am quite happy with it. I have to thank my friend, Cindy for recommending this product to me. This mascara is for volume, and to an extent it does do what it claims. There are several things I love about this about mascara. First of all, it holds my curls all day! My last mascara from Maybelline, did not do this. I've worn it from 6-am to 4pm, and the curls were still there. Maybe not as fabulous as it was at the start, but my lashes were definitely still curled.
here are some pictures after 10 hours at school. I have a bit of eyeshadow on.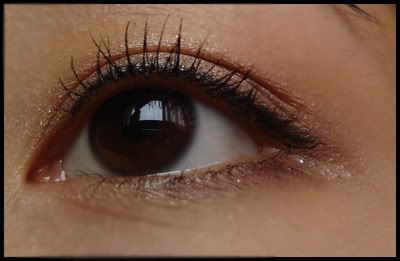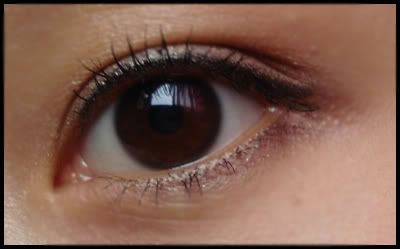 Unlike the "Define a lash" this mascara does not smudge throughout the day. I hated it when I'd have smudged mascara at the bottom of my eyes, because I already have bags, and I don't need it to be emphasized. Also, when you wash your face, it does not smudge as much as the Maybelline one. The Maybelline mascara "Define a lash" smudged dramatically when I washed my face, It was difficult to remove and it definitely gave me panda eyes. But with the "Doll Eyes", there is minimum smudge, and removal of the mascara on my face is quick and easy with one swipe. "Define a Lash" caused me to tug on my eyes and this is a big NO! you don't want premature wrinkling.
Another point that I love about this mascara is that it's great for lengthening. Originally, Cindy said this mascara is great for under the eyes, and I can't agree more. I don't know too many Asians with a lot of bottom lashes, but this mascara CREATES, DARKEN and EMPHASIZE your bottom lashes. You might think you don't have any, but this mascara is like magic, it will run thru hair that you thought didn't exist there. I love it because if you into Japanese models with their long curled lashes and much like anime eyes, this is for you. People might even think you have fake lashes.
The only problem I have with this mascara is that it doesn't fully separate my lashes that way that I like. I mean it does a good job, just not great. It does a good job separating short hair, like your bottom lashes, but it's not great for the top lashes. I feel like when I apply the mascara my lashes look "messy" It doesn't look uniform. And this makes my lashes appear flimsy. BUT this may be due to my natural lashes. Sometimes it appears messy and sometimes it doesn't. It also clumps a little bit, but if you try to brush it slowly you can minimize this problem.
This is a picture of my lashes without using any products.
I don't have long lashes, and my lashes are quite thin, and this mascara has created a difference. My lashes are longer, darker, and thicker.
Overall, it's a good mascara if you don't want to pay an arm or a leg for a good mascara. It may not be the best, but its definitely worth checking out. I will still be on a search for a good mascara, but this is definitely one that I recommend, if you have thick lashes and just need some lengthening. You can also try this mascara if you pair it up with a good thickening mascara, the results may be phenomenal. Though I have yet to try this. Otherwise, you can always use this mascara just for the bottom lashes. BTW. i believe it cost 5-6 bucks. But i got it during the sale so it was only like 2-3 bucks. :/
After using it for the first time I can definitely see the difference in my eyes. Mascara is a great tool for brightening and opening the eyes, and this will give the appearance of bigger eyes. With a great mascara, the results could be cRRAZYYY. Hahaha. I even got a compliment today from a random guy saying that I have pretty eyes. Now if you get a compliment like that, you know what to thank, because apparently half the guys out there don't know what's on a girls face, and what's the difference. All they can tell is "something looks different". hahaha
Here are pictures of the my lashes after i have just applied the mascara.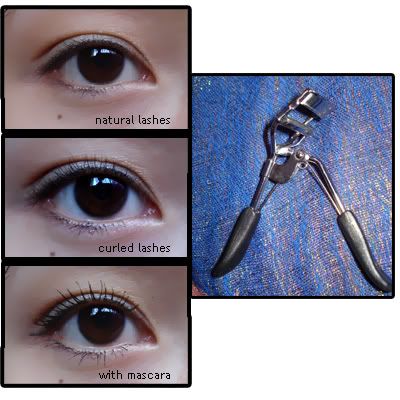 NOTE* i have revised the pictures, because i felt like the first post i did did not fully justify the lashes. So i redid it without using liquid eyelinear. Instead, i did not apply eyelinear at all. So that you can clearly see the length of the lashes. There may be some residue remaining from last night though.
Also, don't mind the pink eye, i was rubbing it, because it was bothering me
The eyelash curler, is a no brand i believe. I got it at shoppers.