*warning this post will be picture heavy
Hi all!
i have been meaning to update on some beauty purchases for a while now..almost 2 months now? so there is quite a bit of product whoring in this post. If you haven't been in Mac for a while, the Lilyland and All Races collection are now released.
Yesterday, i bused to the mall to get it first, before they sell out. Sometimes certain products sell out very fast, so i want to make sure i get what i want.
The thing is like this. I went to mac the day before it was released, and the girls working there were showing some other customers what was gonna be released tomorrow. I was lucky to find out so i went there early after class to get these blushes that i wanted from the Lilyland collection. I swatched them the day i found out they were gonna release, and they are amazing! And the orange colour was already sold out in the pro store, because all the artists working there has already reserved them. So sucks for us. i had to get it at the "The Bay" stand, instead of the pro store.
Anywas, enough of my rambling. i didn't intend on buying as much as i did. I think because i haven't bought anything from MAC in a while, that i was just a little possessed.
Mac LilyLand Collection:
What i recommend from this Collection:
The Lipgelee and the BLUSHES!
The pretty eyeshadows, and the powder compact are nothing special to me. Unless you are a die-hard mac collector, i wouldn't recommend it.
This is the baggie of goodies. Not all purchased on the same day. Some were gifts from Christmas..etc.
So lets start off with the blushes. The lilyland collection is full of very bright pretty and fun colours. It consists of pinks, oranges, and magenta. What stood out for me in this collection are the cream blushes! If you love cream blushes, i don't think you want to miss out on these babies.
These are all the blushes that i got within the 2 months
The top row is from the lilyland collection. (left) so sweet so fun, (right) Optomistic Orange. The bottom row (left) peaches , (right) personal style - from All Races collection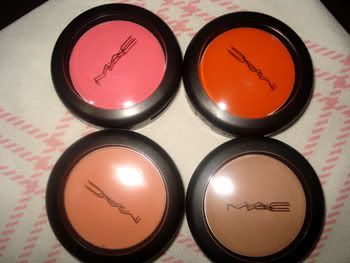 What was i thinking when i got the orange???
I have too many pink-tone blushes. It's time to expand the collection. I really like how it looks when it's sheered out. It's so pretty. You can easily add a hint of pink if you apply a pink powder blush on top. But it's already very pretty on it's on.
Here is a swatch of the Optimistic ORange
Its pretty. THere is a hint of pink in it when you sheer it out. Or maybe i'm seeing things?? I tried to sheer out the left side, and left the right side opague
A Review:
The consistency, and texture of these cream blushes is SOOOO AMAZING! i can't not even explain it. I already have one cream blush from the original line, and i love it an all, but the texture and consistency of the ones in this collection compared to the ones from the permanent line, is like comparing heaven and hell. okay...Not that crazy , but you get the picture. I didn't think there was anything special about these blushes, until the girl there told me to swatch it. It was AMAZIING. It feels much more creamy, much more "watery". It's like a jelly feeling. It would be SUPPER easy to blend with these babbies. THere is no resistance when you blend it on your cheeks with your fingers. I always find with the original cream blush formula, it's a little tough to blend out, because of the thicker consistency.
Here is a comparison of the permanent Line one that i already own, called (right) Lady Blush, and the Lilyland - So sweet so easy Cream blushes
right, lady left so sweet so easy
left, lady right so sweet so easy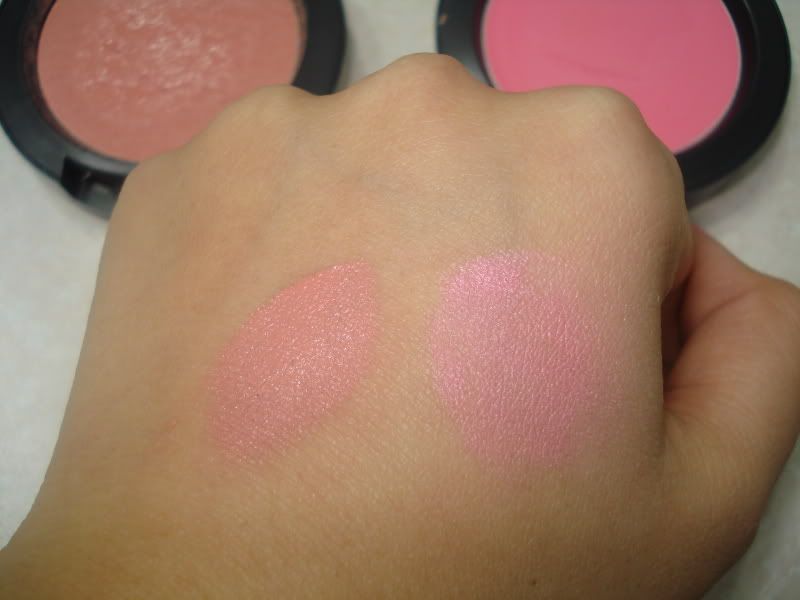 you can see the "lady" blush is thicker, and more opague. The new one is a thinner consistency. There is no resistance in blending it into your cheeks, and the colour a bit more sheer, but buildable. IT's definately neat to get one of them if you don't already have a similar shade.
THis is a shade i got from the All races COllection. Another very wearable colours. I do not own anything that is this shade, and i do like it. It gives you a fresh differeny look, especially when i'm always wearing pink blushes. Gives you a very soft and natural look. Could be used for contouring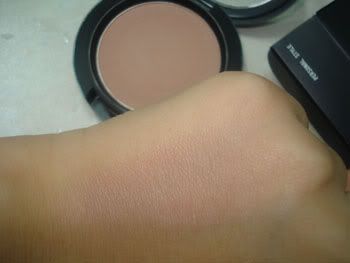 SO here are the other blushes. This one is PEACHES. from the permanent line. It's a matte finish. I think it's really pretty. Less pink, and more coral and neutral. Great for natural wear. It has been my new favourite. I definately love MATTE blushes more than shimmer. I feel like shimmer is overdone, and it emphasize my cheeks to much. Sometimes you don't want to emphasize it when you are breaking out there. haha. This would be your everyday neutral colour.
I also got this LipGelee from the LilyLand Collection. I don't own any Lipgelee, but i already love how they feel. It's very moisturizing, and much less sticky, but they are super shimmery! If you love shimmer, you'd like these. I'm not a big fan of shimmer, but the colour looks too amazing. There is also a purple one, but i don't think i'd look good in it, so i didn't get it. But i'd recommend that one if you are interested.
This is Lush and Bright. IT's a pretty colour. I prob won't apply it all over my lips tho, just in the middle to give the lips a little of a plump.
are you bored yet?? i told u it's gonna be massive...
So let's move onto eyeshadow.
This is one that my little brother bought for me for christmas, i only asked for one
It's called : Suave Intentions, from the Lace collection. I"m trying to expand my blue eyeshadows, and i thought these are pretty. The pigmentation is great. Very soft and pigmented, and blendable. All that i ask for in an eyeshadow.
At the end of the shopping spree. i was looking at pigments. Mac has changed their packaging for pigments if you don't already know. You will not recieve less, and pay for the same price. It's a bit of a rip, but i guess you will never use it all. But than again..yahh...what can we do..
This colour is called Teal: It's friggin gorgeous. The girl gave me more than i should've in my opinion, but i guess cos she saw me there so often that she hooked me up. HAHA. LOVES! THis is a permanent colour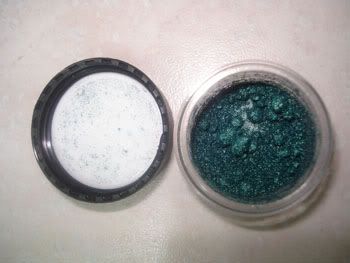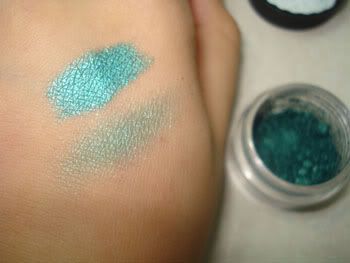 So LAST but not LEAST. i want to show you guys my nails. I didn't do any design, but i really like the colour, so i wanted to share. I 've been making use of the nail polishes that i thought were useless. But i realized. If you just layer them on you are creating a new colour.
These are the tools:
And here they are on my toes....this was after i did my nails...
Not that flattering right??? Well because the pink was so opague, that it just looked kindda werid??
So i decided to layer on a non-opague colour. One that is MUCH more sheer. and this is my result: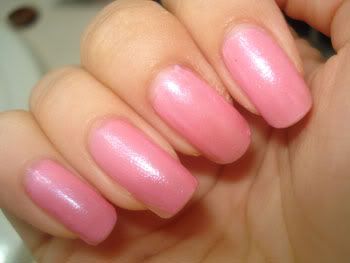 hhaha. i told you love barbie pink.....I've been really loving coral colours as well...
But anywhoo.. i hope you enjoyed this long and whoring post. If you don't like to read these kinds of posts, just ignore em. I like haul posts, it gives me ideas on what to purcahse.
Take care!