Hey guys!
So today was a rough day for me. I had an exam at 10:oo AM Sat, Feb, 6th. I only got 3 hours that night, and it wasn't because i was staying up to study. You see, i live in a college area, and my neighbors are insane. They made an ice rink in their backyard, and a group of guys were playing ice hockey until 2.30 in the morning. The problem was i couldn't fall asleep until 3.ish, and had to get up at 6ish to review some notes. I really hate having morning exams, i'm pretty much brain damaged during those times :/ But glad to say that the exam went VERY well, so i guess everything has paid off.
The college student experience gets worst. After many years of living here, i have learned to hate college students. Well, hate living beside them. Some of them can be so irresponsible, and inconsiderate of others. I'm should stop ranting
So when i got home from my exam, i took a nap for about 3 hours. I didn't have a deep sleep, but i guess that's okay, because i will sleep well tonight...that is, if the students let me sleep. I can hear them right now with their loud guittar and what not. GOD> help me
SO ANY WAS....back to the point of this post. I decided to take a break from studying, school and everything and have some...fun. This is my second valentines day look. I was inspired by a the cover of the Sephora catalogue that i just received in the mail.
Here is the picture: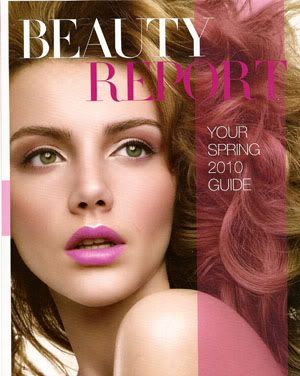 I tried to get it the same, but i dont' think the result was that similar. None-the-less, i would say that this is a very appropriate valentines day look.
I used pink and brown eyeshadows, but i don't understand why it looks more like purple in pictures? It must be the flash, or the light in this room. :/
What i used:
Et Tu Boutique e/s
Da bling e/s
handwritten e/s
adrell lashes in 109 black
Shiseido Perfect Rouge l/s
So sweet so easy blush
Peaches blush
Here is the result of the eye. I hope you do see the brown in there :/
the pictures look pretty pinky/red, because they were taken in my room. I was lazy to go into the washroom to get the white lighting :D
The Eye look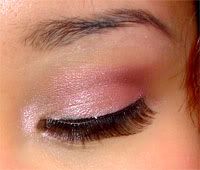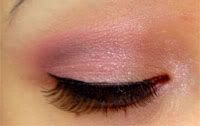 Note: Yes, the lashes on the left eye was coming off. hehe. i didn't realize that until i finished photographing. >.<
So for the rest of the face, it was quite simple. THe major focus was the bright hot smoking lips. It's valentines day, we should all pucker up with hot looking lips for kisses ...haha...and ofcourse no one colour would do that justice besides PINK!
I didnt have the shade of pink in the sephora categlogue. So i ended up using two lipsticks in hope of obtaining a colour to some similarities. but sadly i have failed. The one in the Sephora picture has more of a purple tint to it. I don't own anything purply. :) that means i need to do some shopping. haha
The full Look
Now in the washroom:..........why do i look so white?? !!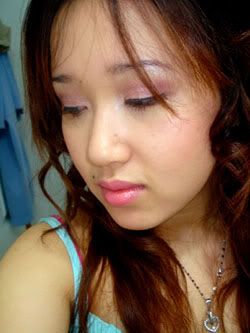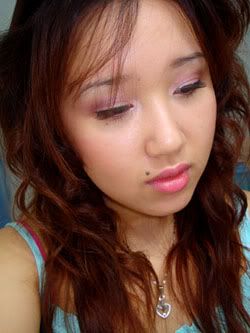 This look is very simple. The main focus is the bright fuschia, hot pink lips. I am dying to get a colour like that now. :D Anyone have suggestions?
I also used very natural lashes, they are much shorter then the regular ones that i used before. If you guys want to experiment with this look, i suggest keeping the eyelid part popping with whites/ or a light shade ( just like in the picture) this makes the eyelid appear bigger. I know because i have small eyelids. hehe. But overall, i hope you guys enjoyed &
Thanks for stopping by <3 take care