Every time i make a trip to Mac, i leave feeling guilty. Does anyone else feel this way? I tell myself, i will only get what i don't have and what i'll use often. Then i end up coming out with all these things...
But, the sad part is, the guilt goes away a few hours later. I find myself experimenting with the goodies and .......... loving it :) lol
If you have not been to Mac for quite a while, i think this is the collection that you should definitely check out. If you've been on a MAC Diet,.........beware of the eye candy. :D There's soo much in this collection that i can't imagine anyone walking out on these babies. I have been anticipating this launch every since
JANUARY!
They have released pinks/corals/purples & neutrals! These are absolutely LOVE <3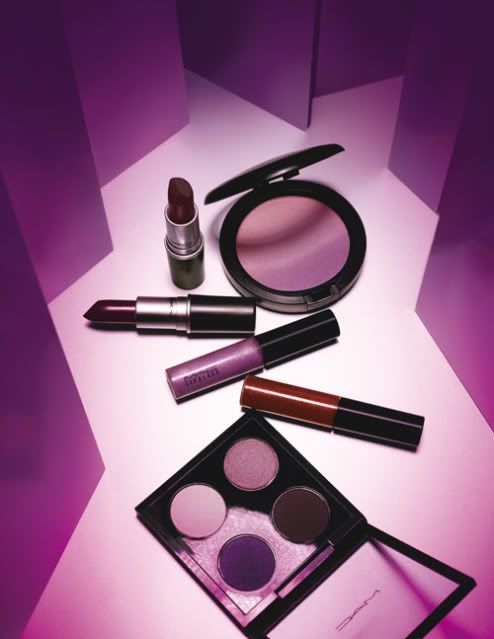 a little something for everyone!
What to look out for this collection, in my opinion
in order

1. Stack 1! & Stack 2!
2. Lipsticks
3. Blushes
4. Single Eye shadows

So let's get off to the goodies.
I thought of this visit to Mac as a treat for the rough last two weeks i had with midterms and what not. My oh-so-cute boyfriend, gave me a gift card, that sadly wasn't even enough to cover my splurge.....LOL. He was the first i texted after i got out of Mac, cos i was so excited! thank you boyfriend for this Valentines gift <3
I had previously looked on temptalia for swatches and stuff, so i know exactly what i wanted. I knew i wanted the stacks!
There was two that was released. Each stack came with 4 "pigments" jar, stacked on top of one another.
-------------
I got the
Stack 2!
which mainly consist of "earthy colours".
This is how these baby look: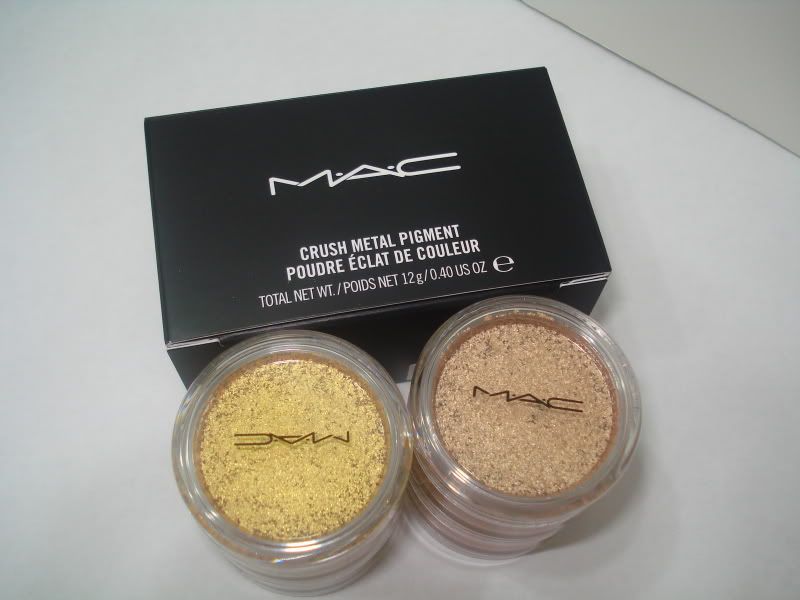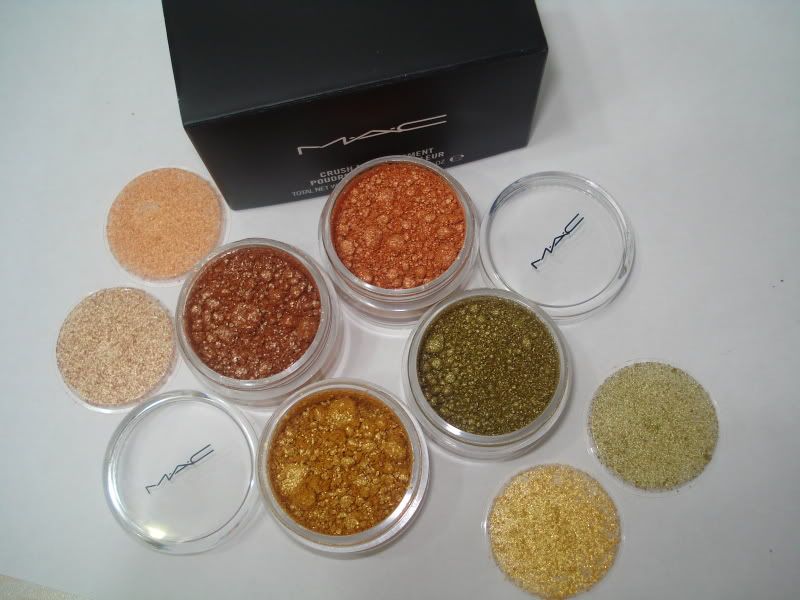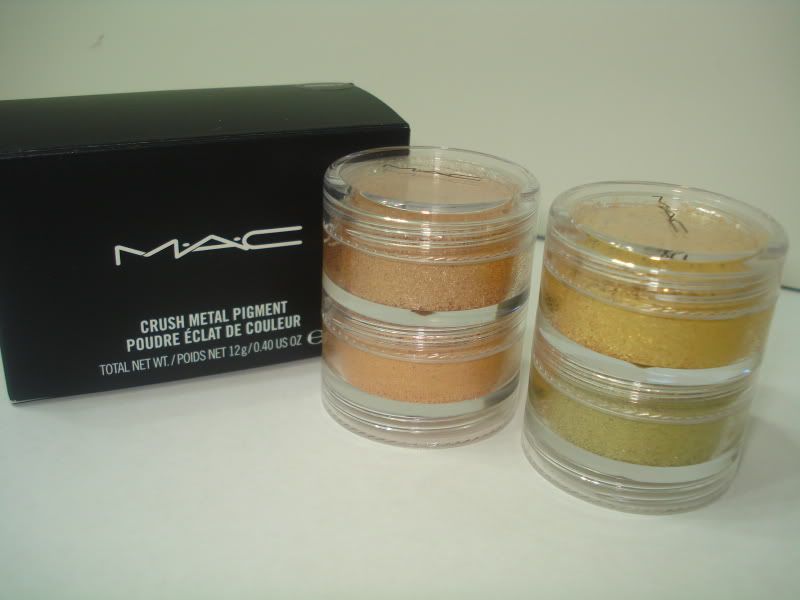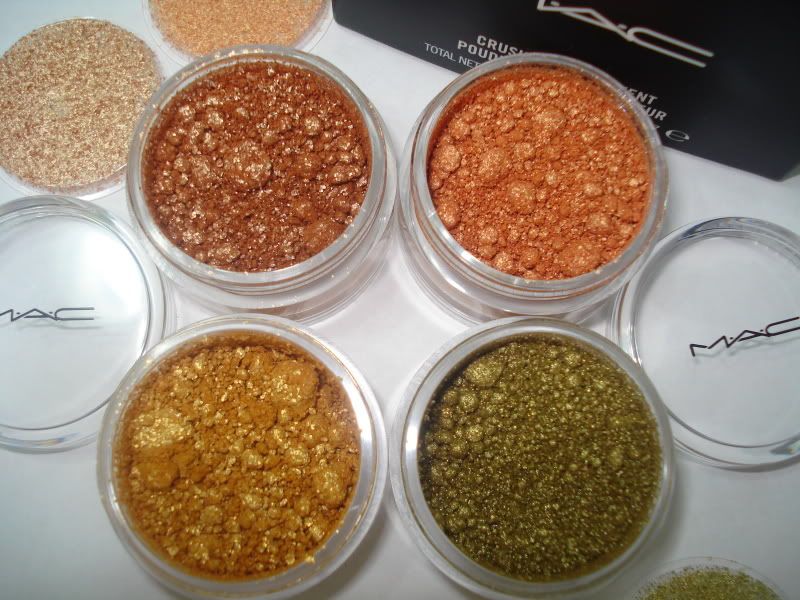 Swatches:
Inital Review
1.The pigmentation is amazing. Just as great as the regular Mac pigments.
2.They feel a bit thicker/chunkier. They aren't as finely milled as the regular 3.pigments
4.It is duper shimmery
5.They look like pigments applied wet, without having to actually wet it.
Con
1. i hate the packaging. The lid screws on not as smoothly, and if you're not careful, you can easily spill it everywhere
2. it looks like it can break easily. So be careful if you don't have carpet.
3. The packing looks cheap overall
4. Don't really like the stacking idea.
Recommendation:
I definately recommend the
Stack 1!
(PINK/PURPLE stack). its GORGEOUS. Normally, I would have gotten the pink/purple one, because it's very pretty, but i already have lots of pink and purples, and i already got something of similarity from the last Christmas launch, so i decided to get something different that i didn't have.
I'm loving this one as well( stack 2). I can't wait to play with it. Expect a FOTD sometime! They are very wearable colours, that's why i love it.
If you are a collectors, you might want to own one of these babies. :)
-------------
The next most anticipated item for me are the
Lipsticks/Lipgloss!
The colours come in a wide range, i actually had like 5 listed to get, but i only came home with 2.
If you remember, i've said i needed more purple-ish lipsticks, so that was exactly what i got !
Victorian
(frost)lipstick: is a very bright, pink with gold reflects. Something that i don't own. I thought it really popped. In the bottle it looks okay, but once you swatch it, the colour is like WHAMMY!
Bubblegum
(glaze)lipstick: is a deep grape purple-ish colour.
Electric Fuchsia
lipgloss: is also a purple/pink lipgloss, with blue reflects.
Here is a picture of the lippies:
(left) Victorian, (right) Bubblegum, (bottom) Electric Fuchsia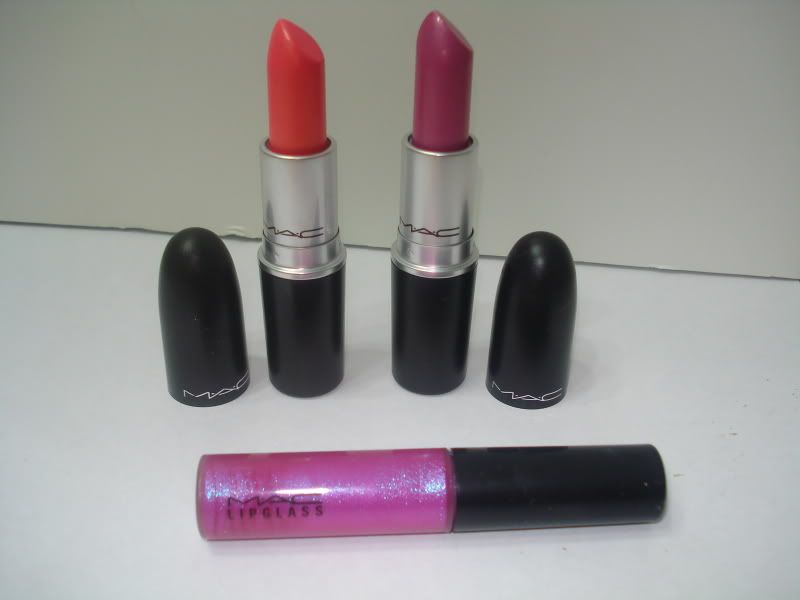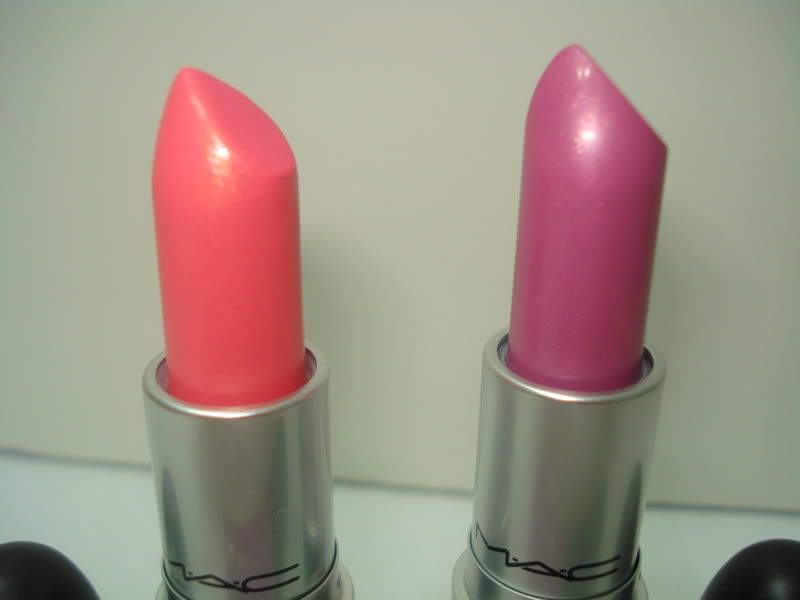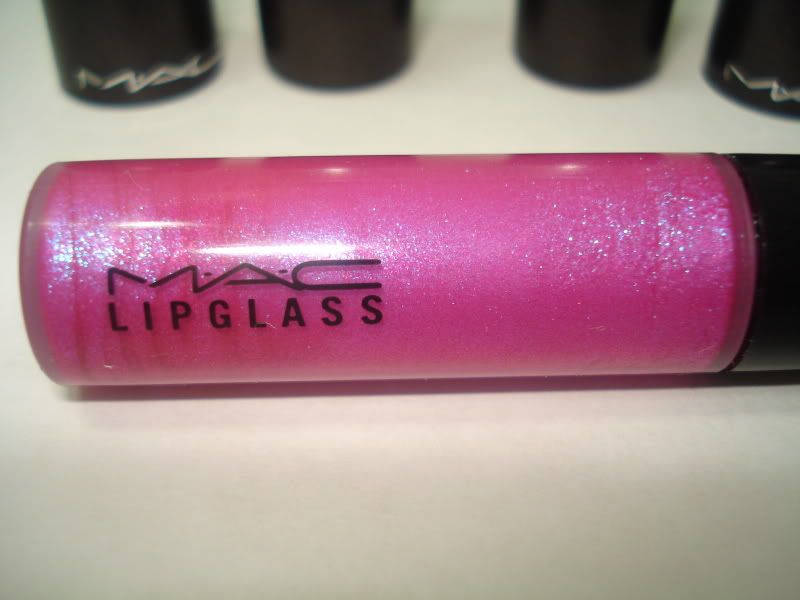 Swatches:
(left) Victorian (middle) Bubblegum, (right) Electric Fuchsia
Lately i have been into bold lip colours. I am more of the conservative type, where i just stick to the pale, pink colours, but now i realize i have quite a bit, that i should consider expanding :D
Recommendation:
I thought the two lipsticks are a MUST have. They are the most unique in this collection in my opinion. They are very pretty playful colours, especially if you like bold, noticeable lips.
If you are more of a conservation person, i would recommend :
Fresh Salmon, Colour Me Coral.
When i swatched these on my hands, in store, they were very similar, but when i applied it to my lips, they were definately very different! SO make sure you try it out. I personally liked, Colour Me Coral More.
-------------
Lastly, the
Eyeshadows
Now there was probably 8 single eye shadow released. With 2 quads. I didn't get any of the quads. I have never liked purchasing quads, because they are all "pre-set" for you. I like to chose my own colours i guess :) And personally, i didn't think any of the colours were extravagant. Many of the colours you can find a dupe for in the permanent collection.
I only came home with one, and it's
"Harvest Straw"
Here is it:
(left) Da Bling, (right) Harvest Straw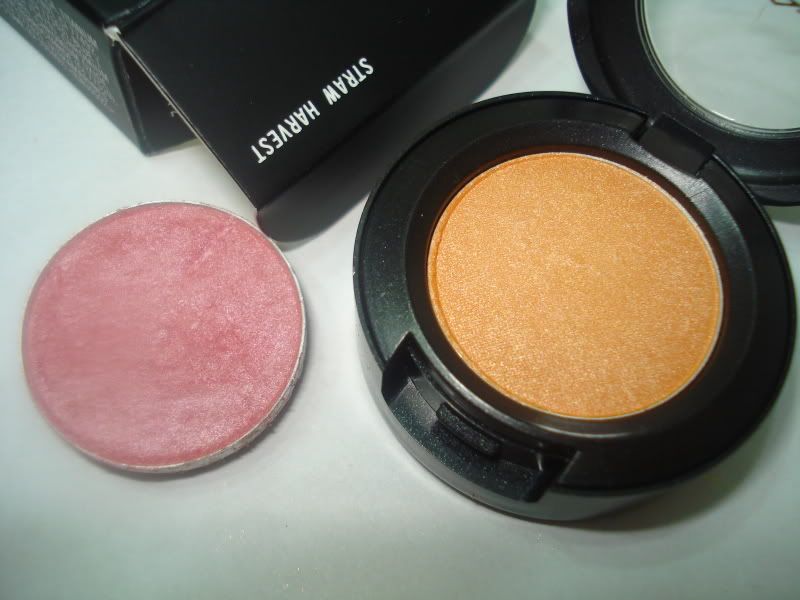 Swatch: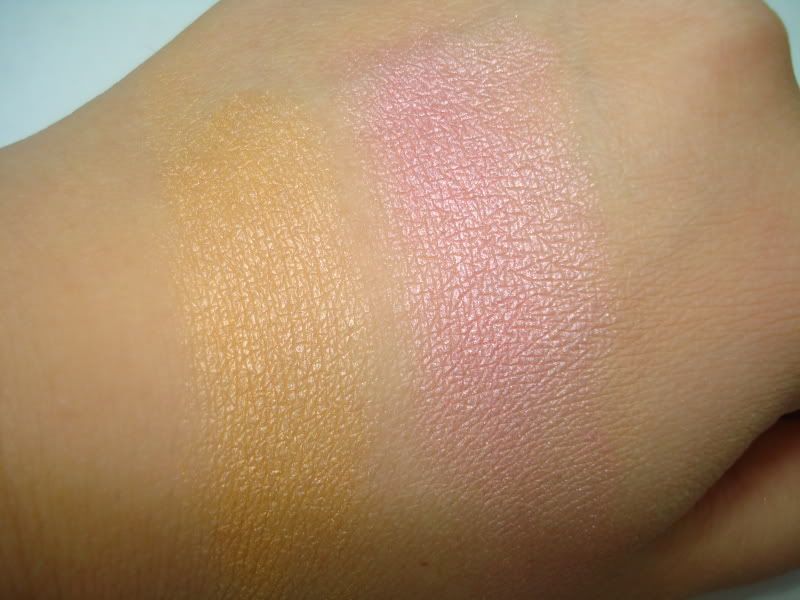 Harvest Straw
- It's in between a peachy colour with an orangie undertone. I'm not even really sure how to describe it, i just know that it's gorgeous in my eyes. I knew that if i had to pick only one eyeshadow, this would be the winner.
1. the formula is very soft and pigmented. I love that about it. Some of the other ones i swatches in stores ( the matte ones ) were very....tough to swatch. I couldn't get much colour onto my finger.
One that i already own, that was in this collection is
Da BlingDa Bling
- This is a light shimmery baby pink. It's a permanent colour, and one of the FIRST EYESHADOW from MAC that i owned. It's a BEAUTIFUL colour. I have used it quite a bit. No rush to pick this one up, but definitely a pretty colour.
Recommendation:
Another one that i thought was very pretty, is
"Hot Hot Hot"
. it's a tonned down reddish pink with a Matte finish. It actually looks great with Harvest Straw, but i don't know how i forgot to get that one.
Another one would be
"La La".
it's a hot pink eyeshaow. Good for experimenting :D
-------------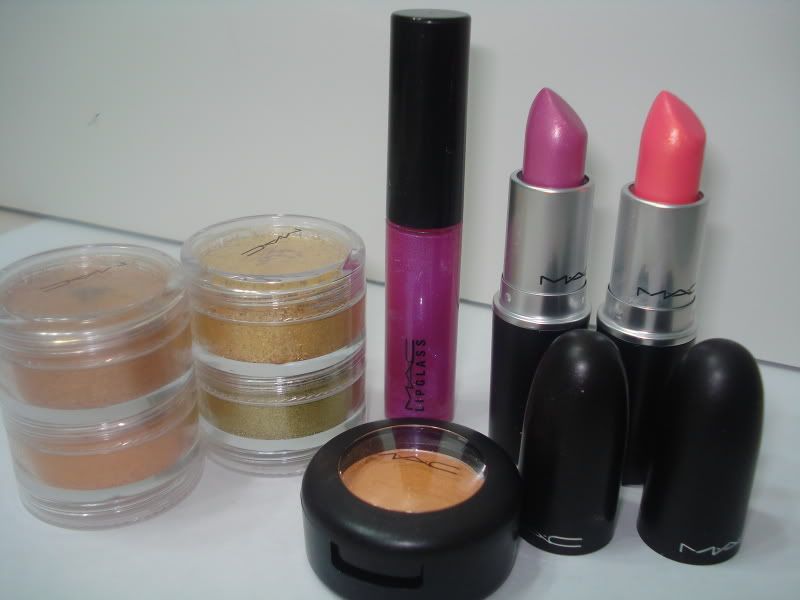 Overall
: I'm very pleased with this release. I wish Mac could just stop releasing such big collections, because some of us just go a little too crazy. None the less, i love this collection. I'm still debating to go back another eyeshadow. -____- '' but we will see. :D
I hope this review helped. If i ruined your Mac Diet, please forgive me. :)
Thanks for taking the time to visit my blog, and have yourself a lovely day!
P.S. you may have realized that i didn't review the blushes. The reason is because i didn't get any. haha! i think i have purchased too many last month, so i decided to skip on this one :)