*WARNING- PICTURE HEAVY
you will be viewing a ton of pictures of me, please do not read on if you don't like these types of posts.
I've just posted the review + hand swatch of the NYX round lipstick (you can check it out
HERE
), but the colours don't really mean much if i don't do a lip swatch. Instead of zooming into my lips,(i think my lips look funny) i decided to just show you guys the entire FOTD, so you can see how the colours show up on me and my skin tone. Btw, i'm fairly pale.
I will go in order of
Favourite to Least Favourite
These pictures were taken all on the same day. It was a little crazy...
Also, if you are curious as to what is on my face, all i did was a basic smokey eye with the
Pure Cosmetics
Eyeshadow quad in
Deluxe Grey
On my cheeks, i have on
Nars Deep Throat
You may not be able to see it, because i applied very little and my camera's flash washed it out.
First - NYX Narcissus
This is definitely a fun colour. My absolute FAVOURITE shade from what i got!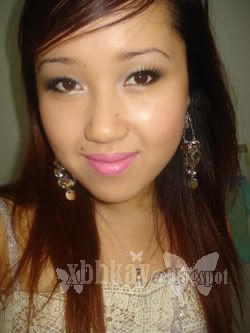 If you have MAC Gaga, i would say they belong in the same family of pink. Gaga has a more purple under tone with lustre finish, and Narcissus is a hot bubblegummie pink and much more vibrant/bright with a Mac amplified lipstick finish. I found Gaga made me look a bit washed out, because it was a tad too pale and sheer, whereas Narcissus really shows up. If u love Gaga and don't mind getting a little bit more attention, give Narcissus a try.
Second - NYX FIG
If you can't pull off red lipstick, give this a try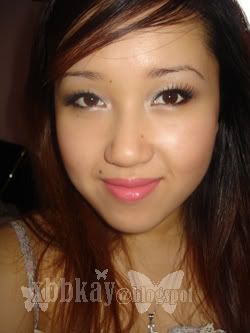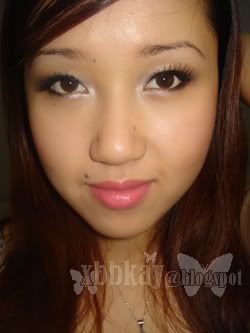 This is just a very pretty colour that will go with any eye look. I'm not even sure how to exactly describe it. It's like a muted red on my lips with more of a deep pink under tone, but when swatched on my arm, it appears as a warm peachy coral colour. It's a bit more redish compared to Tea Rose. Definitely a very pretty colour.
Third - Tea Rose
your everyday colour
This colour is very subtle. It's almost like my natural lip colour, only more peachy and slightly pink. I think this is what makes this colour different from all the lipsticks i own. It's not really exactly pink, but it looks gorgeous. It's a very chic and cute colour. It'd make any look, look innocent. Overall, a great everyday colour for people who are a bit more conservative. I think it's appropriate for office wear.
Fourth - Louisiana
for all you girls that love RED!
right photo is after i blotted my lips. I found it a bit more wearable then.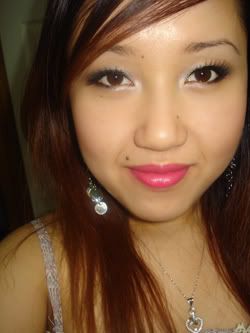 okay, so this colour isn't exactly red, but it's such a HOT pink, that it comes off as a bright red colour with pink undertone. I would say this colour reminds me of berries. This colour is definitely something new for me. I don't have a colour this "red" and it's very bold. Personally, i think that people with prretty lip shapes pull off red well. This colour is so so for me, because i thinkt it looks a bit funny on my lips. I think others would have a better experience.
To compromise i blotted my lips a little, to tone down the shade. I found it a bit more wearable for me then.
Fifth- Circe
a nude colour for bold eyes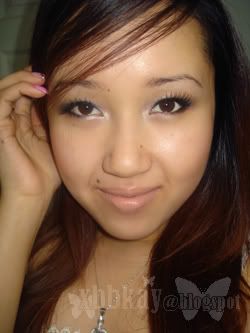 i've been into nudes lately, so thats what i've been picking up lately. I thought this colour matched my skin tone a little too well. With this one, i realized i have to use lip pencil, because the colour bleed a little around my lips. It also emphasized the darker skintone around the area of my lips. With this, i would need to apply a bit more foundation around that area prior to applying this lipstick. Also, i found this lipstick made my lips look even fatter. Strange....So overall this lipstick is..so-so for me at the moment. I dont love it, but i don't hate it.
Sixth- Thalia
a brownish, purply plumish undertone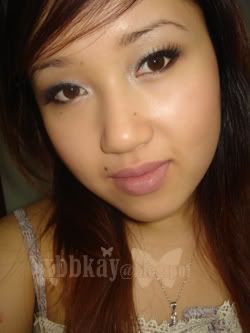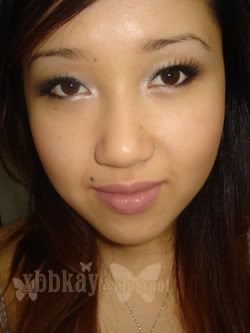 this colour, i kind of regret purchasing. I got this colour, because i read some of the rave on it, however, it didn't work out too well for me. I thought it was rather dark for my liking. The slightly dark purple undertone made me look awkward. I'm still thinking of how i can make this work. In the meantime, this isn't my colour.
Last Words
: All of these were applied with a light hand and one layer is ALL YOU NEED. Seriously! I hope this helped you guys in picking out the colours. I love these lipsticks, and will surely purchase more!
What is your favourite NYX colours? I love to hear recommendations for my next purchase! Thanks for reading and take care!