I've been "lazy" eversince i came back from the wedding. It was a crazy day, lots of walking and standing and photos and eating. Updates on the wedding will follow when i have time. In the meantime, i felt like doing a blend today. I have done this colour combination in the past, but with very little intensity and with different colour. After finishing, i realized i should've done this look for the wedding dinner, because the colour completely matches my purple dress.
Here is the Eye look!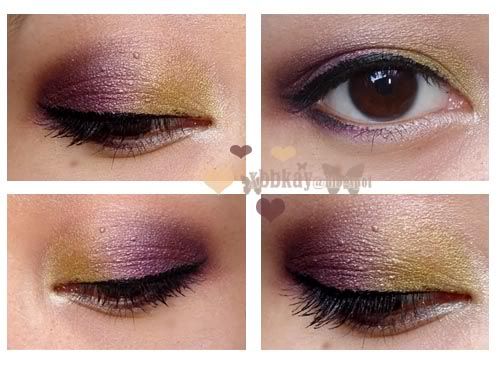 If you have noticed, i have been doing a lot of purple lately. I guess because my dark hair is back now, and i've always thought dark hair and purple eyes looked good on me. When i tried purple eyeshadow with my copper hair, it just looked disaterious. hahha. So anywas, here is the look.
P.S. I didn't take any full face shots, because i was too lazy to do my entire face. I wasn't gonna go out, so i didn't want to pack on make up, as well, i'm trying to recover from my skin disaster. :)

Products Used
Artifact Paint Pot - outer half of the eyelid
Gorgeous Gold - inner corner of the eyelid
Rated R - inner corner of eyelid
Nylon - above Gorgeous gold/Rated R
Beautiful Iris - over artifact (GORGEOUS!!)
Sketch - crease
UDPP - all over lid
Maybelline Define a Lash mascara
Maylelline Stilettoe Liquid Eyelinear