My Brushes have FINALLY arrived! i was so anxious to recieve them. I just love recieving things in the mail, and the only time i do get something in the mail is when i order online! The wait just killss youuu..haha..But anywas
So coastal scent is suppose to be an online shop that sells cheap makeup and brushes at very low cost. A make up brush for 2 dollars? that's insane, comepared to a 30-40$brush from MAC
So what i got:
Synthetic Concealer Shading Brush
Large Paddle Face Brush (comparable to Mac 134)
Italian Badger Angle Blush
Black Blending Brush
Synthetic Shadow Brush
Anywas, with the rave from youtube, i just had to give these brushes a try, i had realy high expections and excitment for the brushes, but i'm a little disappointed. The packaging is cute, and nicely packaged, the shipping time is as i expected (approx. 2 weeks for international. THe only problem i had was Coastal Scent does not take accurate pictures of their products. I do understand that they give meeasurements, but who actually realy looks at them right?
-the quality, i'm not so sure yet. because i haven't used them yet. So so far all i have to say about each brush is :
Large Paddle BRush:
This was one of the most anticipated brush for me, because i don't thave a large powder brush, but this just realy let me down. I'm realy concern about what i put and use on my face, and this brush doesn't quite cut it. First of all when you wash it, the colour dye comes out quite a bit, it has a small, which i actually don't mind too much, because even my mac 187 smelt when i first washed it. THe bristles were prickly. it's BAREBLE, but it's not that soft and smooth as i thought. it MAY even hurt, if ur face was super fragile and sensitive. THis brush i do not recommend. IT does shed. Before i washed it, it already shed, a few strand, while washing it shed a little bit. Now that it has dried, it's fine, but i can't say so until i use it.
Italian Badger Angle Blush
Because of pursebuzz, i was excited for this brush. She had raved about the badger brushes, but i don't think it's this one in particular, but none the less, this one is super soft. it's just as soft as my mac 109,maybe even softer, but it's not as full as i like it. It's a little flimsy, which is a little bit of a con, because i like a brush with a little bit of sturdiness especially if i'm contouring, This brush is okay for me, i'm not loving it yet. But, i think it would do very well if you just want to swift some colour onto your cheeks. That being said, i didn't like how it dried up, i don't know if it was too rough on it or not, but it looked fried up when i washed it, BUT after being FULLY dried up, it's looked fine now
Black Blending Brush
One word for this brush when i first saw it was HUGE~ from what i had imagined, (i was thinking...Mac 224..) But this one is too big for my crease, and too small to be useful as anything on my face. That being said, i have decided that it may be appropriate for blending out the harsh lines. That's all i can really say abou tthis brush...I'm quite disappointed in the pictures coastal scent has put up.
Synthetic Concealer Shading Brush
i LOVE this brush, i think this is my fave from what i got. I know this one would be amazing for packing on eyeshadow. I know it's a concealer brush, but i needed something that was sturdy but soft and flat to apply eyeshadow or pigments, and this is the one.
Synthetic Shadow Brush
This ons looked very similar to the "Synthetic Concealer Shading Brush", except for the width. This one is thicker and fuller, and a little bit more fluffy, because it's meant to apply and blend out the shades. It's very similar to the Mac 252. I have the mini one released during the christmas collection. The only difference between them is that the Mac one is bigger. I kind of like the side of the coastal scent more, because it's smaller and it's more suitable for people with smaller eyelids. I've always found the MAC one to be a bit big for me, and the bristles actually hurts. Though, this IS the mini verison, so i'm not sure abou thte full size one.
Overall these brushes are better then QUO brushes in my opinion. I love how soft they are, minus the paddle brush. I'm sure if i have tried out the other eye brushes i would have loved them, but it's hard to order online, especially when the pictures are misleading. So that's the main let down for me. But none the less, you get what you paid for right??!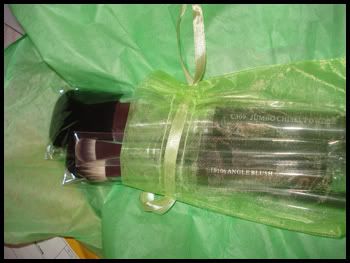 Oh Yeah, i also got a free sample glitter. I didn't know about it until i got it. I love getting cute little free stuff like that, i tried the glitter. It's not like pigments, it's a little big more chunkier bits. like very minimal. But it's super sparkly. I tried it with fix plus on my hand, and it looks very nice, if you have the appropriate base, because it did not last long on my hands without one.