Hello all my lovely bloggers!
I have been slacking. I had this review typed up a while back, but never go around to finishing it. So, since i seem to be having quite a bit of time on my hand atm,i thought i'd catch up on some product reviews!
I was looking for a makeup remover, since i've ran out of the lancome bifical one (WHICH I LOVE) but thought i should see what else is around before going back to it. the Lancome is rather pricy..HMmm, and makeup remover is something i use almost everyday!
SO i was at rexall ( a Canadian drug store ) and decided to give aveeno a try. I know that aveeno is known to be gentle and geared towards sensitive skin, so i thought it'd be suitable.
Aveeno Positively Radiant Makeup Remover Cleanser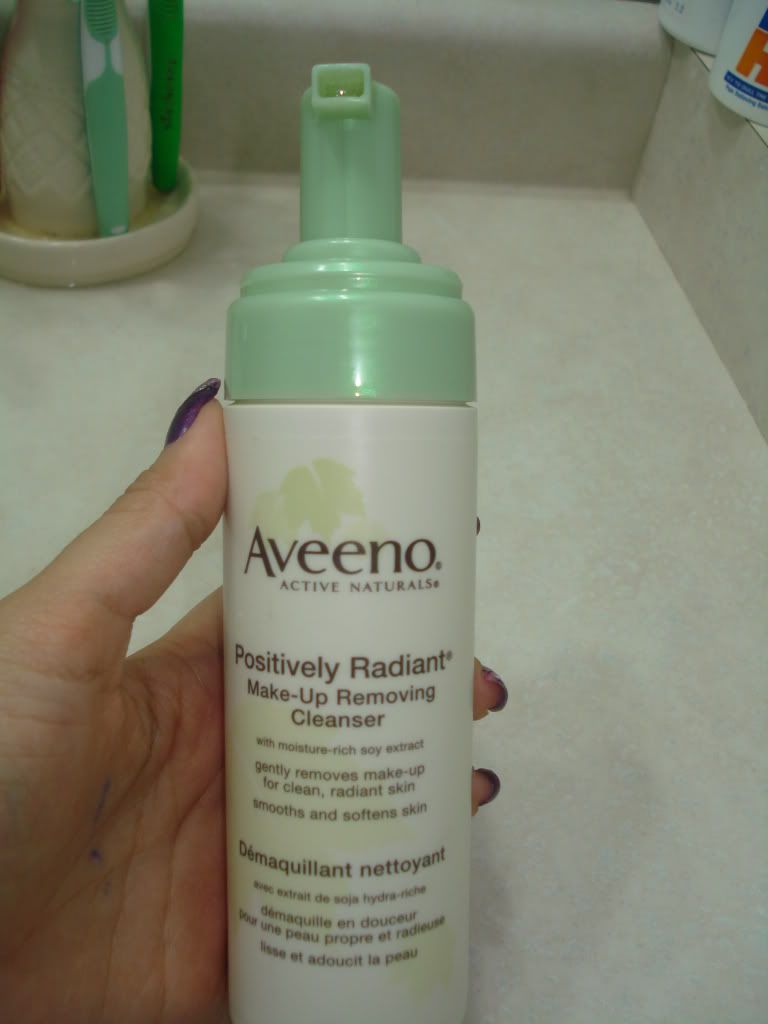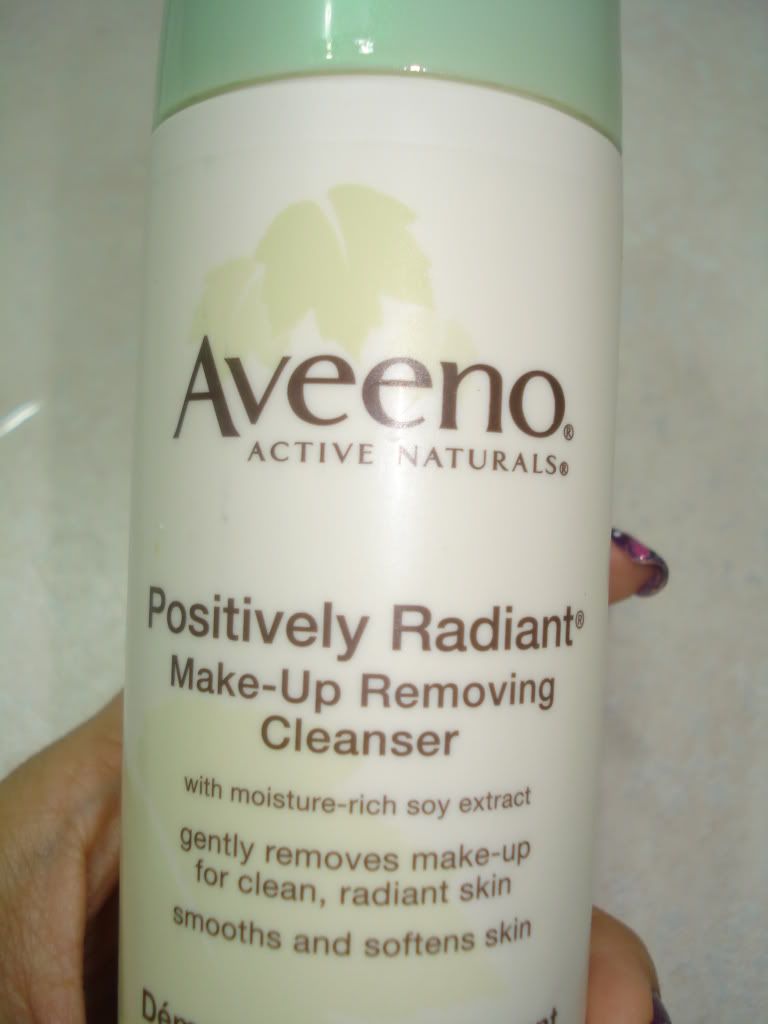 Claim:
"Gently dissolves makeup and impurities to leave your skin clean and refreshed without over-drying. This foaming cleanser, with moisture-rich Soy extract, leaves your skin soft, smooth and radiant. Oil-free, soap-free and noncomedogenic, this cleanser is gentle enough for everyday use, even on
sensitive skin
"
Price:
12ish bucks (sry, don't quite rem)
What i have to say about it:
this cleanser has definitely impressed me, and i am currently hooked on it. I really love it, and i may have to repurchase
Quick jots:

THE PROS:

-lather easily
-gentle to use around and on the eye area
-not as over drying (read on to know what i'm talking about)
-does leave my skin radiant, clean and polished
-my skin feels soft and smooth like silk
-comes in a pump & good size
-affordable
-smells nice
-skin does not feel "squeaky" (personal preference)

THE CONS

-only sufficiently removes makeup (will not remove All (but most) of your mascara/liner, and especially something "strong" as Mac Fluid Line in black track)

i have been using it for a little about a month now, and i do really like this cleanser. I love the fact that its a foam, because i personally love foam cleansers. It makes cleansing feel effortlessly. It smells nice and i love how my skin does not feel dried out after i have used it. I have pretty sensitive skin, especially in the winter season, and it dries out very easily, but this cleanser is quite gentle. At the beginning it didn't dry my skin.
A shot of the product:
THIS is ONE full PUMP (i usually use 3/4 of a pump for entire face)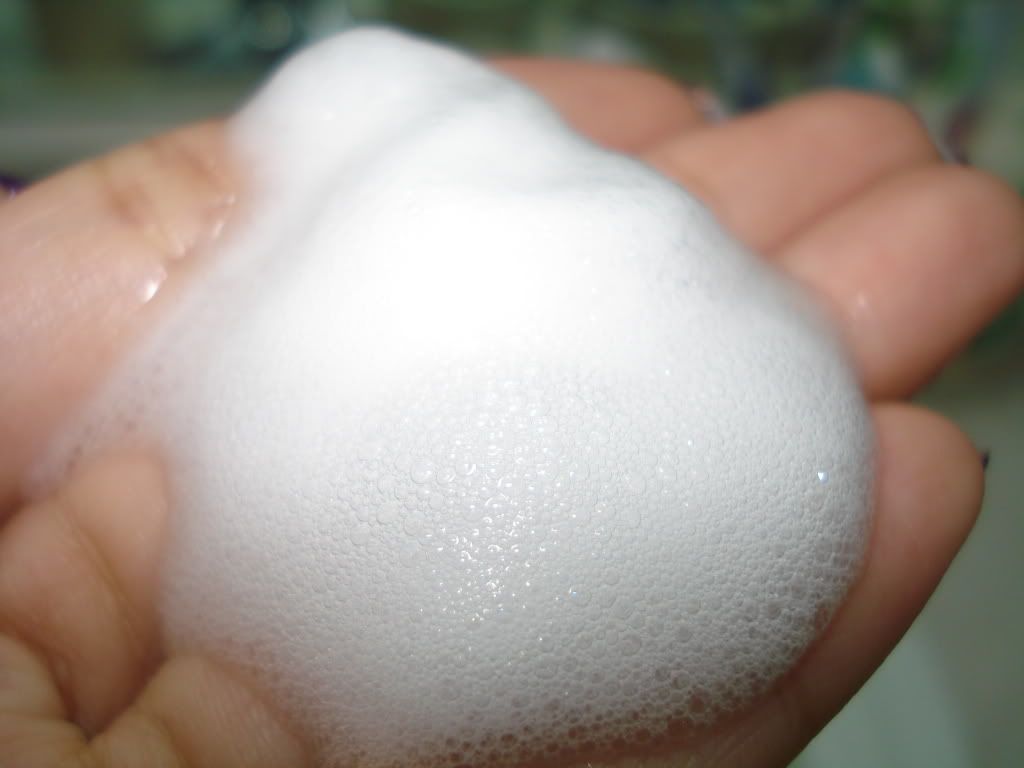 However, i don't know if it's my skin and all the other products i've been using, but recently this makeupremover made my skin experience a bit of drying after i use it, especially when i use it more than once a day. Though, I think it might be the other exfoliating products i've been using in combination at the period. But overall, nothing a little moisturizing can't fix
When i finish, my skin feels so radiant and it feels like soft to touch. i couldn't stop touching my face the first few times i used it. Though the effect seems to decrease with repeatative usage? What really surprised and impressed me was that it's very gentle to use around the eye area.
Sometimes i refrain from rubbing the products by the eye area, because i'm afraid it will sting, but this cleanser was very eye-friendly. You don't need to use a lot of pressure, just gentle circular motion is enough to get it going. It removed all of my eyeshadow,
but not all of the mascara.
It did well in removing most of my foundation.
i'm use to using a eye makeup remover like the
Lancome bifical eye makeup remover
before i cleanse. So this isn't a big problem with me. I actually didn't expect it to remove any of my eye makeup at all, but it did very well with removing my eyeshadow and liner. Though, you will still see traces of your mascara with this product.
i would recommend this for people who wear minimal makeup. It does a decent job in removing make up. Or if you don't mind cleansing your face in two step, you might like this product. If you are looking for a one-step cleanser that removes everything (especially heavy, long lasting, water proof make up), this might not be it
Last words
: i like this cleanser, it's one of the best drugstore cleanser, that i have tried, and i was very surprised and impressed. Other than the fact that my skin feels a little dried out after using it recently i would probably repurchase.
Compared to the last foam cleanser that i have used,
Estee Lauder Combination Skin
, this one is a lot thinner in consistency, but Aveeno beats it hands down, with how beautiful it makes my skin glow after using. The best part is that it's affordable. I usually go through my cleansers very fast (used 2x a day) so price is pretty key.