i'm on a blogroll today! it's been a while since i've updated more than once a week..i tend to write a bit lengthy posts when i update once a week, but what do you guys prefer? short quick frequent updates? or just longer once a week kindda thing? hehe
Anywas, this year, i COMPLETELY FORGOT ABOUT ST.PATRICKS DAY!
i know i know..
you must be thinking...
"........soo?? what's the deal??"
well it wasn't a big deal when i was in elementary school, or even high school. It wasn't really a holiday back then, because no one celebrated it. It was like any other day, and i guess it just isn't the THING for "kids". Anyone else felt like this?
But
St.PATTY's day is one of the most exciting day at my University, On St.Patty's day, the buses are full, downtown is full, classes are empty, and the night is long and good.
MAINLY bcos
a) it's an excuse to get drunk at 8.30 in the morning,
b) it gives you an excuse to skip class
c) DRESS-up in ridiculously and sometimes uber cute green clothing, jewels, leggings..etc,
d) MOST important PARTY like you never

I guess...St.Patties is a "BIG KIDS" holiday....don't you agree?
I happen to live in the center of that all. My area can be named the 2nd downtown of the city. Mainly because all my neighbours, and basically my entire neighbourhood are students, attending the college right NEXT DOOR
So YEP, nothing seems to surprise me anymore when i see how crazy students can get. Quite frankly, i feel embarrassed to be a student, when i witness some of the things i do.
Here are some paparazzi pictures i took of how hardcore things can get, ESPECIALLY when the weather is friggin gorgeous
This is a small section of the mess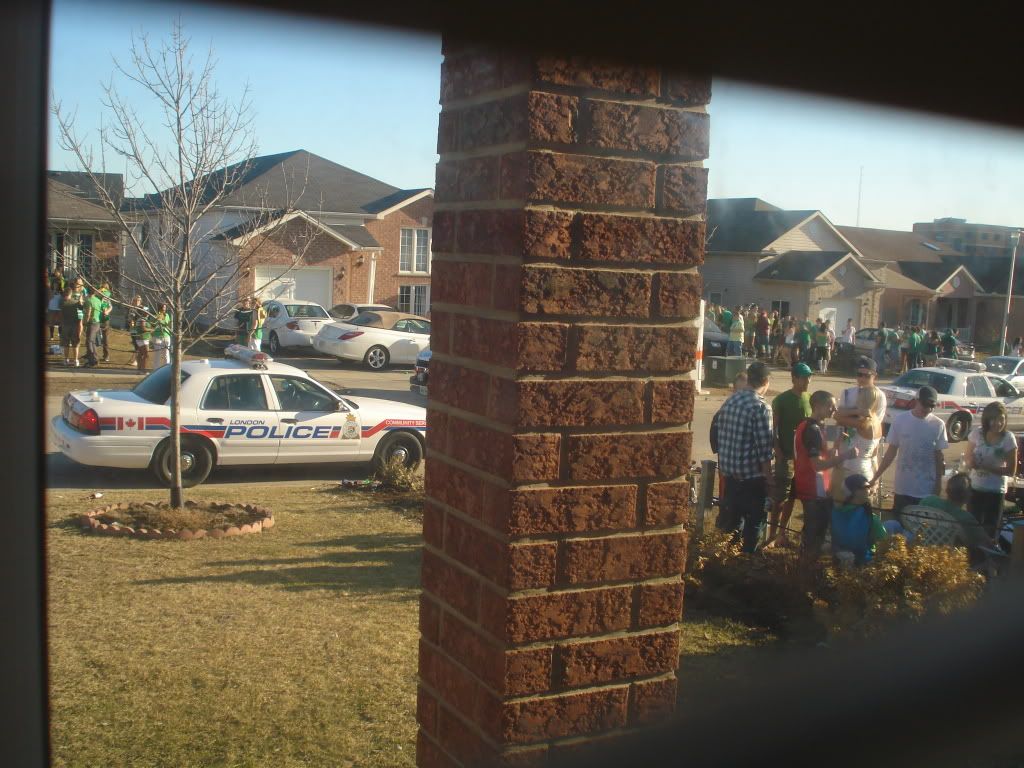 oh and the cops?? ahh, that's nothing in my area. That day i counted 5 cop cars, 5 police officers walking around, and an ambulance. sadly, nothing i haven't seen before.
However, even after of that, i wish i had remembered to dress up. It would've been fun ;/ I had a date with lovely philosophy essay later on that day. Life can be so sad sometimes...