Hello my lovelies!
Today, i want to tell you about this wonderful mask that my friend gave me. She is actually from China, and goes to school here in Canada. She brought boxes of mask with her, and have generously offered me one to try, and i'm sold.
I've seen actress use masks in those chinese drama, but never thought twice about it. I dont know why i felt the urge to try it one day, so i ofcourse asked my chinese friends.
This is the one that i got to try out:
Watson's Bird Nest Mask
(Watson is the name of the store- my friend described it as the "asian sephora")
Mask Sheets:
Are like linen sheets(that are very soft and comfortable) cut to fit your face. They are soaked in a "solution" that's design to penetrate into your skin and give you all that good stuff it claims.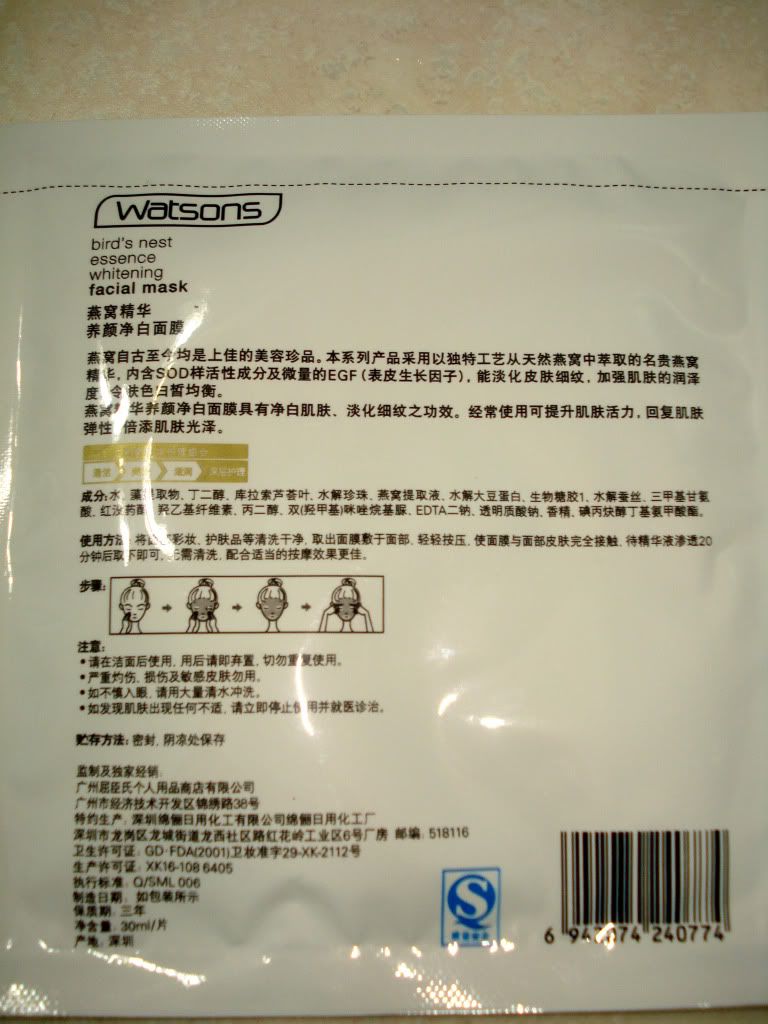 I can't read the back, bcos it's in chinese, so i just googled it, and this is what it says:
What it claims:
"For centuries, bird's nest has been recognized as one of the most valuable beauty supplement. With its nourishing power, Watsons Bird's Nest Facial Mask leaves your skin silky smooth, with natural radiance."
Benefits:
1. Maintain skins youth glow and fairness
2. Energizes skin to enhance natural resilience and preserve vitality of skin
Amount:
30 ML (that's A LOT!)
Direction:
1. gentle place mask over your
cleansed face
2. Leave for 15-20 mins and then remove
3. Gently massage any remaining fluid into your skin
4. No need to rinse
5. Discard mask after use
6. Use 2-3 times per week for best results
Ingredients: Water, Glycerin, Algae Extract, Aloe Bergael, Butylene Glycol, Dipropylene Glycol, Witch Hazel Extract, Extensin N-200, Trehalose, Natrosol 250, Phenoxyethanol, Caffeine, Methylpareben, Sodium Hyaluronate, Pearl Extract, Bird's Nest Extract, Allantoin, Dispotassium Glycyrihizate, Disodium EDTA, Birdnest HB45328 Caution:
Avoid contact with eyes. Rinse immediately with water if it comes in contact.
Do not apply on burned or damaged skin
If irritation occurs, stop use and consult a doctor if necessary
Storage:
Store in a dry, cool place away from direct sunlight
WHERE to Purchase
: WATSON, if u live in China, Online (ie.Ebay) if you live else where.
PRICE
: I'm not exactly sure. The last time i checked on ebay, one seller sold ONE for 2.50. A box of 6pcs, is around $12-15 from what i've seen online.
this is how it looks like after opening. As you can see there is plenty of the jel-like solution. The sheet was completely drenched. it's neatly folded. A little tricky to open, but the sheet seemed sturdy, so it didn't rip or anything. There is also another layer on the mask, which you later remove after placing the mask on your face. it was so wet and slipperY!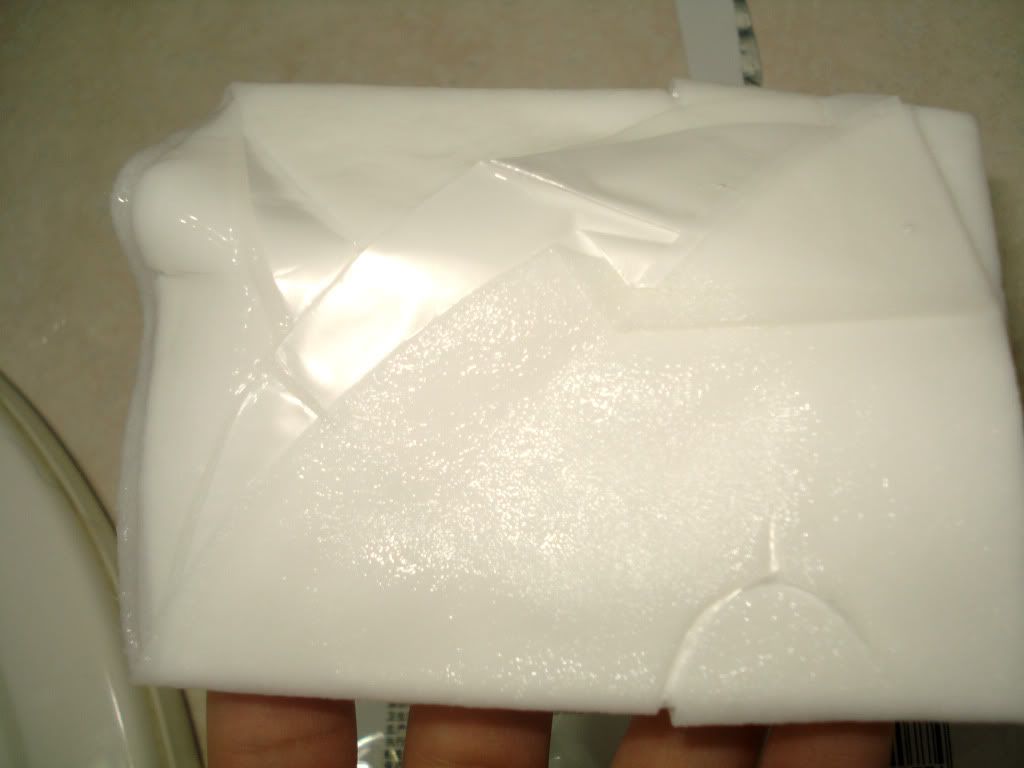 now i might kill myself for posting this online, but today i feel brave. Hence, i hope this doesn't scare you too much..
BEWARE

.
.
.
.
.
.
.
you end up looking freaky like this. hehehe. I"d hate to imagine myself bald. Hhahaha
............YEAH, i have no clue what to do with that dangling piece underneath the eye. so i just folded it like such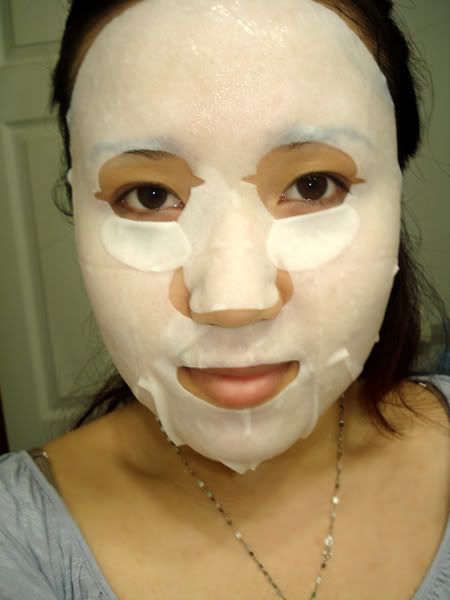 If you want to get a little more fancy, cut some cucumbers and place them on your eye. Lay down and enjoy some nice music. I had the mask on for about an hour. It was still very wet after 20 minutes, so i figured there wouldn't be any harm to keep it on, while i was on the phone. It completely dried in a hour btw. SO this BABY is SOAKED UP GOOD. :D

The Pros
1. SIGNIFICANTLY reduced/eliminated the dry spots that were flaking on my cheeks
2. my skin felt super moisturized, soft and plumped
3. the sheet is durable and thicker then i imaged ( i don't expect it will tear)
4. the sheet fits my face pretty well, might be big for people with smaller face
5. the sheet is DRENCHED in the essence!( It takes prob an hour to completely dry)
6. cooling sensation
8. Convenient
9. the red patches on my face has lessen and my skin tone looked a lot more even

The Cons
1. Left this weird slightly sticky residue (didn't really bother me though)
2. Slight burning sensation during the first 5ish minute
3. does not whiten (at least not noticeable to me)
4. Softening effect last prob 24 hours. But face remains hydrated for about 2-3 days for me (but has got ridden of the dry patches!)
5. rather pricey for people who don't live in asian countries (12+ for 6pc)
6. not easily accessible and difficult to find for me

On the Side: the smell was..okay? bf said it smells like wet naps. hehe


The first thing i should make clear is: If you're looking for something that would dramatically whiten your skintone, this is not it. In fact, i'm not sure if i even see a difference afterwards.
Now that i have made that clear, i do have to say that
if you have DRY, FLAKY skin, this thing would be your BESTEST FRIEND.
I SWEAR,
no cream/ moisturizer
, can ever deliver this kind of result
in an hour & less
. I have been suffering from super dried out skin in random areas on my face. I believe it's due the dry, harsh weather, and all the crap i've been over stressing my skin with. I truly regretted it, and it was so hard to get my face moisted again.
It's a pain because when i go to apply foundation, or powder. NO MATTER how thick of a moisturizer i use, or wonderfully i blended it in, my skin looks cakey and just GROSS WITH foundation. Which goes to say, if your skin is moisturized and soft it really makes a difference when you apply make up
I LOVE this facial mask for that reason. I know that MANY facial sheet mask from asia are wonderful at moisturizing skin as well. This is the only one that i've tried, and
i LOVE IT
Words can't explain how much i love it.
DEFINATELY! It's a great to treat yourself, when you're overworked and stressed! i was super excited to tell everyone about this. I've already ordered a box of different masks to try out. i'm just dying to get my package now. I will definitely update on more MASKS in the future. My next order should be here in 2 weeks latest
If you are curious, i actually ordered a box of the
My Beauty Diary Mask
online. From all the research that i've done, they are one of the most popular one made in taiwan i believe.
Why DOES the packaging look SOO CUTEE??!
:D
HOPE You enjoyed! If you have any mask that you LOVE, please recommend me some.
THANKS for reading!