hi all!
i haven't been feeling like blogging for a past few days, because i just feel so blah. My skin is still recovering from the exam break out. So i haven't been feeling like playing with make up.
i'm back to share with you guys the cheap beauty products that i found over the past month? Sometimes i don't know if i should make a seperate post for each products, but i think i'd be too lazy for that. So that's the reason i'm gonna have a "cheap beauty findings" post every month or so to share the products that i've accumulated.
So rexall had a sale for NYX (25%). THey usually have this sale once in a while, so if you are interested, wait up for the sale. I took the opprotunity to get some eyeshadows. It's the first time i tried 'em and here are the colours i've picked up. I'm surprised that i don't have a white eyeshadow at all, so i decided to pick up one from NYX.
Price:$5.76 after sale
Inital Review
-shadows are soft, pigmented, and easily blendable
-you would need a primer for long-wear
-some of them come off a bit chalky (ie. White, Cool blue)
-there will be a bit of fallout, so make sure you patt on the colour
My favourite is
"Rust"
(last one). It has the best finish. Non-chalky, and satin finish - reminds me of
Artifact painpot
in an eyeshadow form.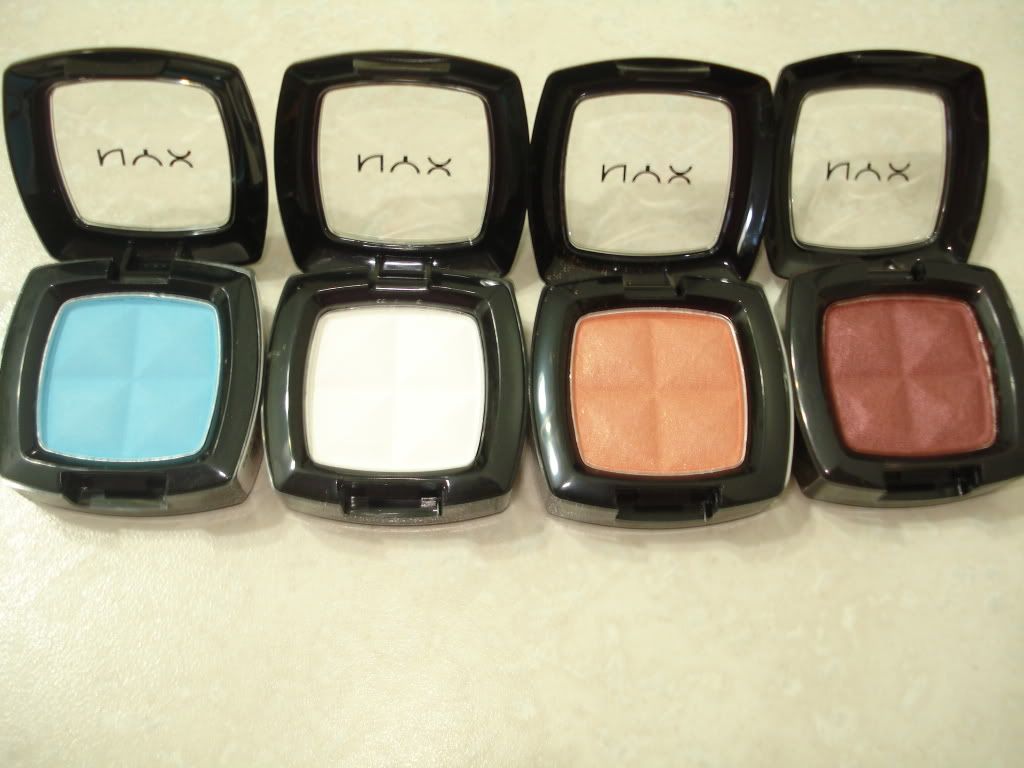 Initally, i wanted to get some lipsticks from NYX, but sadly Rexall, didn't have them. They only had the sparkly line or something. I can't recall, but all the listpcisk were shimmer and frost.
Next up, Shoppers Drug Mart was having a sale for
Physicans Formula
. (50%) I have never tried anything from this product line before, so i decided to check it out. Im actually on a hunt for a bronzer at the moment, so i decided to try this product.
From what i know, this product line is very eco friendly. it claims to be 100% natural. And even the packaging is eco conscious. it claims that its 93% less plastic than traditional powder compact of comparable size. I thought that was very neat
Here is how it looks on the size. It's "3 layers"
This is how it looks inside. The colours are very settle, and pretty. Good for people with fair to pale skin. It would not show up on people with darker skintone. There is however another compact for darker skintone
This is the flipside to the compact. You will find a brush, with a mirror. The mirror is horrible however.
And finnally, the swatches! The shade is still a bit light from what i see. I might go back to exchange for a darker colour, i'm not sure yet.
Price: 10.99 after sale
Inital Review
-from swatching it, the powder feels OH-SO-SMOOTH/SOFT and almost moisturizing. It definitely doesn't feel like your normal powder, which i like.
-the highlight colour is a bit too shimmery for me
-the middle colour matches my skintone perfect
-would be good for a face powder
I'll try to do a full review another time with a FOTD
Next up are these lashes. I've been hearing about Revlon Lashes. These were also on sale for 30% or 25% i think at Rexall. The Quo lashes were 40% off at Shoppers. So i believe they were about $4-5 a pair. I still think it's expensive, but definately better then the original prices of $7-10. I havent had the chance to use them yet, but will let you guys know when i do. In the meantime, if you're interested make sure u check out the sale.
These are some baby nail polishes i picked up from Icing. I think that's what the store is called. They have quite a bit of nail polishes. I tried these the other day, and i'm quite surprised. They are very bold and vibrant. I love it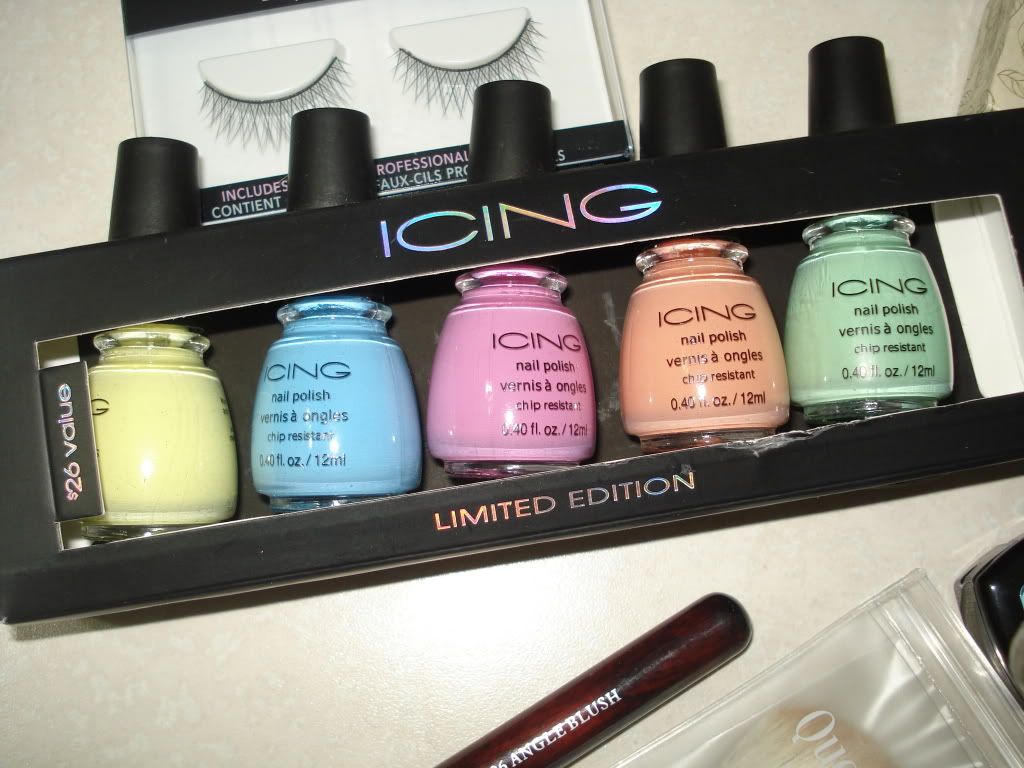 Here is when i used it. I layered it with an OPI nailpolish. So it has a pink tint to it. Else you would see how orangie coral it is.
Next, here i have this awesome brush from Quo. I've tried the Quo eyeshadow brushes before, and they were OKAY. I picked up a very tiny one which i've posted about in my NYX pigment post a long time ago. i didn't think i'd try their brushes again, but something MADE ME get this one. First it's because QUO has the 40% sale. They are having their NEW set of brushes with a new look (BLACK handle- which looks WAYY BETTER) but with a BIGGER price tag too btw. So i guess they are trying to clear their inventory of these old ones. I saw this one and fell in love once i touched it.
I think you can find this only at Shoppers Drug Mart though
Btw, i did use it once, that's why you see the pinkish colour at the tip of the brush
Price: $9.00 after sale before tax
Inital Review
-super soft
-perfect size for my face
-brush is dense and full
A more in depth review will come shortly, because i'm LOVING this brush. However, i haven't washed it yet, so i'll let you know when i have more time to test this baby out.
PHEW*** i'm done! hahaha. I hope you enjoyed reading, take care. and ENJOY the nice weather!
P.S. is it just me or is blogspot kindda slow these days? Is everyone having exams or somethinG?