hi girlies!
i'm staying in bed pretty much all day today, because im feeling sick. I just don't have the energy or mindset to do anything today. The weather isn't helping that much either. I look outside, and its's dark, gloomy, wet and cold. I despise this kind of weather the most, it just makes me soo URGHHH. haha.
Anywas, i thought i'd do some swatches of these nail polishes that i've gotten almost a month ago now. The colours really caught my eyes when i saw these. They are PERFECT for the spring and summer season! just look at these colours. How can you resist them? Btw, i got these at Icing, at the mall. It might be found only in Canada. I never heard of them in the states.
Here is the set of nail polishes. There is a total of 5 super pretty pastel colours (which i love!)
Amount in each bottle: 12 ml or 0.40fl
Price: $16.00 CAD
now i'm just gonna do a swatch for em each one by one. i wish these nail polishes were named it's be much easier. but anywhoo..
here is the yellow one. I thought this was the most difficult to use. It streaked quite a bit. this was how bad it looked:
here it is with 2 layers. much much better. Love the glossy finish
yay! for yellow. this is the first time i had yellow nail polish on. i do love it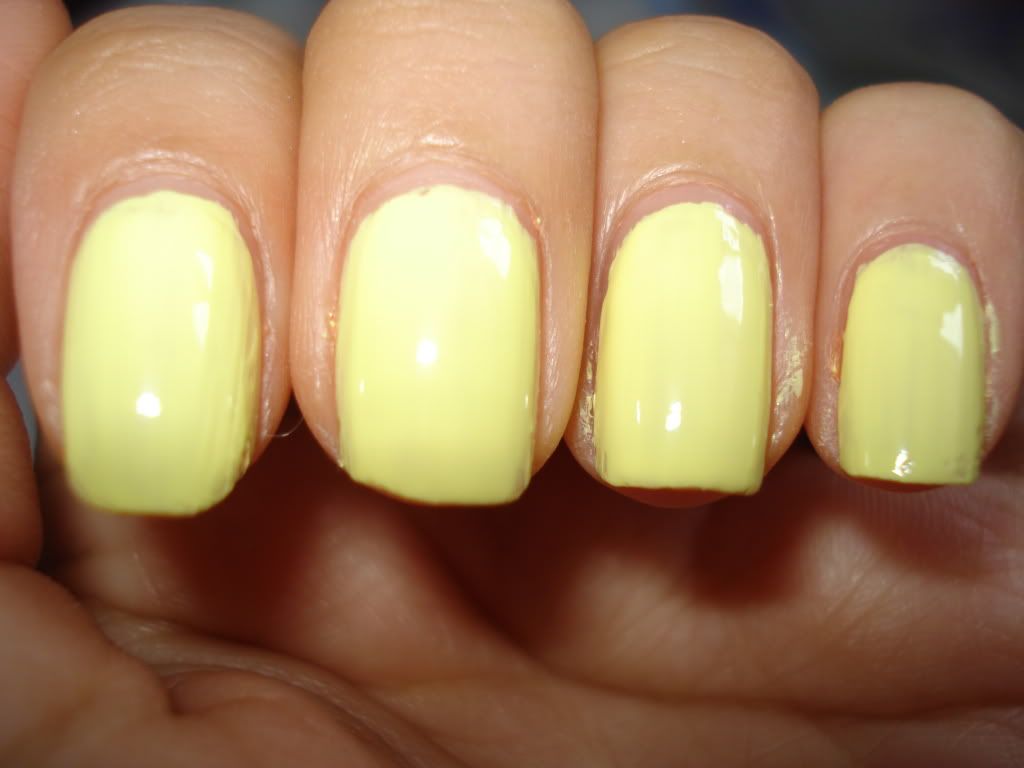 here is the gorgeous baby blue. Reminds me of the pretty skies on a hot summer day without clouds. this was one of the best to apply within the set. Little to no streaking, or is it just me?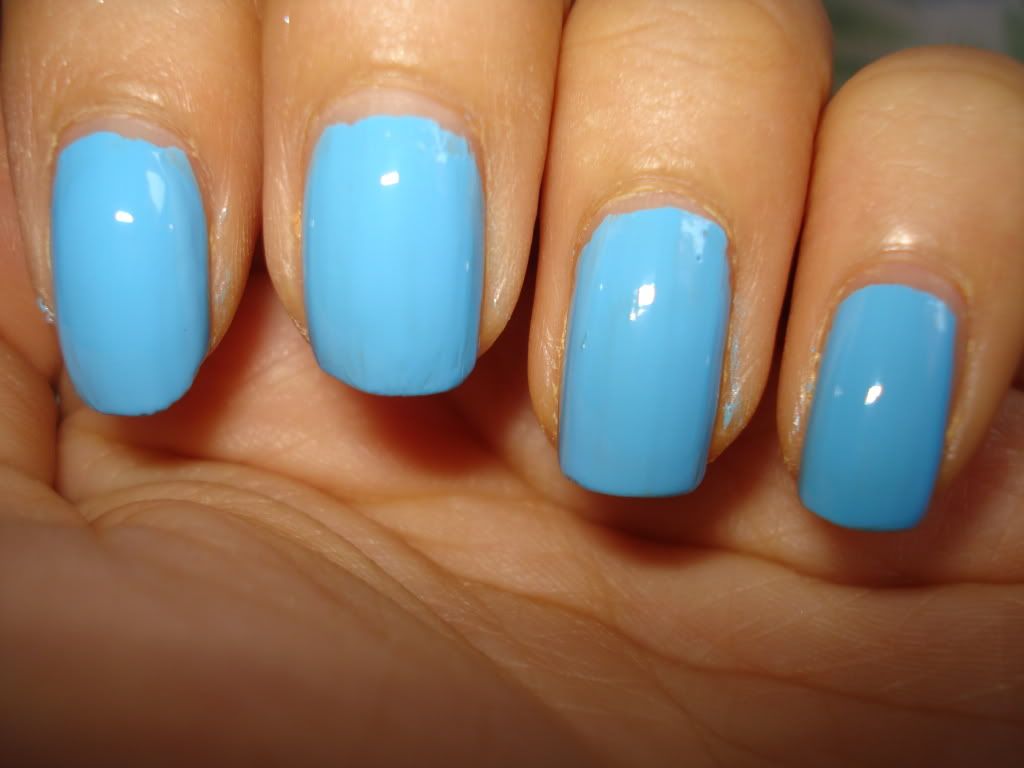 this is the pretty pink. it's more cooled tone i'd say. it almost looks like there is a purple under tone? This was the easiest to apply. No streaking, and only needed one layer.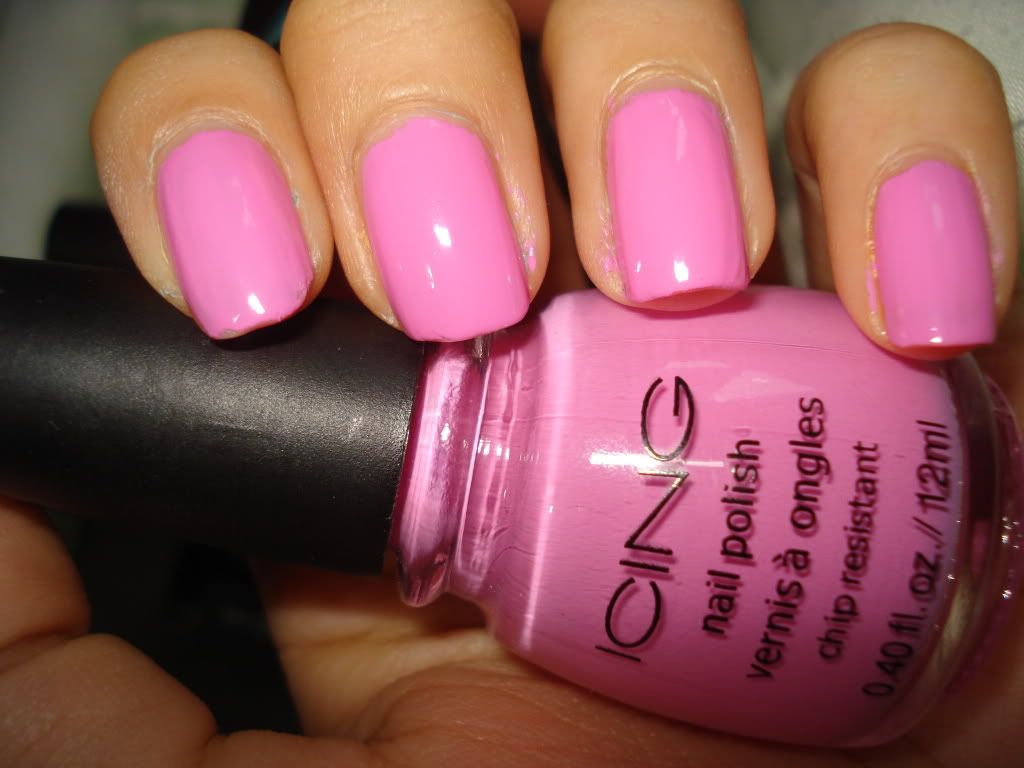 now i have a pretty pastel orange? i love this colour. i painted it on my toe-ies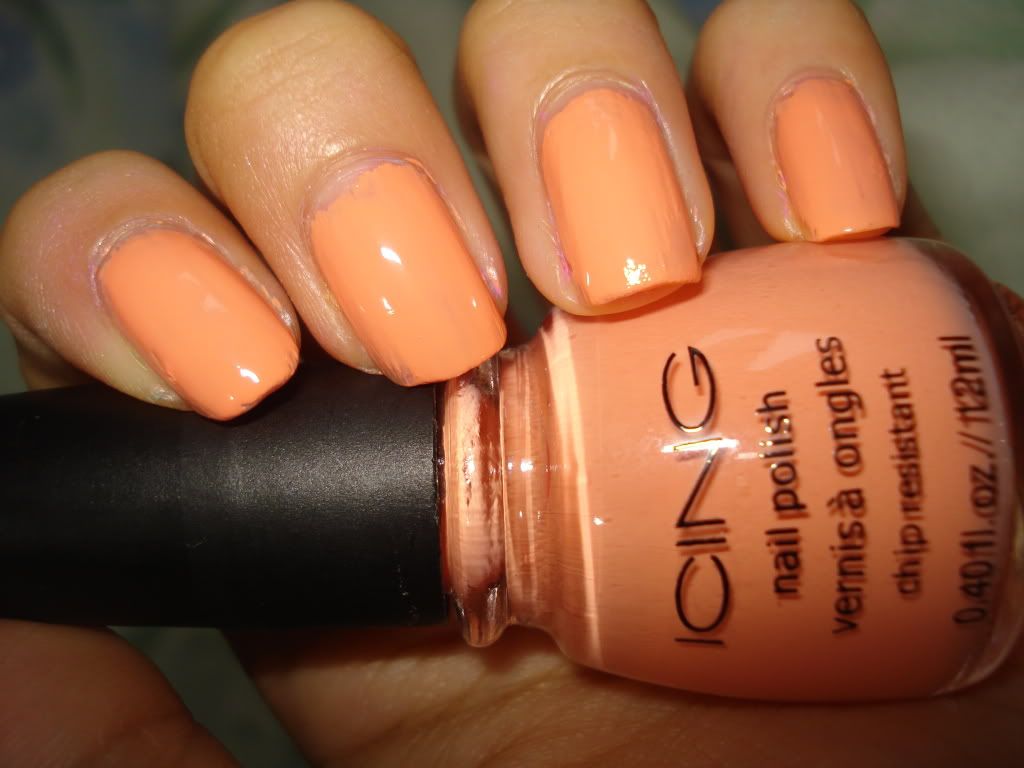 it was the 2nd more difficult to apply, after the yellow. It streaked quite a bit, and def need a second layer. but this was the colour that made me want this nail polish set.
moving alongg...this is the last pretty colour. It's like a grass green. very bright. i really like this colour. It applied on very well.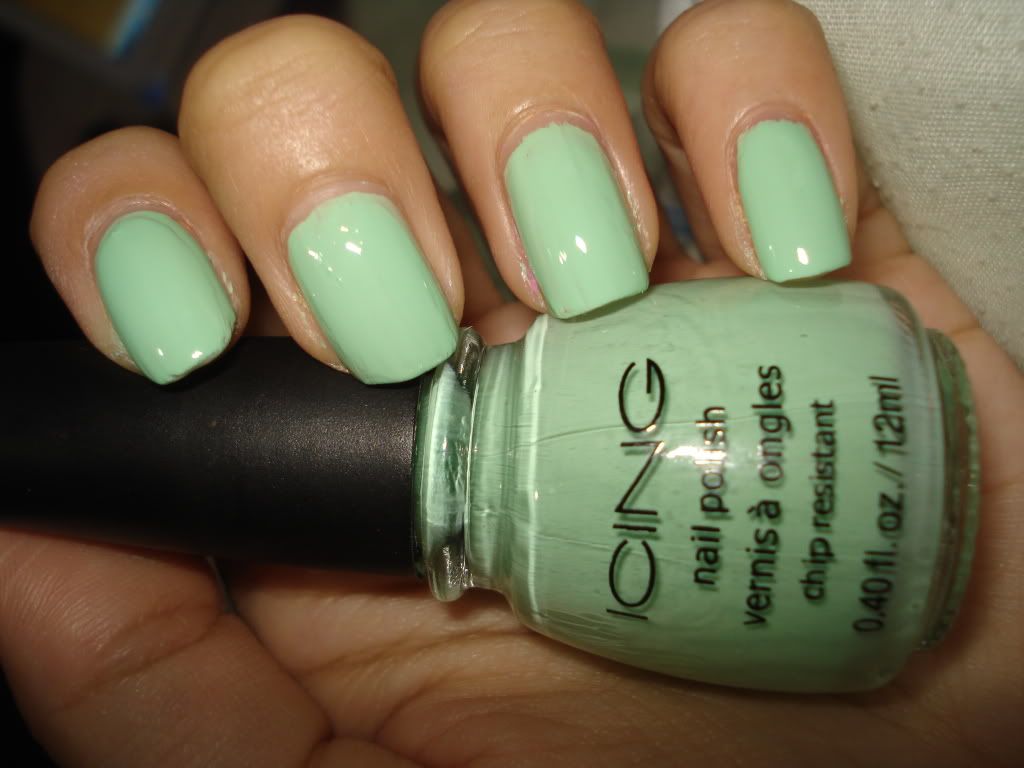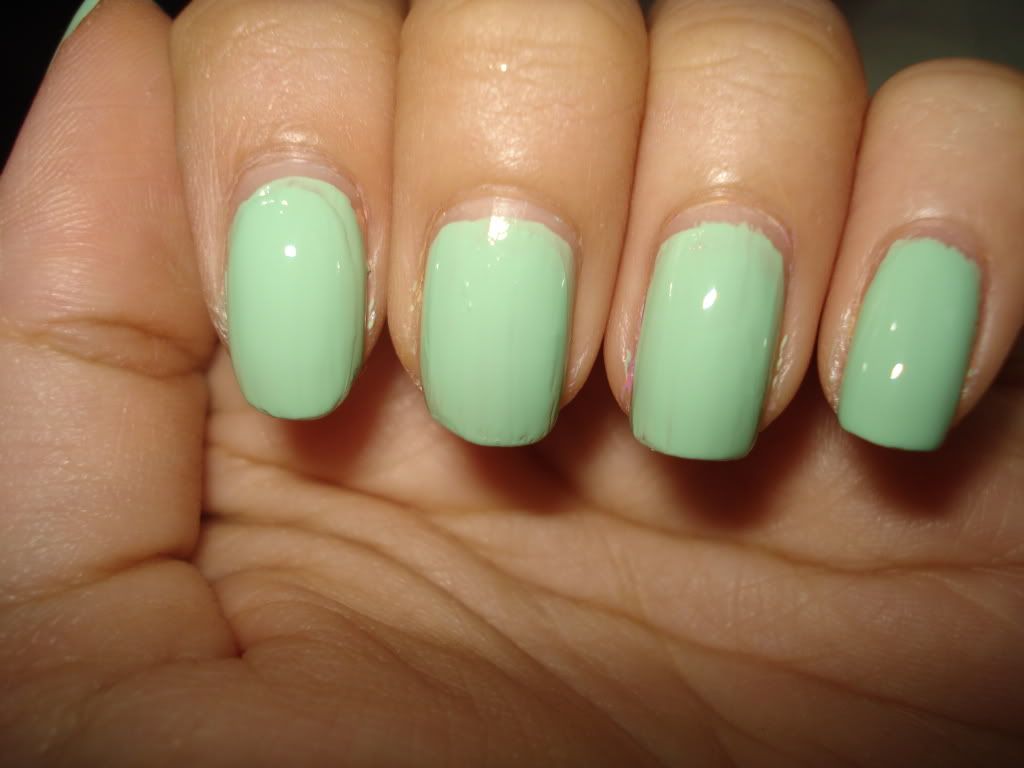 Now after all these photos, i'll give you guys a quick run down about these babies
Pros
- very pretty colours
- glossy finish
- dries quickly
- last about a week before it starts fading
- very opaque colours
- affordable set
Cons
- the yellow and orange colour streaks a lot
- might need to apply more then one layer
- difficult to find
Note:
some of the formula is thicker then the other. i dont know if this is a good or bad thing. It might be a con when u layer it, because it starts to look thick and gross.
also, i found the streaking problem can be minimized if you just load your brush up with the nail polish and work fast.
Recommendation:
i do love this set. Despite it streaking the colours make up for it and i can't demand a whole lot with that price tag. The size is great for me, because i never finish a whole bottle anywas. these colours are gorgeous and they are great for the summer season. if you don't feel comfortable using them on your fingers, i really recommend applying them on your toes. It will make your shoes pop!
Just to add to this post. I'd thought i share with you guys what i often do. When i have a nail polish that streaks a lot, not opaque enough, or just blah. i often layer it with another nail polish. Often times i use a more shimmer, but sheen nail polish as the top layer to hide the streak or what not.
Here is what i did with the blue nail polish: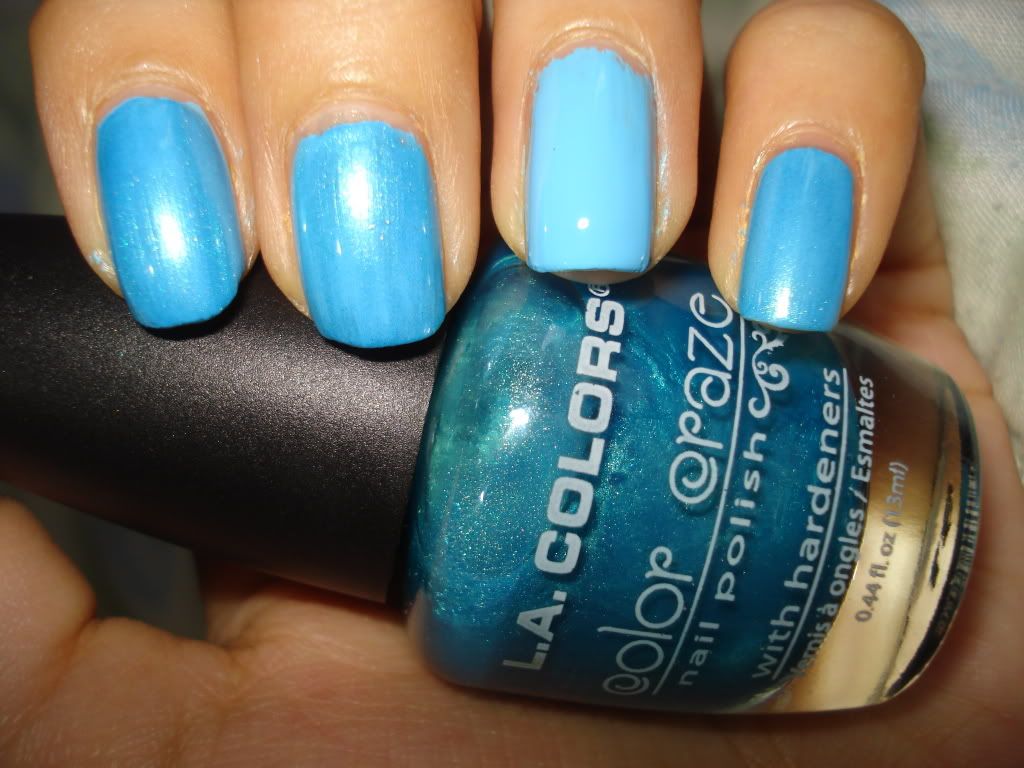 have fun playing with your nail polishes ladies! take care. I see lightning.. . O.O it's gonna be a stormy night
<3 take care and thanks for reading