Hi All!
I realize the last few posts i've made were reviews. Unless you've been looking to try out the products that i've reviewed, it was just a bunch of yapping. hhaha, but I intend to make my blog a little bit more resourceful so it must be done! Sometimes i do want to update, but then i don't really know what to write about? My goal is to update a bit more often, which explains why i already have like 9 posts this month!. That's pretty amazing for me! i usualyl just do a post a week or so. For some reason, i don't feel like blogging these days~ I've been slow at replying to comments as well, but i'll get back to them asap!
I dont know how it's like where you live, but where i am right now, it's not rainning, but it's super gloomy, and humid. My friend is actually in niagara falls right now, boohoo. She must be disappointed to see this kind of weather. The next few days should be a lot better though! I will be going to visit my bff, as well as do some shopping next week, so i'm super excited about that.
So let's move on nowww..
Here is todays FOTD. This is a bit of a re-do. The shades are a little much. It's definately not made for everyone. But still fun to do. Reminds me of St.Patties day. O.O



The Product List


Eyes
Urban Decay Primer Potion
Gorgeous Gold e/s inner corner
One Off e/s middle lid
Teal Pigment outter corner
Knight Divine crease
Black Tide deepen crease
Taupe eyebrows pencil
NYX Doll Eyes Mascara
QUO lashes in 801

Face
Mac Select Cover Concealer in NC20
Physician Formula Organic Wear in Light Organics
Nars Deep Throat Blush

Lips
Mac Archetype

The Full Look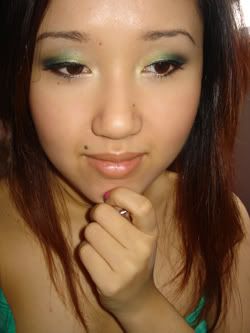 I Hope you guys like this look. What colours would you guys like to see next?
P.S. I just want to say thank you to those who have entered the giveaway, and those that continue to read my blog. <3 I'll slowly post the other items as i finish my hunt for them. LOL.