Hi Everyone!
How are you all doing today? The past few days have been awesomely hot where i'm from, but it's been super humid also. THe BEST time for the beach! I can't wait to hit the beaches this summer!! In the meantime, i'm dying from the heat at night! It's SOO difficult to sleep, i can't fall asleep until 3ish in the morning! urghhH!
ANyWHOOO. it's that time again! i didn't intend on waiting so long to do the next update for my giveaway, but im still waiting for some stuff to come in :D If you are confused as to what i'm talking about, please read the first part my giveaway post
HERE
for details on how it works!! then come back here.
As this is also my first time hosting a giveaway, i realized some of my rules were a little flawed and not detailed enough. Some minor changes were made. I hope everything is clear now :D
OKAYY, so let's get down to business.
TADA
-------------------This is all the items revealed SO FAR..more to come!
(anyone know why the quality of the pictures decrease so much when uploaded on blogger?)
here's a better quality picture
note: Please use the photo below if you wish to go for extra entries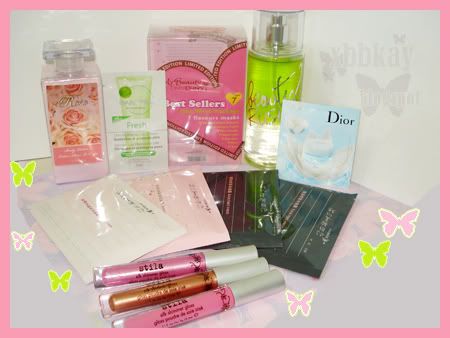 Set of items # 2 Revealed:
1
Dior Hydra Action Sample
1
Garnier Skin Naturals Moisturizer Sample
4 My Beauty Diary Sheet Mask in:1
Cherry Bloosom
1
Red Wine Mask
2
Black Pearl Mask - my absolute favourite at the moment! (will reviewing this sooN!)
I absolutely LOVE sheet masks! if you have never tried them before, i strongly urge you to do so. It's the greatest luxury in your own home :D The only problem for me is hunting them down!! I have to get these out of the city, yet i always come back for more, so yes - i'm quite addicted!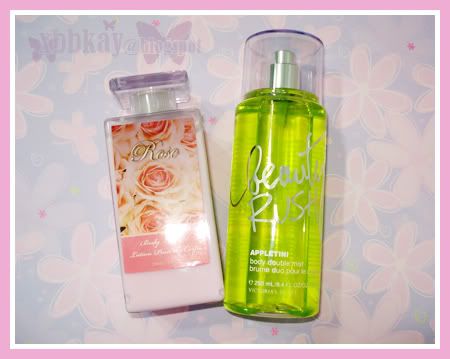 1
Beauty Rush - Appletini Body Double Mist by Victoria Secrets
(FACT: i never knew LaSenza (canada) was owned by Victoria Secrets..O.O)
1
Rose Body Lotion

Recap Set of Items #1 previously revealed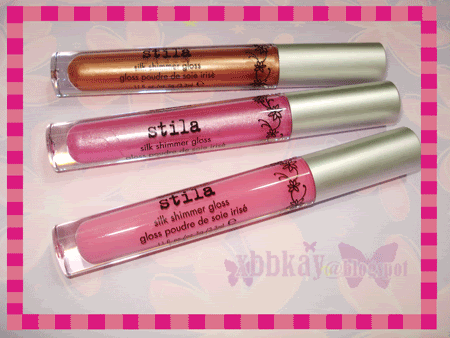 1
Stila Lip Envy: Silk Shimmer Gloss
HOW TO ENTER
i know this is the long and boring part, but
please
read it.
The rules are simple:
1. Must be a Follower
2. Must be 18+ yrs old or receive consent from your guardian to enter
1. It is open internationally
3. If you win, you must reply to my email notification within 48 hours.
For ONE BASIC Entry
:THIS IS an ENTRY TO WIN THE WHOLE ENTIRE GIVEAWAY, NOT JUST THE ITEM REVEALED! SO AS I REVEAL MORE ITEMS, PLEASE DO NOT FILL THIS OUT IF YOU HAVE PREVIOUSLY DONE SO.
1. Leave a comment stating " Please enter me! I wish to be treated like a princess"
2. Leave your email address
3. Answer "What do you enjoy reading about the most on blogs?"
FOR ADDITIONAL ENTRIES
1. Post a link with the Photo of the giveaway on the sidebar of your blog (+1)
2. Make a Blog POST about this giveaway with Link and Photo (+1)
3. AUTOMATICALLY Eligible, if you have left a comment on my blog before May 20th(+1)
FOR HIGH ACHIEVERS
1. Since i will be revealing a product every few days, you can also mention the new additional items in new blog posts. Effective only if you've already blog about this giveaway once (+2)
so if i end up posting 7 sets of items, and you mention with (Link + Photo) all the 7 sets of items in your new blog post, you can get up to 14 entries.
Each posting must be made after each set of item is revealed, and before a new one item is revealed. You can not compile this, or wait until the very end. Please message me if you are unsure :)
For Those Whom have ALREADY ENTERED
- You can blog about the updated set of items (please read For High Achiever Sect. (+2)
- You can add a photo and link to the giveaway on the sidebar if you haven't done so already (+1)
- You are not required to update the photo on your sidebar. You may if you wish
Please use this form as it would make my life a lot easier later :)
-------------Entry FORM------------
" Please enter me! I wish to be treated like a princess!"
(yes i did change this)
Email:What do you enjoy reading about the most on blogs?:
(yes, i changed this too)
(+1)
Basic Entry
(+1)
Lovely Commenter
(Comment on my blog post before May20th)
Link: (please link the post that you've commented
(+1)
Side Bar Link
Link: (please provide me with a link to your blog)
(+1)
Blog Post
Link: (please provide me with a link to your blog)
(+2)
High Achievers
Link: (please provide me with a link to your blog)
TOTAL ENTRY: please total your entries
---------------------------------------------------
Note: I will check everything
Winner will be chosen at random
-----------------------------------------------------------------------------------
Stay tuned for future postings! I hope you guys join and Thank You so much for all your lovely comments & once again Thank You for following my blog!
Please make all your entries to this post. Thank you !
edit:
More items have been revealed, CLICK HERE to view. PLEASE ENTER in the MOST RECENT GIVEAWAY POST!