Hi all! ~ and welcome new followers!
If you have been following my blog since forever, you may have remembered that I've reviewed this product before. However, i felt the need to re-review this product, as my previous review wasn't adequate and sadly poorly written. It was one of my first blog posts when i have just joined the blogging community so i was quite unfamiliar with everything. I'm also re-reviewing this product, because recently I've been asked by friends about what moisturizer I've used and would recommend, hence, i think i would be updating more about skincare products from now on. Trust me, I've used TONS to battle against ACNE!
So without further a-dooo...(I've always wanted to use that word! hehe)
Shiseido White Lucent - Brightening Protective Moisturizer - SPF 16
Claims:
A daytime moisturizer that provides exceptional whitening benefit and protection to the skin as it contains sunscreen agents which prevent the skin from the damages of UVA and UVB. This light weight moisturizer contains reflecting molecules that brighten the skin tone instantly and create a translucent barrier on the skin which helps the foundation staying on so the moisturizer can also be used as makeup base.
Properties:
Amount: 75 ML
Sun Protection: SPF 16
Texture: Lotion; yellow
Scent: gentle, pleasant, sweet
Bottle: without a pump
Ingredients:
Octinoxate 7.4% W/W, Avobenzone 2.0% W/W
Price:
$80 CAD (roughly - i can not find this on the shiseido site anymore)
How to Use:
Smooth over face prior to sun exposure and after using cleanser and softener in the morning
The Pros
-instantly brightens the skin temporarily
-light weighted and non greasy
-quickly absorbs into the skin
-smells pleasant
-covers pores **
The Cons
-provides minimal moisturizing
-unhygienic = does not have a pump
-minimal sun protection
-brightening effect does not last and will not permanent change complexion
-expensive
Recommended For:
- looking to instantly brighten your complexion
- those with oily
- those who do not have dry skin, and are looking for minimal moisturizing
- suitable for summer and hot weather
Repurchase: only in the cream form, definitely not in the lotion form as it is not suitable for my skin type.
My Experience
I've had this moisturizer for approximately over a year now, and i should be finished with it this summer. This product would last for a good 6 months, if you use it faithfully, however, I did not use this product during the winter, so i have 1/3 of the amount remaining.
What i love about this product is that it does what it claims. It truly brightens my face instantly, without leaving a greasy shine and a more even out complexion. I'm quite fond to the scent as well. This light weighted
LOTION
is great for the hot summer days, as it's not cream based, rather liquidity and will provide minimal moisture. I did not realize this, as i tried to use this product during the winter, and it did nothing for my dry skin and has only emphasized my dry patches! HOWEVER, there is a cream form of this product, that I may have to look into as it'd be more suitable for the dry, cold weather.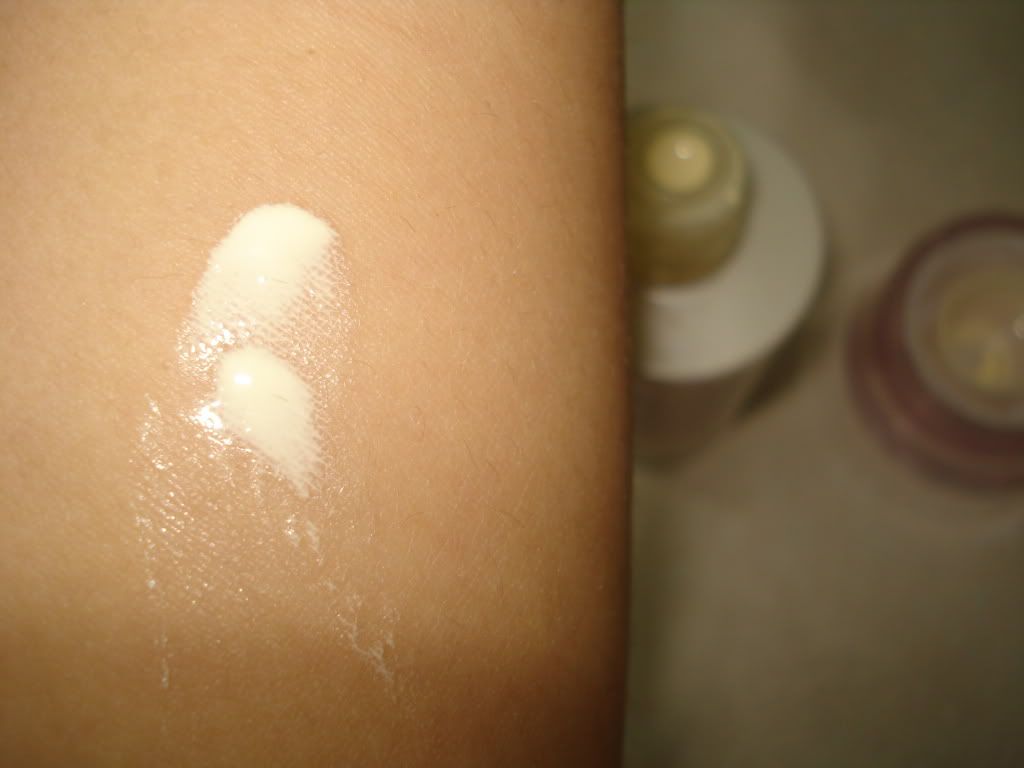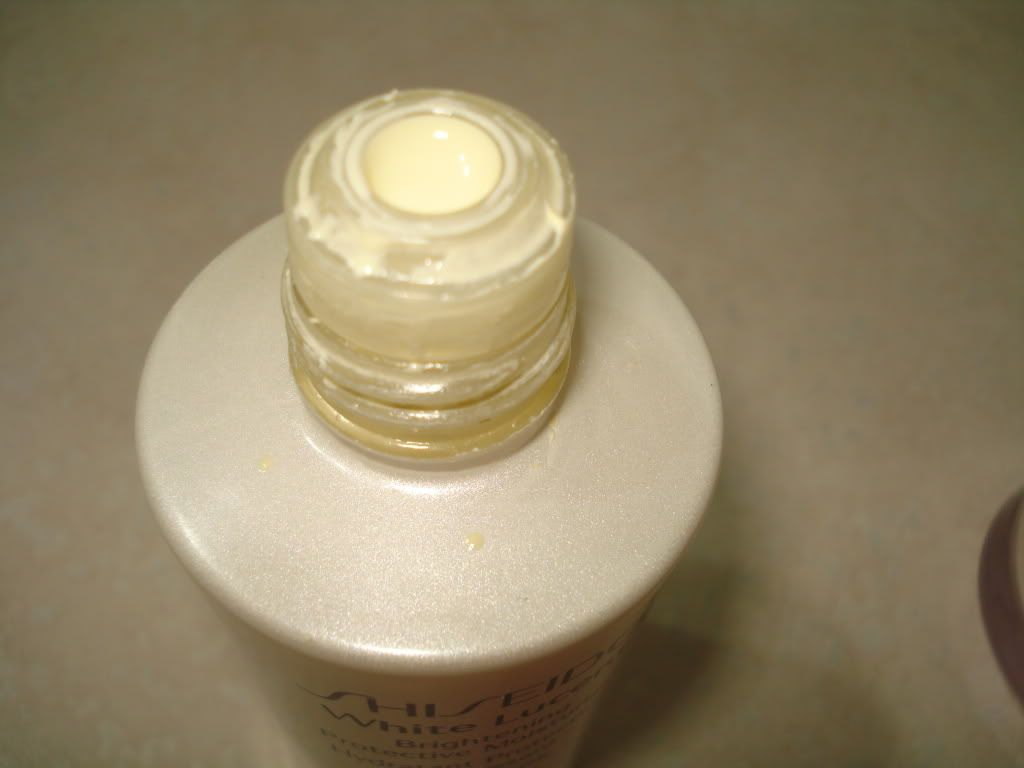 The surprising thing about this product is that it hide my pores! i have black head on my nose, and i think the brightening effect really camouflage my blackheads and leave my skin looking pore less. It's pretty incredible, and definitely one of the biggest PROS of this product for me.
i don't want to blind anyone with my pores, so click on the link if you're interested. i know a lot of people suffer from pore problems, so i thought I'd share my secret. Goes to show, my skin is no where near perfect!
Click to View
The biggest drawback about this product is the price. This must be the most expensive moisturizer that I've used, and although i do love it, i am uncertain about repurchasing this product. It also does not gradually change your complexion, and the brightening effect is only visible when you apply the product. The other big drawback about this product is that it doesn't come with a pump! I can't believe a product like this does not have one! It's just unsanitary, and inconvenient!
The strange thing about this product is that when I rub my face, a thin layer of the product would come off. I think that the "concentration" that creates the brightening effect does not get absorbed by the skin, rather only stays on the surface. Hence, the brightening effect is only temporary. However, this is my guess entirely, so don't take my word for it. It does not bother me though. I thought I'd just share that fact.
Overall,
I do like this product. I love this product for all the pros that I've already pointed out, but i only wish it was a bit more moisturizing. Therefore I will most likely check out the cream-form of this product when i finish with this one.
leaving you guys with a photo almost a year back, where i have the moisturizer on, with Smooth Verge Mineralizer
Note: always check with the Sales Associate if you can get a sample of the product before purchasing!
I hope this review was helpful for those who are on a hunt for the perfect moisturizer. Feel free to leave a comment on my review structure. I'd love to hear from y'all. Take care <3