THIS GIVEAWAY HAS ENDED
Hi all! If you recall, i mentioned holding a giveaway a month ago or so? Well, here it is! So this giveaway is a little bit different from your average giveaway for two reasons. One, i want it to be different and unique, two, i haven't completely finish putting this giveaway together.
This is to say, THANK YOU to all my followers who have been reading and commenting on my blog. I love you guys! I never imagine to even get ONE follower, and i'm just so amazed and surprised with reaching 100+. Thank you <3 Your comments mean lots to me
So the way this giveaway's going to work is:
1. I'm going to reveal an item every few days, so there will an be ongoing surprise! I do not know how many items there will be in total, and as of now, i'm not sure when the deadline will be. However, i will update on the deadline when i reveal all the items in the giveaway!
2.To say a special thanks to those whom have been commenting on my blog, you are
automatically
entitled to ONE additional entry(regardless # of comments), upon entering this giveaway. This is for the lovely people that spare the time to leave me a comment all along.
Valid for any existing blog post comments made before i posted this giveaway! (before May 20th)
3. Since there will be a series of Posts as i reveal each product, please enter to this post ONLY
FIRST ITEM Revealed:
Brand new, in box, never swatched
1.Stila Lip Envy: Silk Shimmer Gloss
Please Use the Photo below if you decided to Go for Extra Entries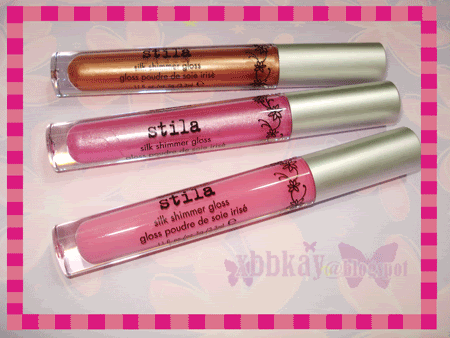 I have a set for myself, and these are the swatches i made with
MY
set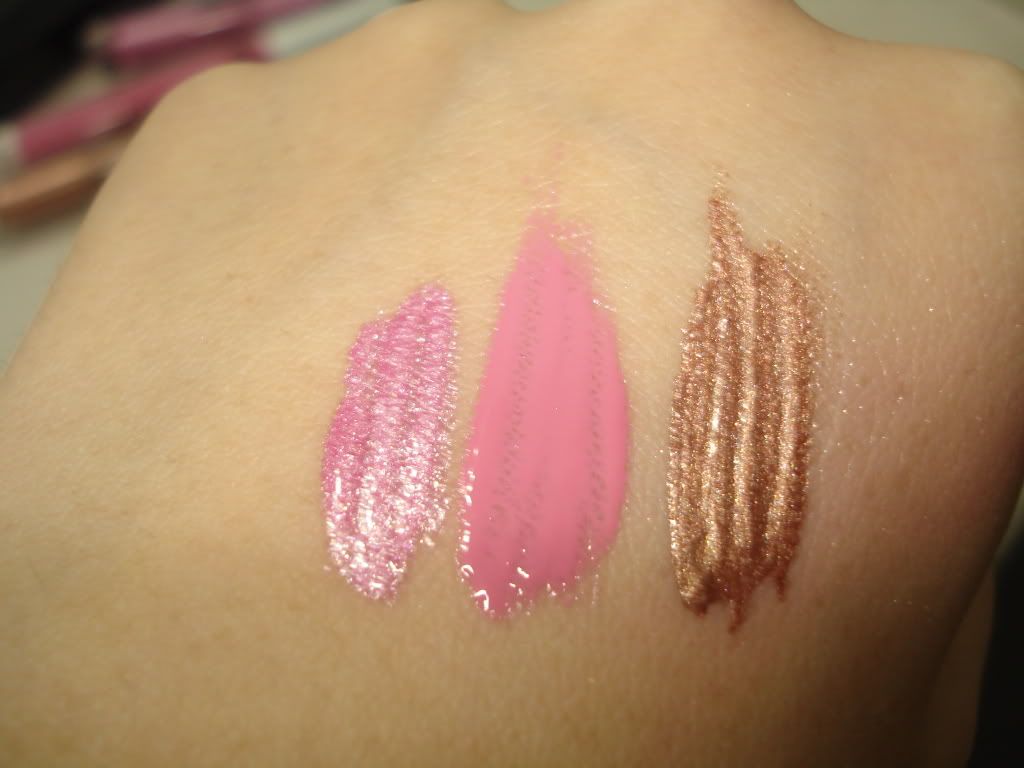 The rules are simple:
1. Must be a Follower
2. Must be 18+ yrs old or receive consent from your guardian to enter
1. It is open internationally
3. If you win, you must reply to my email notification within 48 hours.
For ONE BASIC Entry
:THIS IS an ENTRY TO WIN THE WHOLE ENTIRE GIVEAWAY, NOT JUST THE ITEM REVEALED! SO AS I REVEAL MORE ITEMS, PLEASE DO NOT FILL THIS OUT IF YOU HAVE PREVIOUSLY DONE SO.
1. Leave a comment stating " i love free stuff "
2. Leave your email address
3. Tell me something completely random or interesting about yourself
1. Leave a comment stating " Please enter me! I wish to be treated like a princess"
2. Leave your email address
3. Answer "What do you enjoy reading about the most on blogs?"
FOR ADDITIONAL ENTRIES
1. Post a link with the Photo of the giveaway on the sidebar of your blog (+1)
2. Make a Blog POST about this giveaway with Link and Photo (+1)
3. AUTOMATICALLY Eligible, if you have left a comment on my blog (+1)
FOR HIGH ACHIEVERS
1. Since i will be revealing a product every few days, you can also mention the new additional items in new blog posts. Effective only if you've already blog about this giveaway once (+2)
so if i end up posting 7 sets of items, and you mention with (Link + Photo) all the 7 sets of items in your new blog post, you can get up to 14 entries. Each posting must be made after each set of item is revealed, and before a new one item is revealed. You can not compile this, or wait until the very end. Please message me if you are unsure :)
For Those Whom have ALREADY ENTERED
- You can blog about the updated set of items (please read For High Achiever Sect. (+2)
- You can add a photo and link to the giveaway on the sidebar if you haven't done so already (+1)
- You are not required to update the photo on your sidebar. You may if you wish
Please use this form as it would make my life a lot easier later :)
-----------------------FORM------------------------
" Please enter me! I wish to be treated like a princess!"
(yes i did change this)
Email:What do you enjoy reading about the most on blogs?:
(yes, i changed this too)
(+1) Basic Entry (+1) Lovely Commenter
(Comment on my blog post before May20th)
Link: (please link the post that you've commented
(+1) Side Bar Link
Link: (please provide me with a link to your blog)
(+1) Blog Post
Link: (please provide me with a link to your blog)
(+2)
High Achievers
Link: (please provide me with a link to your blog)
TOTAL ENTRY: please total your entries
---------------------------------------------------
Note: I will check everything
Stay tuned for future postings! I hope you guys join and Thank You so much for all your lovely comments. I love to read them and it really means a lot to me!
GOOD LUCK
<3 Take care
P.S
WHOOOPIES
Forgot to mention, winner will be chosen at random ;)
More items have been revealed, CLICK HERE to view. PLEASE ENTER in the MOST RECENT GIVEAWAY POST!