Hi Guys! i feel so motivated to update, because i have a new layout now, and i really like it. haaha. :D I have been searching for a perfect layout for the past month or so, and yesterday i just happen to find this awesome site for layouts. :)
So now, let's move onto the goodies. So you must all know that the Creme Dazzle Glasses by Mac has been released for a while now, they came out shortly after the style black collection. These are
LOVE
. i am absolutely in love with them. I have been using them for almost a month or so already, and i'm sad to see that i'm using up
My favourite pink
. I don't want to use it up, so now i dont want to wear it unless i really need to. hahaa. It's just makes me sad when i see inside the dazzle glass.
i have ordered them according to favourites, from top to bottom.
So let me give you a break down of how awesome i think they are
They are highly pigmented, so a little goes a long way. With these you do not necessarily need to wear lipsticks underneath. The colour can go on as bold as you ilke, or as sheer as you like. I like to wear a nice lipstick underneath and apply a sheer coat of this on top, to enhance the look of some of the lipsticks that i have. But, they look just as beautiful if you apply them alone. I even tried it with concealer as a base, becuase i have alot of pigmentation in my lips, so the colour does not appear properly. This makes the colour pop even more!
A swatch of how bold and pigmented it is. I used Very little. I almost felt sad putting it on my hands
What i also love about this dazzle glasses is that they are not like your typical lipglosses. I don't know about you, but when i wear lipglass from Mac ( a lipgloss) they are so tacky, thick, and sticky. It's quite annoying, when you press ur lips together, you feel like your lips are glued. haha. okay i'm exaggerating a little, but you know what i mean. These dazzle glasses are different from the previously released dazzle glasses or the lipglass, because they are not sticky. They are more creamy, and almost moisturizing in a sense. I love it. My lips don't feel cracked and dry after i wear these. It usually happens when i wear lipglosses, they tend to get dry and crack, maybe because all the sparkles in it. But these ones are just amazing. i just absolutely love it, the only thing is that they are expensive as hell, but i believe that if your a collector or a Mac Lover, you should try atleast one. I think you'd love it as much as i do.
a picture of it sheered out. The lipstick swatch on the right, is Pink Please, from Maybelline.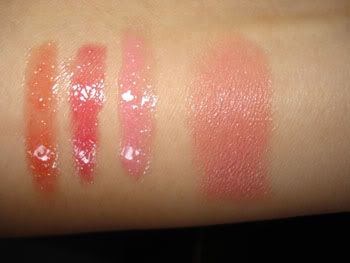 So let's see, my favourite colour would have to be My Favourite Pink. You guys know that lately i've really been into the barbie, cotton candy pink. So if you are like me, i definately recommend this. The second one is Do it up, which is a more hot pink, with a tint of red in it. I think it's great for the winter, when you like to keep your eyes simple, and make your lips bold. I think i would love this colour more, if i could pull of more dark, bold colours. But if you wear red, and if you like bold colours, i definately reccomend this colour. The last dazzle glass, is the Luscious Sparks, which looks like an orange colour, but it's more of a sheer coral, with orange undertone. I saw a lip swatch of this on temptalia.com, and i thought it looked so pretty, but it didn't work out too well on my lips. I think it would look stunning on someone with less pigmented lips. I havent tried this with a concealer base yet, but i will one day and maybe i'll love it then. I just thought the colour was very pretty and unique.
One that i didn't get, just because i don't wear Red, but would totally reccomend if you like reds, and can pull it off, is Amorous. I just thought it was so beautiful, because it would look SOO sexy for fall! It's a very rich red, with red sparkles. The swatches on temptalia.com looks amazing.
NOTE
THANk GOD! for the automatic save by blogspot, my pc just died and my windows all closed, i was gonna cry. I didn't want to rewrite everything again! phew*
So what else? For this whole month, i've been using Maybelline
Pink Please
. I found out about this product from watching a Michelle Pham youtube video, and i saw her put it on her lips and i was just like. Wow, that looks gorgeous, it's so my type of colour, so i had to go out to get it, and i do love it. I can definately tell the difference between this and Mac lipsticks. THis one is a bit more creamy, but matte, it doesn't have demension, but that could be compromised with a nice lipgloss! I've been wearing this with
My favourite pink
It's been my addiction for this month! I absolutely love it, the only thing that i don't like about it is that it smells funny. When you apply it on your lips you could smell this werid scent. It's a little annoying, but i really do like the colour. i haven't been using my other lipsticks recently because of this one.
Here is a picture: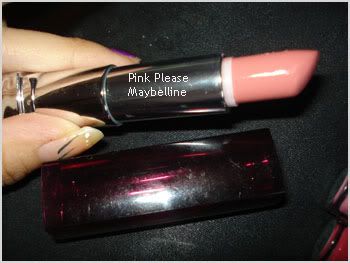 You could tell how beatten up it looks, because i've been throwing it around my bag and bring it around with me almost everywhere.