Introducing Ultra Pearl Mania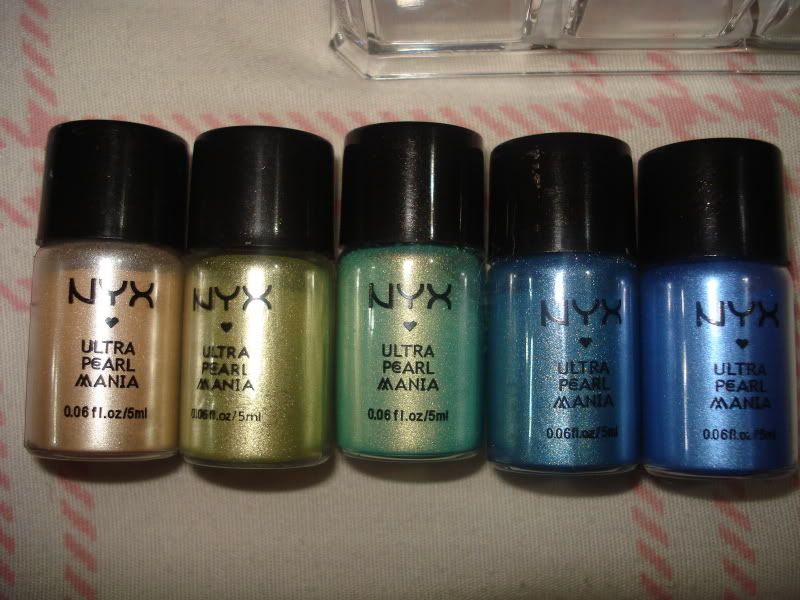 from left to right:
Nude Pearl, Lime Pearl, Grass Pearl, Turquoise Pearl, Space Pearl
So i went to rexall today and i just had to update you guys on what i have discovered. SO i know that alot of us don't have the time to read flyers, and some of us don't even get flyers from certain stores, because of the area we live in. I don't even live far from Rexall, yet i don't understand why i don't get their flyers. I don't even get Shoppers flyers. How rude. haha
At the moment Rexall is having 30% sale on all foundations , concealers, blushes, bronzers, and basically any face cosmetic products. Pure Cosmetics is also having a 50% sale on everything on their line. It's a great opprotunity to pick up some eyeshadows, because they do look super pretty. They just don't offer a wide range of selections, but definately check it out if you like eye shadows. THe price range is from 20-40. Depending on the single shadows, or the palettes.
So what elsee.. Well I also discovered that NYX had a sale. They had a sale of 20% off NYX Ultra Pearl Mania. These are basically loose eyeshadow/ pigments/ glitter. THey have approximately 50 ish colour, and i picked up five.
What do i think of the Colour?
The colour is amazing, i love the colours. They are very shimmery, but it's not over the top. You can easily tone it down when you apply it wet. When you apply it dry, it's alot more shimmery. Here are some quick swatches that i've performed on my bf. Don't mind the vains...he's...a boy..hahaha
Grass Pearl (dry , wet)
Lime Pearl( dry, wet)
Nude, Turquoise and Space (all dry)
* i used Mac Fix+ to apply it wet btw'
Purpose:
Pigments are multi-functional, depending on the colour. in Some tones, you can apply them on your checks, like a bonzer, or like a MSF, because of their shimmering properties. You can use them as eyeshadows alone, or as a base to further emphasis your eyeshadows. You can even use them on your lips! but i mainly use it as a base, or as a eyeshadow alone on my eye. They are just LOVE. As you can tell i'm super excited to play with these babies. I can already tell they would look hot if your gonna club.
Colour:
I really love the colour payoff. It's very vibrant, and i'm happy abou the colours that i've chosen. Especially the Grass Pearl and Space Pearl.
Price and Value:
These babies are oringally 4.99, but i got them for 3.99. THat's crazy good, especialyl when you are use to paying much more for pigments. Pigments are something a girl loves, but hate forking the money out to buy because she knows that she would never even get close to using up half of the jar. So i totally recommend buying pigments in smaller sizes if possible. You get more out of your money basically.
Quality:
The pigments are very velvetly and finely grained. They feel just like Mac pigments to me. The only thing is that, they do not last as long as Mac Pigments. With Mac pigments, i can wear them alone, without having to use a base and the colour would last all day. It's even more incredible when you apply it wet. But with these pigments, i feel that applying it wet is more difficult to get the full pigmentation of the product.
The pigments are very blendable, just like how it should be. Nothing different from any other pigment in terms of blending. It was like heaven.
You will definately need to apply a little ( and i really mean little ) more of this pigment for the pigmentation. Obviously, not a big difference, but i did notice i had to apply just a tiny more to get it to pack a punch.
They last add dat, The colour wears down a little, but it does not completely disappear, but you will definately be able to tell that the colour has "worn down" a little. I wore it tonight to go see New Moon, and i can tell that the colour wasn't as vibrant as from the start, even when i wore UDPP(urban decay primer potion) underneath it. Perhapes a stronger base may do, or you can always use these pigments as a base. I applied it as an all over eyeshadow colour. I'm gonna try using a shade stick before these to see how the staying power holds.
Though, this may sound disappointing and it may be pointing you away from NYX pigments, but i think it's a great alternative for higher end pigments. You have to remember that these are not Mac Pigments ( i've only used mac pigments, so that is the only thing i can compare it to ) so obviously, it would be different, but think of the price & quantity that you get it for. I think it's pretty amazing. I think that it's still an incredible offer, and it's great if you want to use it as a base for your eyeshadow.
Recommendation:
Grass Pearl & Space Pearl
I highly reccomend them, because the colour just looks so amazing. The pictures will never jjustify how beautiful it is. The Grass Pearl, is a limey fresh green, with slight reflects of gold. SO GORGEOUS. it makes me think of a fairy. The Space Pearl, is a very pretty royal blue, definately wearable with brown eyes. It's the first blue colour i feel looks nice on my eyes. I do NOT have luck with Blue eyeshadows whatsoever. I always look so punched out or something. haha
My Only Complaint:
Now this applies to both these pigments and the mac pigments that are released during the holiday season. Because of the way they are packaged, the opening is narrow, and it's difficult to get to the pigments, unless you dip your brush into it. The first time i used a Q-tip to pick up the colours, and it did a good job in picking up the colours, but it didn' do a good job applying the colour. So then i tried it with my brush. You need a thin brush. I used a cheap one from Quo,
It's the Concealer Brush ( i don't even use it for concealer)
( but it looks like a very tiny flat shader brush) to dip into the pigments and apply. The application was much better then he Q-tip, but i really hate having to dip my brush into there, because i can't see how much of the product i'm really picking up, and then i have to tap off the excess. i Obviously can't just pour out the pigment, that would just be a mess and such a waste!
so i think that that's my only real complaint about these products. You could transfer them into another container later on if you guys want to. But i have a thing of keeping things in their original packaging. So it sucks for me. But i think i can live with dipping a thin brush in.
you can get these at Mac, or online.
Anywas, i hope this post was informative and helpful for you guys. Enjoy the rest of your week. I will be going off to bed now.
:)
P.S. i think i have to go back to get more now...hahaha :) They are too lovely to resist.