I have been on a search for skincare products lately, because my skin has been quite dry, and i have been using products to get rid of some clogged pores that i have. So on my hunt, i have been browsing around in Sears/ The Bay cosmetics counters, and i have learned quite a few things that i thought i'd share with you guys.
On November 1, i bussed to masionville mall, ( a short distance) from my school, during my 3 hour break. I was on a hunt for a present for my bf's mom's bday, which was the next day. I could have gotten it earlier, but let's just say that i didn't know what to get her, and bf was not much of a help. He didn't know too much about what his mom wants, or what she needs, or what she uses, but let's just say this is a women that doesn't really need anything in particular. So i decided that night that, any present is better than nothing. Afterall, it's the thought that counts correct?
So when i got into the Bay, i was looking at perfumes and what not, but then i didn't want to get her perfume because she recently got alot, so my gift won't be too special, so i decided to pass on that. (plus she has a big collection of it) Since i was in the area i decided to look around for stuff for myself. I have been looking for an eyecream, because it's winter, and i want the area around my skin to be hydrated, since i do wear concealer. I alsoo wanted an eye cream with antiaging/prevention properties as well. I know, you must be thinking...Anh, you're too younge to be thinking of using these products, but trust me. I'll explain in another post.
So i happen to walk by dior, and i have never really looked into Dior products, so i decided to take a look. They had two type of eye cream. One in a tube, that is suppose to be for puffy eyes, dark circles, and carried some antiaging properties. I was initallly interested in that product and asked the sales associate some questions about it and how it works.
DIOR Capture Totale
Basically, as the girl there explained it to me, you apply this product in a patting form that will stimulate the area around your eye, which helps "breakdown" or get rid of the dark circles. Remember dark circles are basically just the effect of your capillaries (small blood vessels) that have leaked ( a normal thing) and because they are blue/purple, it's visible under the thin layer of the skin around your eyes. ( that is just a rough outline of what i have read during my research a while back on dark undereye circle, so if your interested just google it. *REMEM- there is more than just one reason for under eye circle). So basically i was quite interested in this product, but it did remind of another product out on the market with the same concept.
Garnier Skin Renew.
The concept is the same, both the tip where you apply the product from, is a metal piece, which would be cold when you apply it. I really don't see how that metal piece would do any benefit. To be honest, it reminds me of the method of putting a cold metal spoon on yours eyes when you want to depuff them. If you don't know about this method, basically you take a metal spoon, put it in the freezer/fridge for a few minutes, (enough for it to be cold, not frozen) then take it out and place the bottom part of the spoon on your eyes, and this will help to de-puff it. So when i thought of that, i don't know why i should spend that kind of money of something with a cheaper alternative. But ANYWAS- so i still asked her for a sample, btu she said she didn' thave a sample for that product, because it's special based on the way it's designed, so there is no sample she can give me, BUT she does have another eye cream that less of an antiaging one, that she does have a sample for.
It's this product:
HydrAction Visible Defense Eye cream with 20 SPF
------------
A Review
--------------
She gave me two sample package for this product, and so far im liking it. She said this would be a girls "first eye cream". It's not heavily directed towards anti-aging, but it's more of a moisturizer for the eyes. I have been using this product for a week now, and i do like it. I can't say that i love it. The texture of this cream is thick, (which i like, because of this cold,dry weather) and it applies on smoothly, but it leaves a shine. I was looking for a product that has thick consistency, but a matte finish, but this one leaves me with a shine. You actually have to be careful about applying too much, because then it just looks a bit greasy. (But it doesn't feel oil or greasy at all, STRANGE!) So i don't realy like that about this product. I don't like the fact that it's in a jar, i much perfer a tube, or a pushy, it's just much more santitary, but thats personal preference. On the good side, it has been keeping my eyes hydrated, (I use it before i got to bed sometimes, and i feel greats when i wake up) AND it also has SPF 20. I really like the fact that it has sunprotection, because you know the world we live in today. The sun has a to do with how your skin looks, unless you have crazy good genes, and it's always GOOD to prevent now, then suffer from it later, a line jacked from Michelle Pham. It is a rather pricey product, so i'm not sure if i would actually go out to purchase this product. I kind of wanted a product with some anti-aging properties in it. I don't mean like those intense ones, just ones that will prevent and what not. But anywas, this product is okay. I think i would continue to search the market to see what else is out there.
Price is 47.00 Quite expensive, but that's expected from Dior. I have never used, or read about their skincare products, so i don't know what to think of it. Keep in mind tho, eye creams are usually as expensive at mositurizers, even when they come in smaller jars/tubes.
----------------------------------------------
So on my hunt, i went into the bay, and decided to grab something from Lancome, since i DO know that she uses that product line. The girl that was working there was quite nice, she explained to me most of the products and i told her my situation, and she reccomended an antiaging eye cream, or a moisturizer. But i felt werid getting her something for anti-aging, because she might think i'm trying to say that she's old or something, so i felt akward. I ended up getting these:
Milk Cleanser
Lancome Tonique Confort - Comforting Rehydrating Toner
.
thought the toner looks so pretty because it's pink, i just had to get it also. I thought it was a cute gift, i almost wanted it for myself.
Prior to purchasing i asked if Lancome had any promotions, or gift with their purchases at the moment. The girl said no, but she still does have the gifts sets remaining from a promotion that they had a few days ago, and she offered to throw them into the purchase. I asked her what comes in the gift, and she started popping out all these products, 2 Lipsticks, 2 Mascara, Toner, Eyemakup Remover, Eyeshadow Quad, Primer, two makeup bags and a whole bunch of stuff that i can't recall at the moment. She told me that i only get to chose 5 iteems, but she said she can throw in one of each for me if she i liked. Ahhh, it was so amazing. hahaha. So i obviously was super happy.
I'm sad that i forgot to take a picture of my purchase, because it looked so cute.
But basically, i kept the sample toner, and the sample makeupremover, and gave his mom everything else since i figure i did get her a toner, and she has a cleanser, so she didn' thave much use for the other two (plus i did want to try it) so i kept them for myself. Teehee. BF agreed :D. They came in miniture verison it's SOOO CUTE!
Lancome Toner - Alcohol Free
I thought it was alcoholic at first, but guess not
i didn't use this one yet, because i've been using another toner, so no review on this.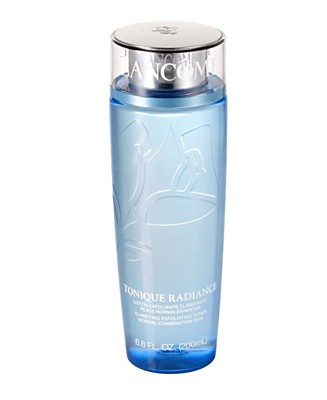 Lancome BiFacil- MakeupRemover-
claims to remove all mascara.
------------
A Review
--------------
When you see this product you can see two visible layer, and one being of an oil. You need to shake it up and use a cotton ball to apply it. I'm stil not sure if you wash this away or not, but i do. I apply it to the cotton ball, and swipe it across my eyes, and this thing is pretty amazing. It gets rid of everything, and it's GENTLE. It does not sting my eyes at all, especially when i swipe it right across my eyes, and near my lash line. It doesn't irriate, and it removes the make up without making me have to tug my skin ( A BONUS ). When you look at the cotton ball, it's blue and black, i thought it's funny. haha. I guess it's the chemical reaction of the cleanser and the makeup?? i don't know. So then after wipping away all the makeup, i splash my face with water, and dry it with a towel. If there was excess mascara remaining, the towel will take it away with a swipe, because the forumla is oil based. I like the idea that it's oil based, but i also don't. The reason being is that when i splash my face with water, the area feels oil and it looks oil, UNTIl i wipe it with a towel. I thought that was a little strange, i guess it just takes a little getting use to. I do like the fact that is' oil tho, because it makes removing the makeup so easy and effective. ( OIL IS great for removing makeup - i use to use bio oil allthe time to remover make up ) The oil also makes the area around my skin feel more hydrated. I'm not sure if it's the effect of the makeupremover, or if it's the other products i've been using in combination, but my skin has been feeling great these days. This product, at full price is 34.00. The price is OKay. I mean i can tell already that it would last a good year or so, by the looks of it, but i'm just not sure if i'm liking how it's oil. We'll see how it goes.
----------------------------------------------
So that is the end of my shopping experience. At the end of the day i've learned a few things about shopping over these counters.
1. Never Hesitate to ask for Samples :
I'm sure they have a shitload of them, that they don't mind giving away, you just have to ask about them. Show that you are interested in the product but would like to try a sample before purcahsing. It's awesome, because you can try it out and then buy it if you love it.
2. Ask about Promotions,
when they have it, or when it will start. The worst thing is purchasing something and then realizing the next day that there is a promote for that. When i was at the Bay, at Whiteoaks, the girl told me last minute that there was actually a gift set with the purcahse from Elizabeth Arden, on $50+ purchases starting tomorrow, and asked if i wanted to hold off until the next day to purchase it and get the free stuff. She was KIND enough to tell me that, else i think i would've just bought it and never know. So you should ask, cause who doesn't want free stuff right? PLUS, these products are costly, to make the most of of your purcahse.
3. Return a Purchase for a Gift Set
When you did purchase a product and then find out that there is a gift set from the line a few days over, you can actually return it and then repurchase it to get the gift. I actually didn't know about this, btu the sales associate there that told me about the gift the next day, told me that. So i thought i'd share. She told me that people DO ACTUALLY do that.
I hope you enjoyed this post. i had fun, haha. i didnt want to read stats, so i decided i do another blog post, before i start forgetting everything. The midterm horror is returning, so i would be gone for a while again. SIGH* just one more month guys, and it's christmas break :) that's the only thing that's keeping me going