So i'm decided to clean up my nails today, because throughout this month it's pretty messed up, i should've taken a picture before i started, but basically, it was chipped, broken all over the place, and i had like multi coloured nails. I was too lazy to rub them off after i was testing out some nail polish colours before, so i've been going around with these bright coloured nails : not pretty at all , especially when it's orange and purple and blue on the one hand, just looked fugly. haha
anywas, so i decided to do my nails today, as well as test out the nail polishes from LA Colours as i said i would.
Here are the colour break down:
Nail (black) ; Art Deco (silver sparkles) ; LA Girl Rock Star ( Head banging ) ; LA Colors Color Craze ( Radiation );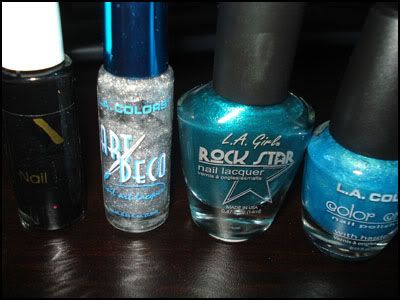 And here are the nails: Nothing special, i just wanted to see how the colours looked. It looked boring without any design on it, so i just did quick strokes for fun.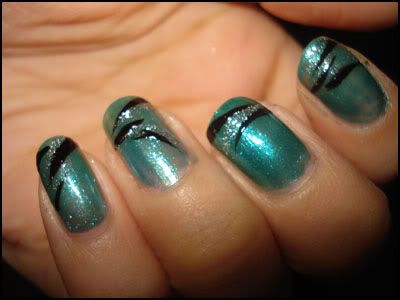 A REVIEW
The colour looks bold in the bottle, but when you apply it, it's very sheer. What a shame, i really wished it was much more pigmented. This is definately a nail polish that you would need to apply more then one coat ( which is what i had to do ). I applied the lighter shade ( RADIATIOn - blue) and then put on the sparkling colour Green ( Head banging ) on top, so that the colour would pop better. Then i used my fine tip Nail polish in black, to do the strokes, and added sparkles, because sparkles makes everything prettier. But you get what you pay for right. It was 3 for $9.99. A OPI nail polish is already more than half of that price. But anywas, i don't love the nail polish, just because its sheer, and i'm lazy to apply more then a coat. It's a okay buy i guess. I can't complain :)
Quick jots
Pros:
dries quickly on nail
pretty colours
cheap - cheaper then most nail polishes
Cons:
sheer colours ( not as pigmented )
Recommend:?
Hmmm..i'm not sure if i would recommend this brand. If you have high expectations and you're use to using higher quality nail polishes then you might want to skip this, but if you are starting out with nails then this is a good buy. It's not a horrible brand, but the sheer colours that come out, was just disappointment for me. I think other drug store brands have much better pigmentation. I'm very lazy, i don't like to do more than a coat, and i find with this i have to apply more then one to get vibrant colours. ( two THICK coats, i must add ). Nonetheless i do like the colour once i've finish. You guys be the judge ;)
NOTE: Not sure about lasting power yet though...i'll re-edit this post after a week...
Anywas, i hope you enjoyed this post, have a wonderful day !