On tuesday, boyfriend took me to
LUSH
( a store selling bath, and beauty products), because i was bugging him about going. I have been seeing
LUSH bath bomb
hauls on so many blogs, and i was so intrigued by how colourful, funky, and cool it looks that i had to go find out what was the big deal.
So i didn't know that there was actually a
LUSH
where i lived. In fact, i just found out the day before i went. I always thought the store sound familiar, but for some reason i just didn't think it was in canada. So i looked it up, i realized it was actually in the MALL! so i was quite overjoyed and surprised, because Canada always seem to be slow to get the good stuff!
Anywas, so when i got there, the nice Sales Associate showed me around, and showed me alot of the products that they sell and how it exactly worked. She had bowls of water, and everything, and showed me how the
bubbles bars
made bubbles, and how the bath bombs worked. IT WAS SOO COOL!. They totally revolutionlized the concept of taking a shower/bath. All the products are designed to enhance your bathing/showering experience. It's suppose to make you feel luxurious, and just PRINCESSY!
So for the first time there, i was quite overwhelmed by all the products. You will definitely be sniffing a lot. i sniffed up some powder out of carelessness, and it was like sniffing crack! ( not that i ever did ahem*). Anywas, I decided to skip on the bath bombs, (EVEN THOUGH THEY ARE SOO COOL!), because i don't take baths. BUt i might have to start taking baths, because of this product. Anywas, before i show you what i got, i wanted to show you the baggies!
This is the main bage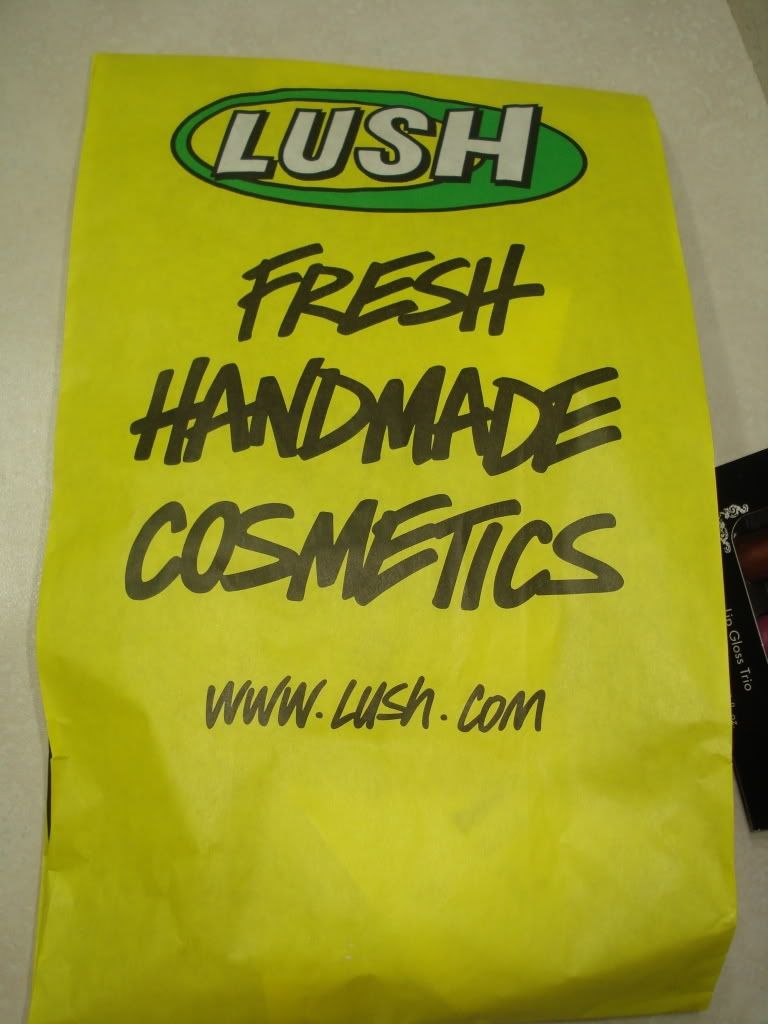 the smaller bag (carrying one product each) inside the main bage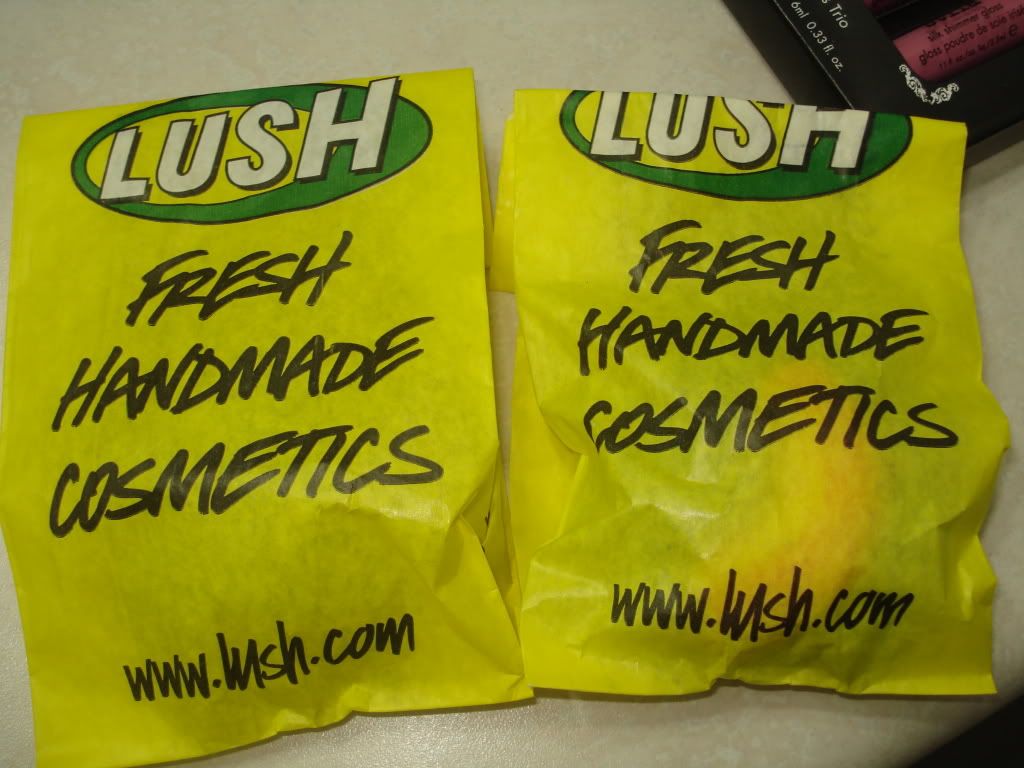 the back of the two products i got. i thought this was cute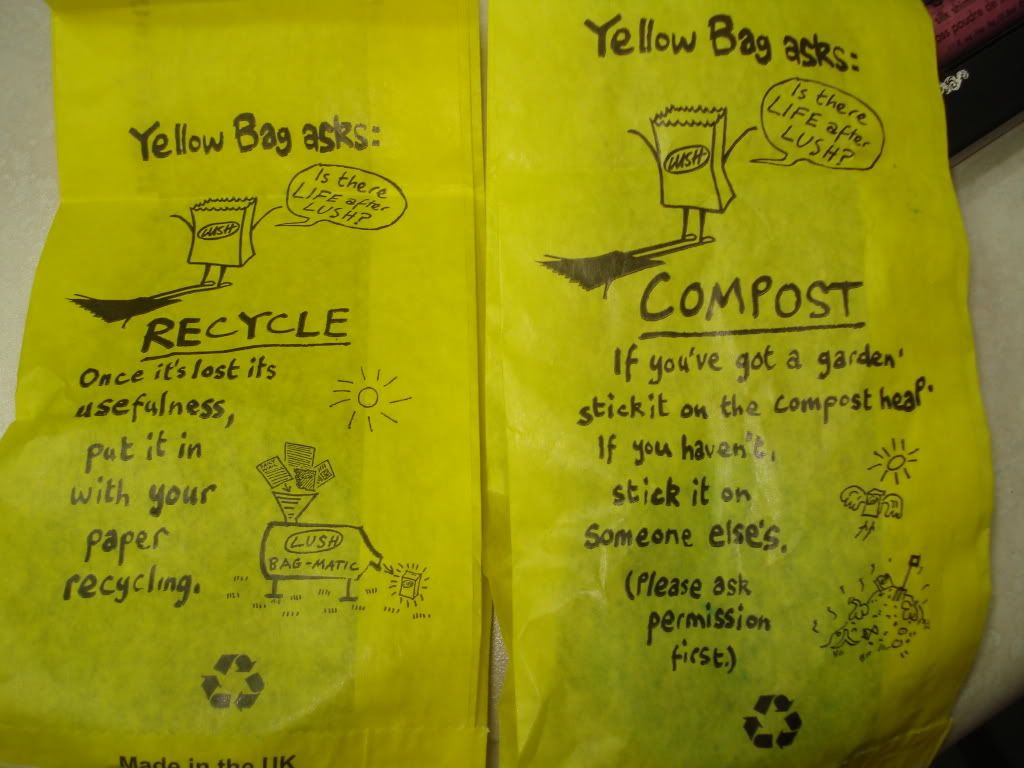 So this is what i got:
This is how the products look like:
(
Sugar scrub
on left, and
Dorothy Bubble Bar
on right)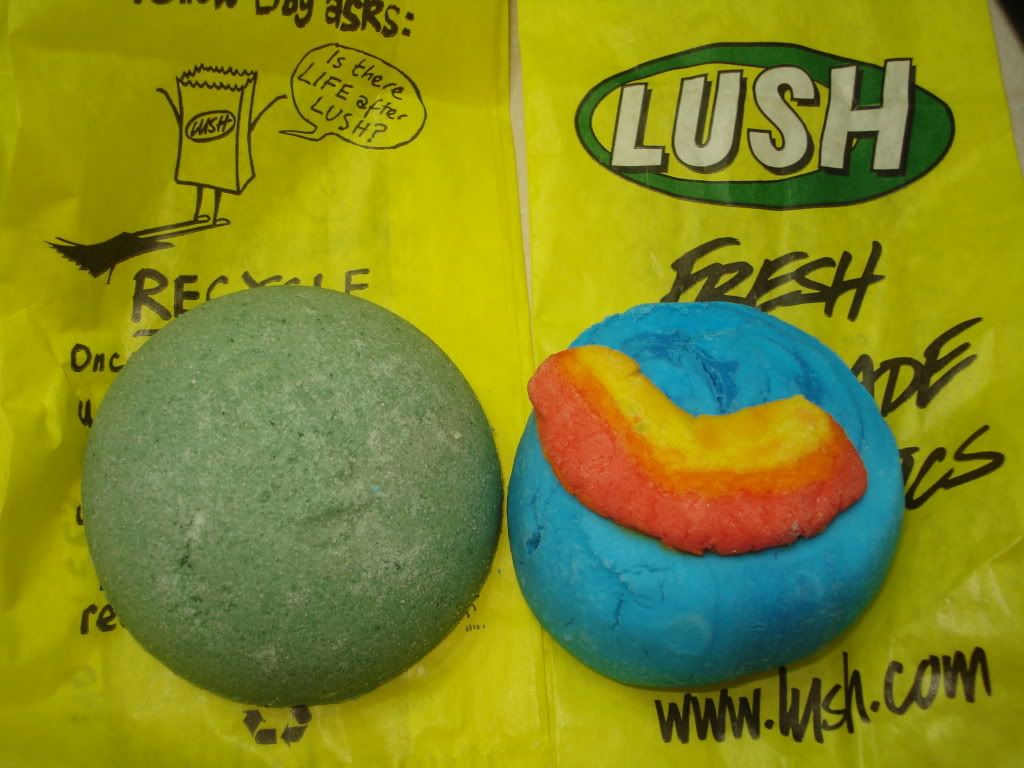 another shot of the dorothy, bcos the colours are pretty. LOL
1. DOROTHY BUBBLE BAR (limited edition)
Price:
$5.95CAD
Smell:
i'm not good with describing scent, so i told bf to sniff it and he said it smells ROSeY. LOL
How to Use:
it's makes bubbles!WHO DOESN't LOVE BUBBLES? All you gotta do it crush it up in your hands, and let the water run through it. This will make the particles dissolve and bubble up like crazy. The water will turn blueeeee!
i aint gonna lie, i got this one cos it was limited edition, and there were only prob 10 left, so it must've been popular. hehe
The second item that i got, is the
2. Sugar Scrub (GREEN ONE)
Price:
$4.95CAD
Smell:
kinda herbal to me. BF said it smells like asian soap bars. O.O
How To Use
: She showed me how it worked, and you basically just take a piece of the bar, and crush it up in your hands (to small bits) then scrub it on your skin. It will lather, and when you wash it off, you skin feels amazingly smooth. This was the main reason i wanted to try it. I hope it delivers the same result on the body.
I can't wait to try it out. I will certainly do a review when i get the chance. I'm sure i'll be taking advantage of these since finals are around the corner.
One of the item that i didn't get, but i thought was SOO COOL. LOL was the
Sex in the Shower
Emotibomb
suppose to be a hand grabbing a butt the SA said. BF thinks otherwise. USe your imaginaion. LOL
Basically, you start the shower. Turn the water hot, and get some steam going. Then later get into the tub, and place this piece at the bottom, FACING you. The steam and hot water will work to "activate" this bar. It would start releasing steam/vapours, and this very nice scent. PERFECT for couples who want to set the mood, and get a little steamy..ahem..LOL. DEFinaitly ask the Sales Associate to show u how it works, bcos it's so awesome.
-----------
The next thing i want to show you guys are these awesome Stila Lipglosses that i found at Winners. OMG they are SOOO AWESOME, and it was such a bargin. These are my FIRST stila items.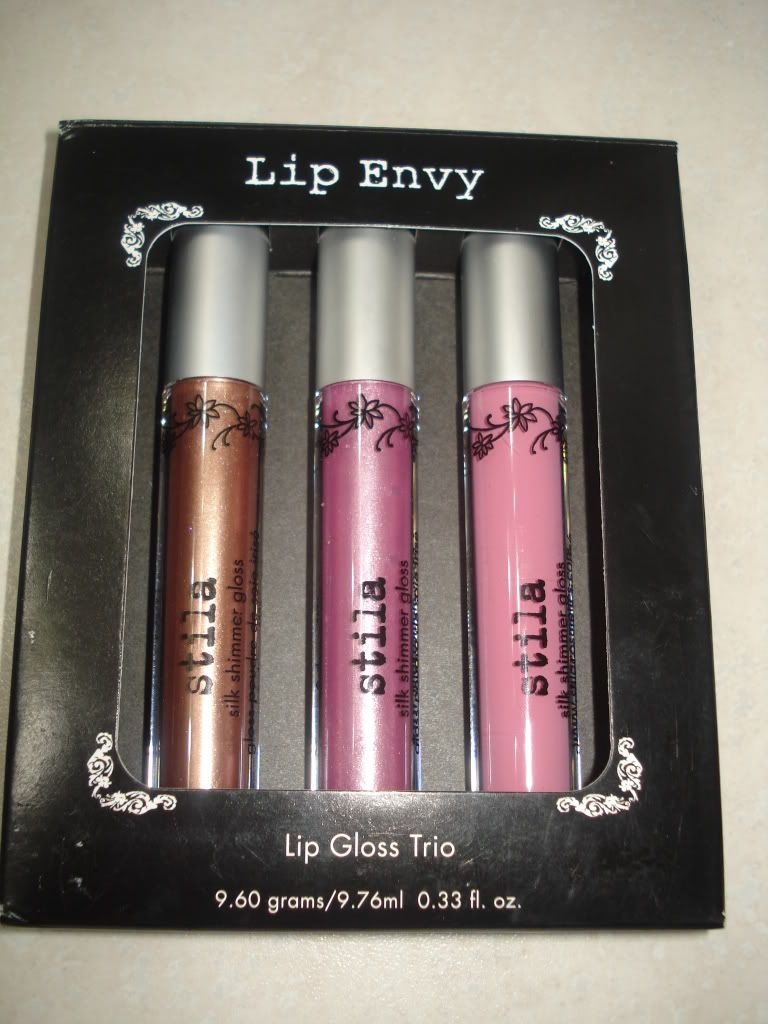 ( i don't see names on them, so i guess they aren't named???)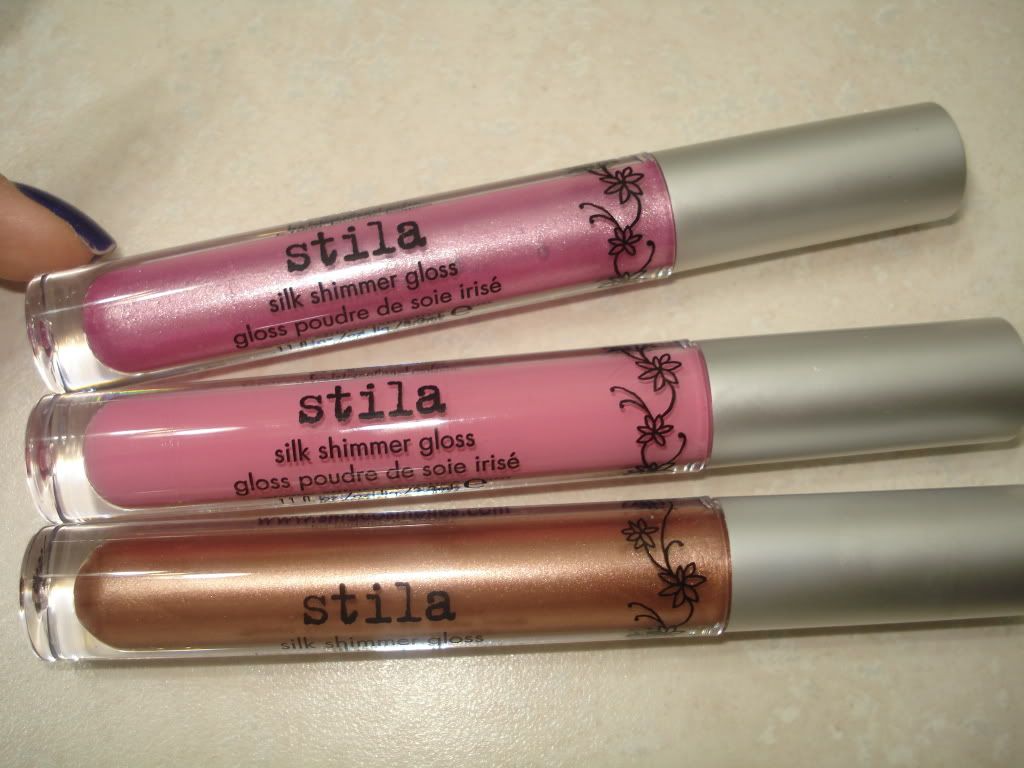 The swatches look funny, bcos the brush was still stiff. After a few use, i'm sure it would loosen up and be fine :)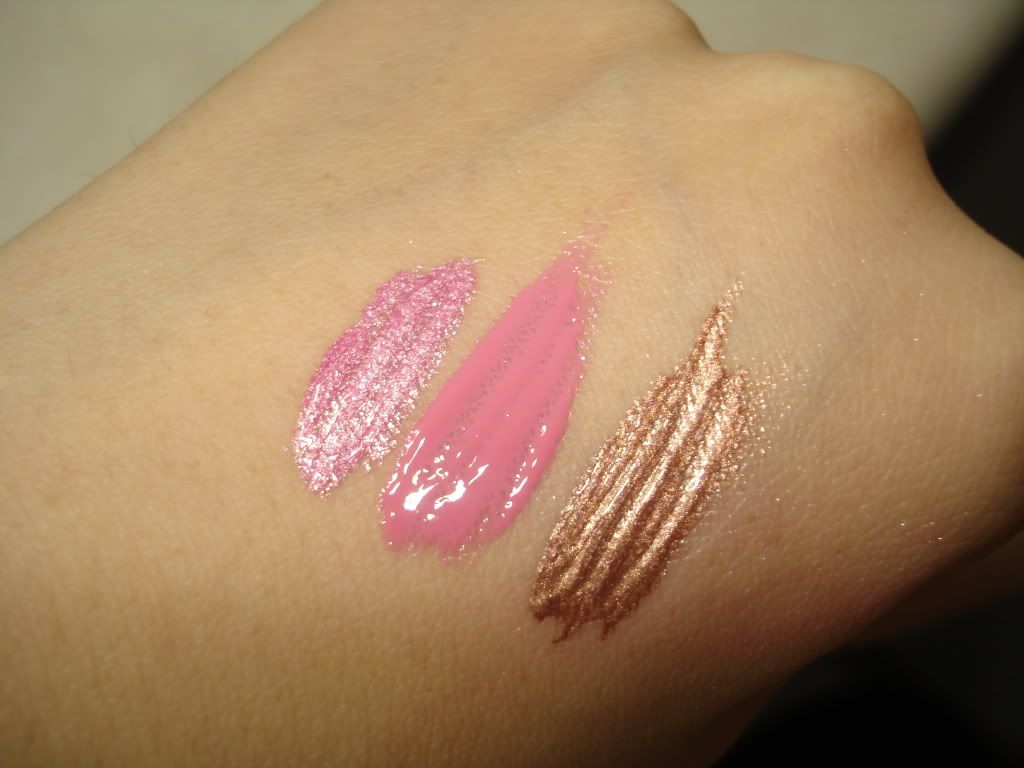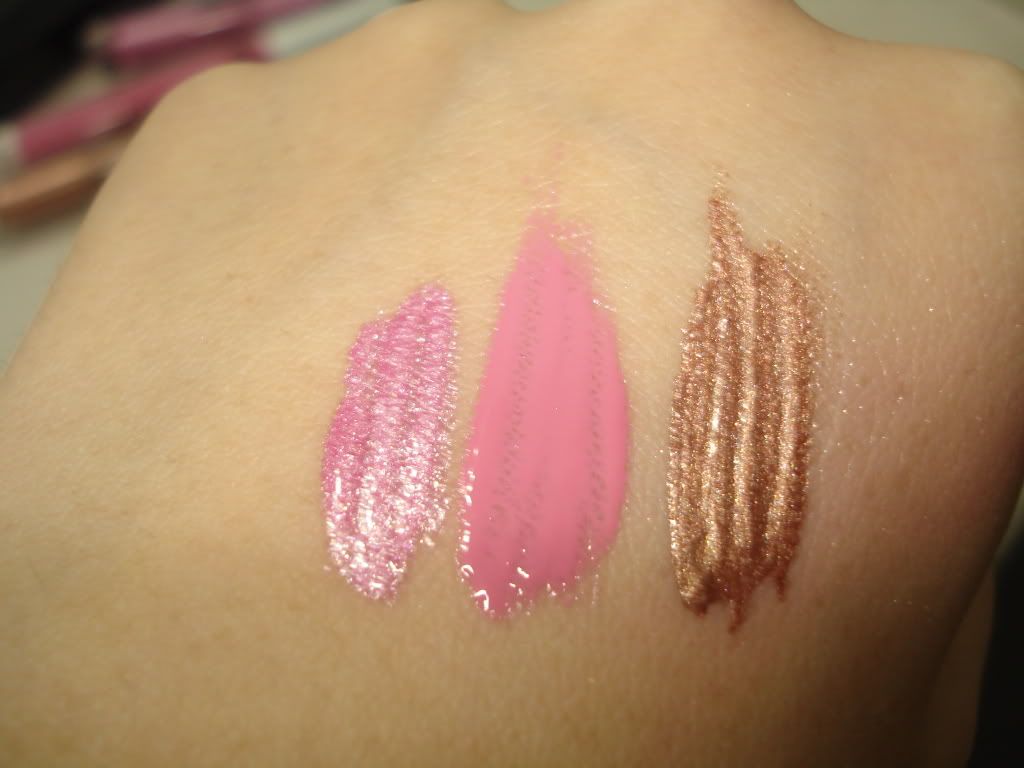 STILA Lip Envy
Price:
$9.99 CAD
Inital Review:
1. pigmentation is INCREDIBLE (better then dazzleglass from MAC in my opinion)
2. not sticky
3. smells like candy
i think i'm gonna love these.
EDIT:
i wore them today (baby pink one), and i think these are hands down better than MAC dazzle glass, in terms of formula. I LOVE the fact that it's NOT STICKY at all, and the colour PACKS a PUNCH. i had soup, and my lips still looked STAINED from the lipgloss! i love this one in particular bcos it has no shimmer what so ever. so it gives ur lip this very natural look once it fades a bit.
______________________________
P.S. Is there any LUSH products that you guys absolutely LOVE? i can't wait to try the products!
i already know that i will definately go back to try the:
Ocean Sea Salt (exfoliator, body and face)
BIG SHAMPOO (shampoo)
and that is everyhing........for now. hehe
Thanks for reading my blog! have yourself a wonderful day!